By Lambert Strether of Corrente.
Patient readers, I've been wrong-footed by a household emergency. More on Politics shortly (though the Covid section, though I say it, is especially rich today). –lambert
Bird Song of the Day
Common Potoo, Mata ciliar do Rio Jacaré-Guaçu, São Paulo, Brazil. This is great. It sounds like summer nights will soon sound again.
* * *
Politics
"But what is government itself, but the greatest of all reflections on human nature?" –James Madison, Federalist 51
"Here's food for thought, had Ahab time to think; but Ahab never thinks; he only feels, feels, feels." –Herman Melville, Moby Dick
"So many of the social reactions that strike us as psychological are in fact a rational management of symbolic capital." –Pierre Bourdieu, Classification Struggles
Republican Funhouse
Live tweeting the House Republican Covid Hearing. Marty Makary, Martin Kulldorff, Jay Bhattacharya:

Marty Makary, a surgeon with no expertise in public health or epidemiology, making a number of ridiculous claims about the virus and vaccines. Suggests no healthy children have died from the virus, boosters pose more risk than the virus to young people.

— Walker Bragman (@WalkerBragman) February 28, 2023

"We'll Have Herd Immunity by April" [Marty Makary, Wall Street Journal]. • From February 18, 2021. Dude:

Often wrong, but never in doubt, now testifying to the House.
Democrats en Déshabillé
Patient readers, it seems that people are actually reading the back-dated post! But I have not updated it, and there are many updates. So I will have to do that. –lambert

I have moved my standing remarks on the Democrat Party ("the Democrat Party is a rotting corpse that can't bury itself") to a separate, back-dated post, to which I will periodically add material, summarizing the addition here in a "live" Water Cooler. (Hopefully, some Bourdieu.) It turns out that defining the Democrat Party is, in fact, a hard problem. I do think the paragraph that follows is on point all the way back to 2016, if not before:

The Democrat Party is the political expression of the class power of PMC, their base (lucidly explained by Thomas Frank in Listen, Liberal!). ; if the Democrat Party did not exist, the PMC would have to invent it. . ("PMC" modulo "class expatriates," of course.) Second, all the working parts of the Party reinforce each other. Leave aside characterizing the relationships between elements of the Party (ka-ching, but not entirely) those elements comprise a network — a Flex Net? An iron octagon? — of funders, vendors, apparatchiks, electeds, NGOs, and miscellaneous mercenaries, with assets in the press and the intelligence community.

Note, of course, that the class power of the PMC both expresses and is limited by other classes; oligarchs and American gentry (see 'industrial model' of Ferguson, Jorgensen, and Jie) and the working class spring to mind. Suck up, kick down.

* * *
#COVID19
Looks like "leveling off to a high plateau" across the board. (I still think "Something Awful" is coming, however. I mean, besides what we already know about.) Stay safe out there!
• Readers, since the national data systems in the United States are being vandalized, let's start collecting links to state data, too. If readers would send me links (see Plant below) to their favorite State and local dashboards/wastewater sites, that would be great. Canadians, too! Or leave a link in Comments.
Resources, United States (National): Transmission (CDC); Wastewater (CDC, Biobot); Variants (CDC; Walgreens); "Iowa COVID-19 Tracker" (in IA, but national data).
Resources, United States (Local): CA (dashboard), Marin; CO (dashboard; wastewater); CT (dashboard); DE (dashboard); IL (wastewater); IN (dashboard); LA (dashboard); MA (wastewater); MD (dashboard); ME (dashboard); MI (wastewater; wastewater); MT (dashboard); NC (dashboard); NH (wastewater); NM (dashboard); NY (dashboard); OH (dashboard); OR (dashboard); RI (dashboard); SC (dashboard); TN (dashboard); TX (dashboard); UT (wastewater); VA (dashboard); VT (dashboard); WA (dashboard; dashboard); WI (wastewater).
Resources, Canada (National): Wastewater (Government of Canada).
Resources, Canada (Provincial): ON (wastewater); QC (les eaux usées); BC, Vancouver (wastewater).
Hat tips to helpful readers: Art_DogCT, B24S, CanCyn, ChiGal, Festoonic, FM, Gumbo, hop2it, JB, JF, Joe, John, JM (2), JW, LL, Michael King, KF, LaRuse, mrsyk, MT, otisyves, Petal (5), RK, RL, RM, Rod, tennesseewaltzer, Utah, Bob White. (Readers, if you leave your link in comments, I credit you by your handle. If you send it to me via email, I use your initials (in the absence of a handle. I am not putting your handle next to your contribution because I hope and expect the list will be long, and I want it to be easy for readers to scan.)
• More like this, please! Total: 1 6 11 18 20 22 26 27/50 (54% of US states). We should list states that do not have Covid resources, or have stopped updating their sites, so others do not look fruitlessly. Thank you!
* * *
Look for the Helpers
I'm filing this here, as opposed to masking, because this looks like citizen science for mask testing, and the method seems very ingenious. Perhaps readers can comment. Click through for the complete results:

And the ingenious method:

See Maskstravaganza for my comments on fit-testing. What strikes me about this Tweet is that it's something that could probably be organized as a group, for the maximum variation of facial shapes, and the maximum number of masks tested. Could not the masking trade assocation publicize such efforts?

* * *

Finding like-minded people on (sorry) Facebook:

Thought I'd add this here in case anyone is interested. Places to find people who "Still Covid" in your area & online: https://t.co/T4ND4XbrpF & https://t.co/sP5wq4fAw5 You can also search on FB "Still Coviding ____" & see if there's a specific group on your area.

— Adriel Rose (@adriel_rose) March 1, 2023

"Covid Meetups" [COVID MEETUPS (JM)]. "A free service to find individuals, families and local businesses/services who take COVID precautions in your area." • I played around with it some. It seems to be Facebook-driven, sadly, but you can use the Directory without logging in. I get rational hits from the U.S., but not from London, UK, FWIW.
Covid Is Airborne
"Standing 3 steps apart on escalator lowers COVID risk: Japan research" [The Mainichi]. Droplet dogma — or a translation issue — but I think one can extrapolate to aerosols: "Standing three steps apart on an escalator significantly reduces the risk of COVID-19 infection while it is safer to descend than ascend one, recent research by a team involving the Kyoto Institute of Technology showed. The team lined up 10 maskless men, each 175 centimeters tall, on an escalator and computed the dispersion of droplets assuming that the man at the front coughed. The traced droplets measured less than 1.5 millimeters. The research showed that on a descending escalator, the droplets were quickly blown upward and traveled over the heads of the others. But on an ascending one, the droplets fell to a level around the waist of the coughing man and remained in the air for a long time. 'It is important to keep a distance as human movements make (surrounding) airflow unsteady and cause the dispersion of droplets," said Masashi Yamakawa, a professor at the Kyoto institute who led the team. The research was published in the scientific magazine Indoor Air in November.'"
Maskstravaganza
The fitting process is far more arduous than it should be:

Shoutout to the CAN99 for coming through for small / angular faces!!! First respirator I've ever tried that fits with no strap or chin adjustments 🥳

Huge thank you to @michael_hoerger for sending me some samples! pic.twitter.com/fU996ddH3c

— alex (she/they) (@yesallcrops) March 1, 2023

Here again, could not the masking trade assocation set some standards here? Sizing and fitting standards for masks should be at least as good as they are for shoes and clothes (imperfect, I grant). People shouldn't have to guess or order starter packs. This would certainly help the market!

"Community-based N95 Distribution During the COVID-19 Omicron BA.1 Surge: 1-month Utilization and Price Implications" (preprint) [psyArxiv]. "Masks and other non-pharmaceutical interventions can complement vaccines and treatments as a part of multilayered mitigation toreduce the burden of COVID-19 surges. Accordingly, the investigators distributed 2,500 N95s in 5-packs with informational handouts during the BA.1surge in New Orleans, Louisiana, USA(12/13/21-1/17/22). Recipients completeda voluntary 1-month follow-up utilization survey (N=153).At 1-month follow-up, participants had usedanaverage of 3.42 (68.4%) of the five N95s, felt safer wearing N95s (Ps<.0001 and="" discussed="" n95s="" with="" others="" would="" wear="" n95sagainif="" free.="" purchase="" intentions="" were="" price="" sensitive.="" after="" our="" distribution="" program="" the="" u.s.="" federal="" government="" distributed="" free="" but="" stockpiles="" are="" depleting="" not="" included="" in="" ongoing="" policy="" plans.="" governments="" can="" prepare="" for="" winter="" surges="" new="" variants="" by="" developing="" plans="" of="" n95s.="" we="" could="" also="" do="" serious="" work="" on="" how="" to="" move="" masks="" away="" from="" look="" feel="" a="" medical="" device="" into="" realm="" fashion="" something="" that="" somebody="" might="" normally.="" like="" athletic="" shoes.="" or="" hat.="" wearing="" mask="" pandemic="" should="" be="" as="" unremarkable="" bringing="" an="" umbrella="" case="" rain.="" ffs.="" want="" nyc="" businesses="" require="" customers="" show="" their="" faces="" href="https://pix11.com/news/local-news/police-want-nyc-businesses-to-require-customers-show-their-faces/" target="_blank" rel="nofollow">Pix11]. "Customers should be required to show their faces before being allowed into businesses, NYPD officials urged on Tuesday. Removing a mask and allowing identification can be a "condition of entry," NYPD Chief of Department Jeffrey Maddrey said. Businesses can then allow people to put masks back on after they've shown their face." • Masks don't cover the face, since the eyes are visible (though perhaps that messes up whatever facial recognition system the NYPD has, in which case NYPD tech is inferior to China's). And of course, you knew that as soon as the anti-maskers got the whip hand, all this "individual choice" foo-fra would go out the window. Commentary:

4/ So in what way is this an effective strategy? What does it deter? It makes it harder to mask in public spaces, & so, is a deterant against masking. It also sets up a perception that those who mask are up to no good; they need to get with the program, obey the social compact.

— J. Offir, Ph.D. (@dontwantadothis) March 1, 2023

Struggle sessions are never pleasant:

Wow I'm so jealous! Way to go! I've basically gotten to the point where he'll wear the darn aura (thank goodness) but still thinks he's 100% invincible and will go out for coffees and to restaurants. I don't have energy to argue this anymore but this gives me some hope.

— Jackie 🦈 (@FiliaOmnium) March 1, 2023

But sometimes they're necessary!

"It's still OK to think masks were a good idea" [Star-Tribune]. A discussion of the Cochane study that gives it a lot more credit for scholarly integrity than it deserves. Concluding: "For a brief while in the early stages of the pandemic, there was unity in the public response. Would society be as proactive again?" Depends on who's the hegemon. More: "COVID mutations are unpredictable. Vaccine uptake is dwindling. Meanwhile, a broad outbreak of bird flu has been spreading uncharacteristically among mammals. It's not reaching people but could have a high fatality rate if it did. Meanwhile, COVID still kills hundreds of Americans each day. You know, in case you lost track." • As to the headline, were and are.
Elite Malfeasance
Great metaphor:

And set the attic on fire…

— Sophie Block (@SophieBLock3) March 1, 2023

ID/IC at it again:

From Mario Possamai's 2020 report, "A Time of Fear."

Why is that statement faulty inference? Because it doesn't consider the impact of ventilation. And it's factually incorrect, they were getting sick.

There's that "gold standard" of evidence again. Said the same about Sars1.

— Matthew Oliver (@sameo416) March 1, 2023
* * *
Case Data
NOT UPDATED BioBot wastewater data from February 27: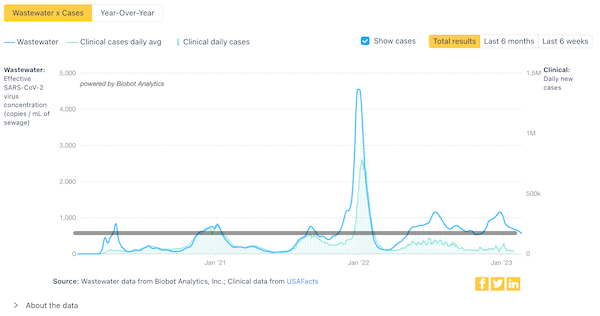 For now, I'm going to use this national wastewater data as the best proxy for case data (ignoring the clinical case data portion of this chart, which in my view "goes bad" after March 2022, for reasons as yet unexplained). At least we can spot trends, and compare current levels to equivalent past levels.
• "Study shows COVID-19 rates were likely forty-times higher than CDC estimates during BA.4/BA.5 dominant period in the U.S." [News Medical Life Sciences (NorD94)]. Original. n = 3042. "About 17% of study participants reported being infected with SARS-CoV-2 during the Omicron BA.4/BA.5 dominant period. This equates to 44 million cases, which is much higher than the 1.8 million cases estimated by the U.S. Centers for Disease Control and Prevention (CDC) during that period." • Holy moley. Readers will remember I estimated six to eight times. This is very bad news, if you buy that Covid causes immune dysregulatoin (as I do. No wonder everybody is coughing). NOTE: I should give a hat tip
Positivity
From the Walgreen's test positivity tracker, published March 1: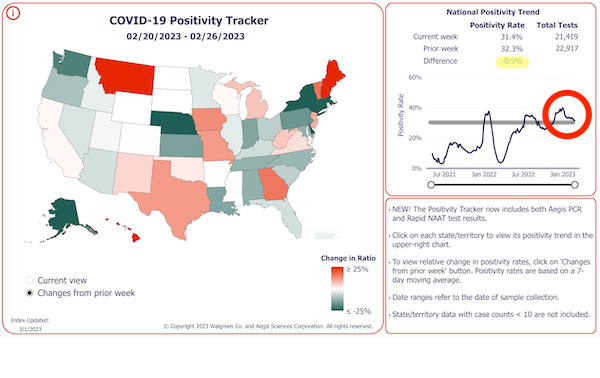 -0.9%. Still high, but at last a distinct downturn.
Deaths
Death rate (Our World in Data):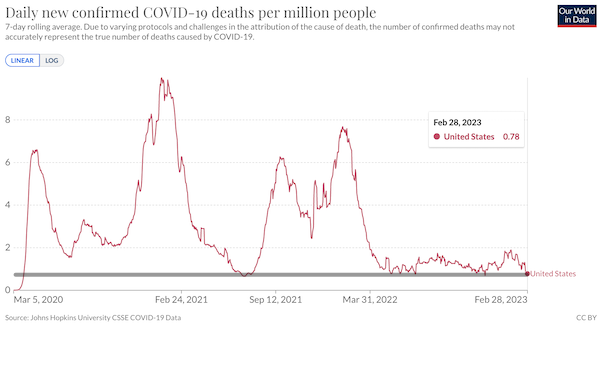 Total: 1,145,661 – 1,145,415 = 246 (246 * 365 = 89,790 deaths per year, today's YouGenicist™ number for "living with" Covid (quite a bit higher than the minimizers would like, though they can talk themselves into anything. If the YouGenicist™ metric keeps chugging along like this, I may just have to decide this is what the powers-that-be consider "mission accomplished" for this particular tranche of death and disease). Big jump because I missed yesterday.
It's nice that for deaths I have a simple, daily chart that just keeps chugging along, unlike everything else CDC and the White House are screwing up or letting go dark, good job. (Though CDC may be jiggering the numbers soon. Lower, naturally.)
Stats Watch
* * *
Commodities: "Australia blocks Chinese investor from raising stake in rare earths miner" [Mining.com]. "Australian rare earths producer Northern Minerals (ASX: NTU) said on Tuesday that the federal government had prevented its largest shareholder, China's Yuxiao Fund, from raising its stake in the company on grounds of national interest. Yuxiao Fund needed the Foreign Investment Review Board's (FIRB) approval to increase its holding in Northern Minerals to 19.9% from 9.92%."
Energy: "Chesapeake Energy to reduce drilling amid natgas price slump" [BIC Magazine]. "U.S. natural gas producer Chesapeake Energy Corp said it would pull back on drilling and completing wells this year as natural gas prices have crashed to a quarter of what they were last summer… Chesapeake said it will drop two rigs in the Haynesville region that covers parts of Texas, Arkansas and Louisiana this year, and one rig in Marcellus shale of Pennsylvania and West Virginia…. Other operators, primarily private firms, were also pulling back activity in that region, he said. Earlier this month, Comstock Resources Inc said it would cut drilling rigs to seven from nine this year."
Healthcare: "Novavax raises doubts about ability to remain in business, shares fall" [Reuters]. "COVID-19 vaccine maker Novavax Inc (NVAX.O) on Tuesday raised doubts about its ability to remain in business and announced plans to slash spending as it works to prepare for a fall vaccination campaign, and its shares plunged more than 25%. The company said there is significant uncertainty around its 2023 revenue, funding from the U.S. government, and pending arbitration with global vaccine alliance Gavi. But its cash flow forecast indicates it has sufficient capital to fund operations over the next year. Novavax also said that depending on the outcome of its arbitration with Gavi, it could be required to refund all or a portion of the roughly $700 million it received from the group, meant to pay for doses of the company's COVID vaccine for low- and middle-income countries." • Pfizer, good job.
Manufacturing: "Hyundai was poised to become Tesla's top contender. Then the U.S. government blindsided it" [Los Angeles Times]. "When the Hyundai Ioniq 5 and the Kia EV6, compact electric SUVs with base prices around $48,000, debuted a year ago, U.S. sales totaled 37,000 vehicles in the first three quarters of 2022. The Ioniq 5 and the EV6, built on the same basic platform, together overtook the Ford Mustang Mach-E as second-place contender, according to Edmunds. The Korean brands were poised to take the mantle as Tesla's top challenger, and because of their lower price, perhaps move the needle forward on mass adoption of EVs. Then the Inflation Reduction Act, the Biden administration's $369-billion climate bill, put on the brakes. Under the act, only electric vehicles assembled in the U.S. would qualify for a $7,500 customer tax reblate, bad news not just for Hyundai and Kia but also for all electric car makers in Japan and Europe. That part of the IRA kicked in immediately when President Biden signed the bill in August."
* * *
Today's Fear & Greed Index: 58 Greed (previous close: 58 Greed) [CNN]. One week ago: 60 (Greed). (0 is Extreme Fear; 100 is Extreme Greed). Last updated Mar 1 at 12:59 PM ET.
The Gallery
Not big fan of religious paintings, at least modern ones, as a rule:
Follow me, Satan (Temptation of Jesus Christ), 1903 #repin #impressionism https://t.co/uo0lxu16vQ pic.twitter.com/oJriNa0l1y

— Ilya Repin (@artistilyarepin) February 22, 2023
I wish there were more like this (though perhaps there's a whole school and I just don't know about it).
"The Practice of Attention" [Andy Adams, FlakPhoto]. "Digital media is the default mode for viewing photography for many of us. I've been a longtime champion of web-based photo experiences for obvious reasons. Digital images are beautiful, brightly backlit, and undoubtedly meaningful. Still, with so much of our contemporary photoland experience happening on Instagram, they scroll by far too quickly, which means we give them short shrift too much of the time. Printed photography doesn't just last longer; it affords a different kind of attentional experience that changes our relationship with the pictures and the people who make them. That kind of sustained attention is continually under assault on social media, and it's essential to comprehend someone's photography fully." • 100% agreed.
Our Famously Free Press
"Axios Details Mike Wilbon's Morning "Anti-Routine" So You Too Can Be A Productive Tool Like Mike Wilbon" [Defector]. This is a sports controversy I don't follow. That said: "It was only a matter of time before Axios and Michael Wilbon joined forces. If you're unfamiliar with the bulletpoint fetishists at Axios, they're one of those those digital money pits like Puck and Semafor that's designed to make you, the peasant, feel like you're rubbing elbows with some of the most connected and vacuous people in what's left of the news media. If you're unfamiliar with Wilbon, he's the co-host of Pardon The Interruption, a preening starfucker of the highest order, and a man who regards everyday sports fans with outright disdain. I've hated this man's guts for decades, and I'm ready to hate Axios for just as long. So you understand how these two entities might have something in common. And thank god for that, because on Monday Cuneyt Dil of Axios detailed Wilbon's morning schedule, so that you can behold it with great awe and then feel much worse about your own station in life." • It's good that the spirit of Hunter Thompson is alive. (Also, Defector is a co-operative supported by subscriptions, and Axios is very much neither of those things. So there's that.) Also, I had to quote Semafor the other day. Sorry.
Class Warfare
East Palestine Toxic Train Bomb:
"East Palestine's record of devastating derailments" [Axios Columbus]. "Long before the Feb. 3 Norfolk Southern derailment exposed East Palestine to hazardous chemicals, residents suffered from a series of devastating rail car derailments that destroyed businesses, ruined local infrastructure and often left the city stuck paying for the damage… An Axios review of hundreds of old newspaper clippings across the state and into Pennsylvania identified at least nine freight derailments in East Palestine between 1946 and 1976. All nine happened on the same line now owned by Norfolk Southern."
"New U of M Graduate Labor Union Could Unionize 4,000 Jobs" [Racket]. "This campaign to unionize the U of M's grad workers began in 2020, catalyzed, in part, by the university's reaction to the pandemic. There have been past attempts to unionize those 4,000-ish jobs, though [third-year PhD candidate Anya] Auerbach says the current UMN Graduate Labor Union is by far the best organized push. (Similar union efforts have been defeated five times at the U since 1974, Minnesota Reformer reports.) This time the union is backed by United Electrical, Radio, and Machine Workers of America (UE), which has helped graduate workers win unions in recent years at MIT, Johns Hopkins, and Northwestern. Grad assistant unions exist around the Big 10 at Iowa, Michigan, University of Illinois Urbana-Champaign, Wisconsin, Rutgers, and Michigan State. The recent national surge of unionizing grad students "may become a wave," Forbes reports. If successful, the UMN Graduate Labor Union would represent a vast swath of jobs across the U."
"Association between precarious employment and BMI in the United States" [Obesity]. n=7280. From the Abstract: "There is growing recognition that precarious employment is an important determinant of health, which may increase BMI through multiple mechanisms, including stress. It was investigated whether increases in precarious employment were associated with changes in BMI in the United States…. Given that even small changes in weight affect chronic disease risk, policies to improve employment quality warrant consideration."
"Not Getting Vaccinated? It Is a Matter of Problem-Solving Abilities and Socio-Cognitive Polarization" [International Journal of Environmental Research and Public Health]. "The process that led individuals to accept COVID-19 vaccines required the ability to gather, synthesize, and weigh-up information within a novel, dynamically changing, complex, and ambiguous context. To deal with such complexity, we hypothesized that both the ability of reflection and flexible adaptation played a fundamental role. Based on previous research on cognitive predictors of vaccine refusal, we decided to investigate the combined role of two constructs, namely, problem-solving skills and socio-cognitive polarization (SCP), on vaccine acceptance and uptake. Two-hundred-seventy-seven US participants completed an online survey aimed to measure problem-solving ability, through a rebus puzzles task, and SCP, through a composite measure of absolutist thinking, political conservatism, and xenophobia. Mediation analyses indicated that SCP mediated the association between problem-solving ability and vaccine acceptance, so lower problem-solving abilities associated with higher polarization predicted vaccine rejection. Thus, our findings suggested that low problem-solving skills may represent a risk factor for COVID-19 vaccine refusal, with cognitive and social rigidity playing a crucial role in undermining the anti-COVID-19 vaccine uptake." • One important function of the PMC is to use their technical and managerial skills to address society-wide irruptions like pandemics. They failed. Miserably, and lethally. So who are the stupid ones? Naturally, they blame others. This article is Blue State v. Red State hatred wrapped in verbiage, using the standard trope of "against their own interests."
"America Is Trying to Electrify. There Aren't Enough Electricians." [Wall Street Journals]. "Electricians, the essential workers in the transition to renewable energy, are in increasingly short supply. They are needed to install the electric-car chargers, heat pumps and other gear deemed essential to address climate change. Electricians say they are booked several months out and struggling to find enough workers to keep up with demand. Many are raising wages and prices and worried that they won't be able to keep up as government climate incentives kick in…. The median age of electricians is over 40 years old, in line with the broader workforce. But nearly 30% of union electricians are between ages 50 and 70 and close to retirement, up from 22% in 2005, according to the National Electrical Contractors Association. The average annual electrician salary rose from roughly $50,000 to about $60,000 from 2018 to 2022, an increase roughly in line with the national average, according to the BLS." • If your children are making college decisions….
* * *
Brooklyn hates masks too?
I tried to recruit a young friend to "the left". he went to an organizing event. it was indoors, no masks in sight (as in people didnt even wear them on the commute/have them on their person). he said he wouldn't go to another one. Great movement building we are doing

— ··· (@subzerocovid) February 28, 2023
News of the Wired
Science is popping:
Darwin's word is generally heralded as the authoritative opinion on matters of evolution. One of the things he said that we've been nodding along with for centuries is that males are larger than females in most mammals. (1/13) pic.twitter.com/dUJAc1Dtg7

— Kaia Tombak (@kaiatombak) February 27, 2023
As it turns out, Darwin's sample was inadequate!
Medical ethics:
"May I never see in the patient anything but a fellow creature in pain."

Wisdom of Maimonideshttps://t.co/4qxp8jFaU5#MedTwitter pic.twitter.com/vam0tBvOtB

— WesElyMD (@WesElyMD) March 1, 2023
"May I never see in the patient anything but a fellow creature in pain."
"Life Need Not Ever End" [Noema]. "Perhaps the most depressing scientific idea that has ever been put forth is the infamous "heat death hypothesis." It is a theory about the future of the universe based on the second law of thermodynamics, which in its most well-known form states that entropy, a complicated and confusing term commonly understood to simply mean "disorder," tends to increase over time in a closed system. Therefore, if we consider that the universe is itself a closed system, the law seems to suggest that the cosmos is becoming increasingly disorganized…. In fact, some leading scientists are beginning to think that the cosmos is becoming increasingly complex and organized over time as a result of the laws of physics and the evolutionary dynamics that emerge from them. Seth Lloyd, Eric Chaisson and Freeman Dyson are among the well-known names who have questioned whether 'disorder' is increasing in the cosmos. Outside of physics, complexity theorist Stuart Kauffman, neuroscientist Christof Koch and Google's director of engineering Ray Kurzweil all believe that the universe is not destined to grow more disorganized forever, but more complex and rich with information. … David Deutsch, the father of quantum computation… argues that there are no fundamental limits to knowledge creation. [This is a very strong claim] because it specifically suggests that life in the universe need not come to an end." • Fascinatingly, Maimonides has the same idea: "Knowledge is immense and the spirit of man can extend infinitely to enrich itself daily with new requirements."
* * *
Contact information for plants: Readers, feel free to contact me at lambert [UNDERSCORE] strether [DOT] corrente [AT] yahoo [DOT] com, to (a) find out how to send me a check if you are allergic to PayPal and (b) to find out how to send me images of plants. Vegetables are fine! Fungi and coral are deemed to be honorary plants! If you want your handle to appear as a credit, please place it at the start of your mail in parentheses: (thus). Otherwise, I will anonymize by using your initials. See the previous Water Cooler (with plant) here. From AM: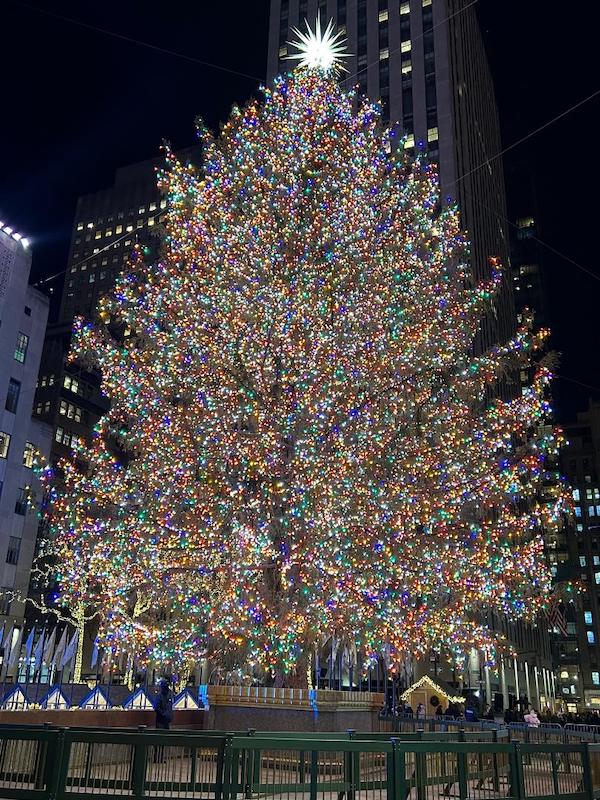 AM writes: "This is what I got in the Big Apple!" I got to this a bit late, but it's still lovely!
* * *
Readers: Water Cooler is a standalone entity not covered by the annual NC fundraiser. So if you see a link you especially like, or an item you wouldn't see anywhere else, please do not hesitate to express your appreciation in tangible form. Remember, a tip jar is for tipping! Regular positive feedback both makes me feel good and lets me know I'm on the right track with coverage. When I get no donations for five or ten days I get worried. More tangibly, a constant trickle of donations helps me with expenses, and I factor in that trickle when setting fundraising goals:
Here is the screen that will appear, which I have helpfully annotated: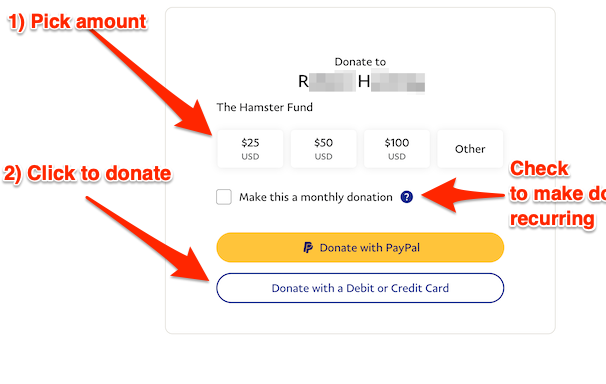 If you hate PayPal, you can email me at lambert [UNDERSCORE] strether [DOT] corrente [AT] yahoo [DOT] com, and I will give you directions on how to send a check. Thank you!