By Lambert Strether of Corrente.
Bird Song of the Day
Canyon Towhee, San Juan Wash, south side of the Black Hills, Pima, Arizona, United States. "'Complex song', blending into normal song later in the cut, from a bird moving at mid-height in a dense bush."
* * *
Politics
"So many of the social reactions that strike us as psychological are in fact a rational management of symbolic capital." –Pierre Bourdieu, Classification Struggles
2024
"Trump's ability to get away with shooting somebody in the middle of 5th Ave is likely waning" [Boing Boing]. "Trump's popularity is falling apart. While he might be able to win a Republican primary, it seems highly unlikely that the indicted fraudster, who is also on trial for rape, could win a general election. Never count the Orange Menace out, however, because Lindsay Graham and Don Jr are still pulling for him."" • That's the lead. Then again–

"Trump Leads DeSantis In Our 2024 Republican Primary Polling Average" [FiveThirtyEight]. "Today, FiveThirtyEight is launching our national polling average for the 2024 Republican presidential primary. It shows former President Donald Trump receiving 49.3 percent of the national vote and Florida Gov. Ron DeSantis (who has not officially entered the race) receiving 26.2 percent. Former Vice President Mike Pence, another potential candidate, is at 5.8 percent, while declared candidate and former UN Ambassador Nikki Haley is at 4.3 percent."

"Trump says he'd "never drop out" of 2024 race, even if convicted" [Axios]. "Former President Trump made clear Tuesday evening he won't drop out of the 2024 presidential race if convicted of charges related to a 2016 illegal hush money payment to adult film star Stormy Daniels. Fox News host Tucker Carlson asked Trump if there's anything legal that could make the 2024 Republican presidential candidate drop out of the race. 'No, I'd never drop out,' Trump said. 'That's not my thing. I wouldn't do it,' he added." • I should probably have gone to find a transcript, since Trump is very often misquoted. That said, IIRC the Daniels payment was not legal, but that doesn't mean Trump did anything illegal.

"DA Alvin Bragg's one-time rival explains why he was '100 percent right' to leave a gaping hole in Trump's indictment" [Insider]. "Bragg's approach appears to be a deliberate strategy to choose among four different secondary crimes later on. A 30-year veteran of the DA's office told Insider that Bragg will lay the specifics out in a so-called 'bill of particulars' down the road." • So we weren't looking at an indictment, but a meta-indictment; a piece of sandbagging. Correct me if I'm wrong here, but under our system of justice, doesn't the defendant get a chance to prepare?

"Tim Scott is the most intriguing GOP presidential hopeful most Republicans haven't heard of" [Insider]. "National attention is transfixed on former President Donald Trump and Florida Gov. Ron DeSantis. A protracted and ugly clash between the two men appears inevitable, even though DeSantis isn't expected to announce until at least May. If the fallout scars both men, an opening could easily emerge for a third hopeful. South Carolina Sen. Tim Scott is strongly positioned to capitalize. Scott, like DeSantis, has yet to formally announce a campaign, though he established an exploratory committee on Wednesday. Scott could very well end up being the only GOP senator to enter the field after Sen. Tom Cotton demured, and neither Sens. Ted Cruz nor Marco Rubio seem likely to launch a second presidential run… Scott's most compelling case might just be his campaign's bank account. Having easily won reelection, he started the year with over $20 million at the ready. In comparison, Sen. Elizabeth Warren used $10.4 million to help seed her Democratic presidential run in 2019…. The South Carolinian is also well positioned if the Republican National Committee imposes grassroots donor thresholds for official primary debates. Axios reported in late January that the RNC is considering using the same tactic that Democrats used to winnow their debate field in 2019…." • Plus he's Black, which would totally own the libs.
Democrats en Déshabillé
Patient readers, it seems that people are actually reading the back-dated post! But I have not updated it, and there are many updates. So I will have to do that. –lambert

I have moved my standing remarks on the Democrat Party ("the Democrat Party is a rotting corpse that can't bury itself") to a separate, back-dated post, to which I will periodically add material, summarizing the addition here in a "live" Water Cooler. (Hopefully, some Bourdieu.) It turns out that defining the Democrat Party is, in fact, a hard problem. I do think the paragraph that follows is on point all the way back to 2016, if not before:

The Democrat Party is the political expression of the class power of PMC, their base (lucidly explained by Thomas Frank in Listen, Liberal!). ; if the Democrat Party did not exist, the PMC would have to invent it. . ("PMC" modulo "class expatriates," of course.) Second, all the working parts of the Party reinforce each other. Leave aside characterizing the relationships between elements of the Party (ka-ching, but not entirely) those elements comprise a network — a Flex Net? An iron octagon? — of funders, vendors, apparatchiks, electeds, NGOs, and miscellaneous mercenaries, with assets in the press and the intelligence community.

Note, of course, that the class power of the PMC both expresses and is limited by other classes; oligarchs and American gentry (see 'industrial model' of Ferguson, Jorgensen, and Jie) and the working class spring to mind. Suck up, kick down.

* * *

CA: "Aspen Vacation Home of Dianne Feinstein and Her Late Husband Sells for $25.25 Million" [Wall Street Journal]. "The longtime Colorado vacation home of Sen. Dianne Feinstein and her late husband, Richard C. Blum, has sold for $25.25 million, according to property records…. Mr. Blum, founder of the San Francisco-based investment firm Blum Capital Partners, and Mrs. Feinstein married in 1980, when she was mayor of San Francisco. A trust led by Mr. Blum paid $1.975 million for the Aspen-area land in 1996, records show, and the home was completed in 1998. The couple hosted events, foreign-policy experts and others at Bear Paw Ranch over the years. Mr. Blum was a longtime skier with a strong interest in Tibetan Buddhism, and filled the home with Tibetan and Nepali Buddhist artifacts."

TN: "Reinstated Tennessee lawmaker Justin Jones says he'll continue to call for gun reform" [CNN]. "After being sworn back into the Tennessee House of Representatives, a lawmaker who was expelled just days ago over a gun control demonstration on the chamber floor said he'll continue to call for gun reform. 'The first thing I do when I walk into this building as a representative is to continue that licensing guns, like cars? With "Gun Ed," like cars?

TN: "Justin Pearson and Justin Jones Have a History of Breaking the Status Quo, Even With Clothing" [Vogue]. "But in many ways Jones and Pearson were already bucking against the so-called status quo of the Republican-controlled chambers—in part through their sartorial choices, which have included Afros, pristine white suits, and dashikis (a colorful patterned garment, which originated in West Africa, for both formal and informal occasions). If President Barack Obama became a target of Republican-led attacks and vitriol by donning a tan suit, imagine the chatter a white one would have elicited? Or a dashiki?…. Jones, who is of Filipino and Black descent, delivered a nearly 20-minute defense before the vote took place, calling the affair a "lynch mob assembled—to not lynch me but our democratic process." He immediately stood out in the sea of drab-colored suits and closely cropped haircuts through his white suit, hoop earring, and long curls that were loosely pulled back into a ponytail. Ditto Pearson. The 29-year-old lawmaker has a big, combed-out Afro and wore a black-and-white dashiki over his crisp white button-down and tie, with a navy blazer worn over the ensemble. Here were two men of color tinkering with the standard politician's uniform and transforming it into something decidedly more personal and attuned to who they are. It felt even more poignant that it was taking place while being ousted from the very space they were attempting to change." • Hmm.
Realignment and Legitimacy
"See the fastest growing (and shrinking) U.S. states" [Axios]. "Idaho, Montana and Florida saw the highest population growth among U.S. states between 2020-2022, per new U.S. Census Bureau data, while New York, Illinois and Louisiana suffered the most shrinkage. The past few years have been especially turbulent for population trends, with the COVID-19 pandemic affecting birth and death rates, interstate and international migration, and more…. Some of the fastest growing areas — we're looking at you, Arizona, Nevada and New Mexico — are also some of the most vulnerable to the ongoing effects of climate change, like drought and a dwindling water supply. The bottom line: It'll take a few more years for the effects of the pandemic to fully shake out, but there's never been a more fascinating time to look at data like this." • Handy map:
#COVID19
"I am in earnest — I will not equivocate — I will not excuse — I will not retreat a single inch — AND I WILL BE HEARD." –William Lloyd Garrison
Resources, United States (National): Transmission (CDC); Wastewater (CDC, Biobot; includes many counties); Variants (CDC; Walgreens); "Iowa COVID-19 Tracker" (in IA, but national data).
Lambert here: Readers, thanks for the collective effort. We are now up to 50/50 states (100%). This is really great! (It occurs to me that there are uses to which this data might be put, beyond helping people with "personal risk assessments" appropriate to their state. For example, thinking pessimistically, we might maintain the list and see which states go dark and when. We might also tabulate the properties of each site and look for differences and commonalities, for example the use of GIS (an exercise in Federalism). I do not that CA remains a little sketchy; it feels a little odd that there's no statewide site, but I've never been able to find one. Also, my working assumption was that each state would have one site. That's turned out not to be true; see e.g. ID. Trivially, it means I need to punctuate this list properly. Less trivially, there may be more local sites that should be added. NY city in NY state springs to mind, but I'm sure there are others. FL also springs to mind as a special case, because DeSantis will most probably be a Presidental candidate, and IIRC there was some foofra about their state dashboard. Thanks again!
Resources, United States (Local): AK (dashboard); AL (dashboard); AR (dashboard); AZ (dashboard); CA (dashboard; Marin); CO (dashboard; wastewater); CT (dashboard); DE (dashboard); FL (wastewater); GA (wastewater); HI (dashboard); IA (wastewater reports); ID (dashboard, Boise; dashboard, wastewater, Central Idaho; wastewater, Coeur d'Alene; dashboard, Spokane County); IL (wastewater); IN (dashboard); KS (dashboard; wastewater, Lawrence); KY (dashboard, Louisville); LA (dashboard); MA (wastewater); MD (dashboard); ME (dashboard); MI (wastewater; wastewater); MN (dashboard); MO (wastewater); MS (dashboard); MT (dashboard); NC (dashboard); ND (dashboard; wastewater); NE (dashboard); NH (wastewater); NJ (dashboard); NM (dashboard); NV (dashboard; wastewater, Southern NV); NY (dashboard); OH (dashboard); OK (dashboard); OR (dashboard); PA (dashboard); RI (dashboard); SC (dashboard); SD (dashboard); TN (dashboard); TX (dashboard); UT (wastewater); VA (dashboard); VT (dashboard); WA (dashboard; dashboard); WI (wastewater); WV (wastewater); WY (wastewater).
Resources, Canada (National): Wastewater (Government of Canada).
Resources, Canada (Provincial): ON (wastewater); QC (les eaux usées); BC, Vancouver (wastewater).
Hat tips to helpful readers: Art_DogCT, B24S, CanCyn, ChiGal, Chuck L, Festoonic, FM, FreeMarketApologist (4), Gumbo, hop2it, JB, JEHR, JF, JL Joe, John, JM (9), JW, KatieBird, LL, Michael King, KF, LaRuse, mrsyk, MT, otisyves, Petal (5), RK (2), RL, RM, Rod, square coats (11), tennesseewaltzer, Utah, Bob White (3).
* * *
Maskstravaganza
On nasal vaccines:

They've taught us… groomed us… not to care about one another…

not to even be awake to our own health…

— Dr Noor Bari (@NjbBari3) April 8, 2023
Sequelae
"SARS-CoV-2 infection weakens immune-cell response to vaccination" [NIH]. "The researchers found that vaccination of people who had never been infected with SARS-CoV-2 induced robust CD4+ and CD8+ T-cell responses to the virus' spike protein. In addition, these T cells produced multiple types of cell-signaling molecules called cytokines, which recruit other immune cells—including antibody-producing B cells—to fight pathogens. However, people who had been infected with SARS-CoV-2 prior to vaccination produced spike-specific CD8+ T cells at considerably lower levels—and with less functionality—than vaccinated people who had never been infected. Moreover, the researchers observed substantially lower levels of spike-specific CD8+ T cells in unvaccinated people with COVID-19 than in vaccinated people who had never been infected. Taken together, the investigators write, these findings suggest that SARS-CoV-2 infection damages the CD8+ T cell response, an effect akin to that observed in earlier studies showing long-term damage to the immune system after infection with viruses such as hepatitis C or HIV. The new findings highlight the need to develop vaccination strategies to specifically boost antiviral CD8+ T cell responses in people previously infected with SARS-CoV-2, the researchers conclude." • I am not knowledgeable enough to say that this means "Leonardi was right about T cells." Perhaps readers more expert than I can comment.

"Going long: Viruses linger with lasting impact" [Fred Hutch Cancer Center]. "NIH scientists are currently examining the similarities between long COVID and other post-viral fatigue ailments such as long-neglected ME/CFS. Fred Hutch infectious disease expert Steve Pergam, MD, MPH, called the long-term consequences of infections 'a really intriguing space.' 'I would argue that it's not just viruses,' he said, pointing to a recent review of unexplained post-acute infection syndromes by Yale immunologist Akiko Iwasaki, PhD, and colleagues. Published in the journal Nature, the authors said (emphasis added), 'the relatively similar symptom profiles of individual post-acute infection syndromes, , as well as the overlap of clinical features with ME/CFS, suggest the potential involvement of a common etiopathogenesis.' In other words, it's not just COVID that goes long. 'It may be a number of different pathways to infection in general that can lead to chronic complications,' Pergam said. 'A classic example is something like the gastrointestinal bacteria campylobacter which has been associated with rheumatologic problems. These infections can set off a pathway toward autoimmunity and other complications. It depends on the illness and the severity of the illness on whether it lingers or there's ongoing issues.' Some of it, Pergam said, is related to our immunity and how we respond to organisms. And some of it is the pathogen itself."
Origins Debate
"Congressional memo: Virologists drafted article against the lab leak theory on behalf of Wellcome Trust, NIH" [US Right to Know]. "A March 2020 paper in Nature Medicine titled 'The proximal origin of SARS-CoV-2' assured the public that the virus' genome demonstrated an origin in wildlife. Hundreds of news organizations cited the article to assert that the lab leak theory was a 'conspiracy theory.' But the new congressional memo shows that the lead author of the article told the scientific journal that the writing had been "prompted" by then-Wellcome Trust Director Jeremy Farrar, leader of NIH's National Institute of Allergy and Infectious Diseases Anthony Fauci, and NIH Director Francis Collins. The virologists met with Farrar, Fauci and Collins in a private teleconference on February 1, 2020, emails released under the Freedom of Information Act have shown — a meeting some scientists have criticized as improper. 'There has been a lot of speculation, fear mongering, and conspiracies put forward in this space,' acknowledged lead author Kristian Andersen in a February 12 email, according to the new memo." And: 'The involvement of Collins, Fauci and Farrar in the article was not disclosed until it was made apparent in a Freedom of Information Act lawsuit in June 2021, 15 months after the article had first made its enormous impact. The virologists have given shifting explanations of the purpose of the article, the new memo also shows. When hoping to demonstrate their integrity to the journal, Andersen said discussion of the evidence had been 'agnostic.' However when speaking to gain-of-function virologists who did not want to give credence to the possibility of a lab origin at all, the authors assured them that their purpose was to demonstrate the lab leak theory was outlandish from the jump." • The problem I have here is that "The wicked flee when no man pursueth" (Proverbs 28:1). Guilty behavior is not guilt; if I were these guys, I'd want to slam the door too, regardless of (Yes, we already know virology funding is a cesspit; see Vanity Fair, of all places. But that tells us nothing of origins.)
Elite Malfeasance
Disinformation (1):

Phys. orghttps://t.co/Nd6EZubbYt

— Jonathan Mesiano-Crookston 🌬️🔅#COVIDisAirborne (@jmcrookston) June 24, 2022

A long thread full of useful links, for those who need ammo.

Disinformation (2):

They've taught us… groomed us… not to care about one another…

not to even be awake to our own health…

— Dr Noor Bari (@NjbBari3) April 8, 2023

Hospital Infection Control is at it again:

Wow! Those are a lot of covid infections from healthcare settings. Over 100,000 hais in 2023 alone from the @PeoplesCDC weekly weather report. https://t.co/GzgcciHcCQ #KeepMasksInHealthCare pic.twitter.com/aKqtvP8VV8

— Andrew W a n g, PhD, MPH, CPH (@AWangMPH) April 11, 2023
* * *
Looks like "leveling off to a high plateau" across the board. (I still think "Something Awful" is coming, however. I mean, besides what we already know about.) Stay safe out there!
Case Data
NOT UPDATED BioBot wastewater data from April 10: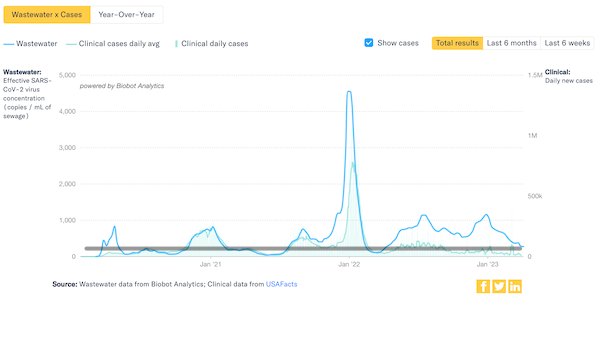 For now, I'm going to use this national wastewater data as the best proxy for case data (ignoring the clinical case data portion of this chart, which in my view "goes bad" after March 2022, for reasons as yet unexplained). At least we can spot trends, and compare current levels to equivalent past levels.
Covid Emergency Room Visits
From CDC NCIRD Surveillance, from April 8: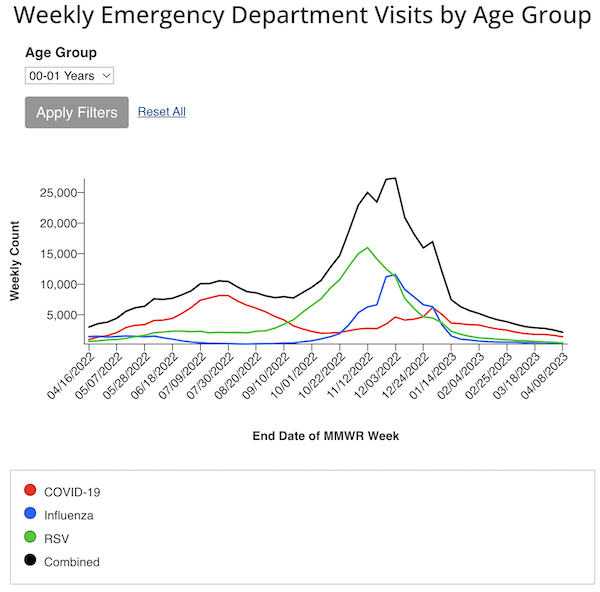 NOTE "Charts and data provided by CDC, updates Wednesday by 8am. For the past year, using a rolling 52-week period." So not the entire pandemic, FFS (the implicit message here being that Covid is "just like the flu," which is why the seasonal "rolling 52-week period" is appropriate for bothMR SUBLIMINAL I hate these people so much. Anyhow, I added a grey "Fauci line" just to show that Covid wasn't "over" when they started saying it was, and it's not over now. Notice also that this chart shows, at least for its time period, that Covid is not seasonal, even though CDC is trying to get us to believe that it is, presumably so they can piggyback on the existing institutional apparatus for injections.
Positivity
NOT UPDATED From the Walgreen's test positivity tracker, published April 11: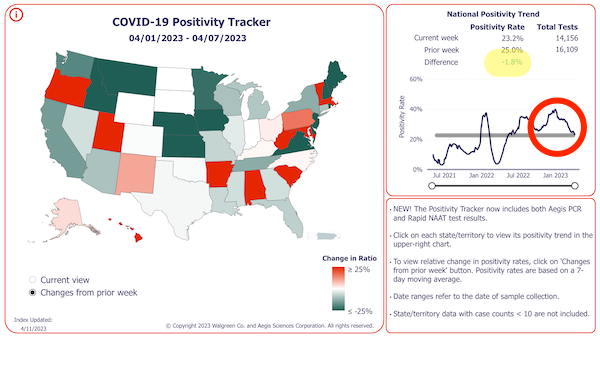 -1.8%. Below the low point of the previous valley.
Lambert here: Walgreens always updates. If they're shutting it down, I'll be disappointed…
Deaths
Death rate (Our World in Data):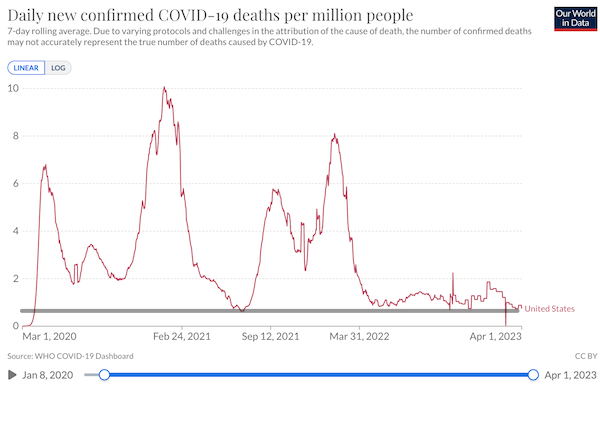 Total: 1,157,194 – 1,157,022 = 172 (172 * 365 = 62,780 deaths per year, today's YouGenicist™ number for "living with" Covid (quite a bit higher than the minimizers would like, though they can talk themselves into anything. If the YouGenicist™ metric keeps chugging along like this, I may just have to decide this is what the powers-that-be consider "mission accomplished" for this particular tranche of death and disease).
Lambert here: 172 again. I hate that.
Excess Deaths
NOT UPDATED Excess deaths (The Economist), published April 2: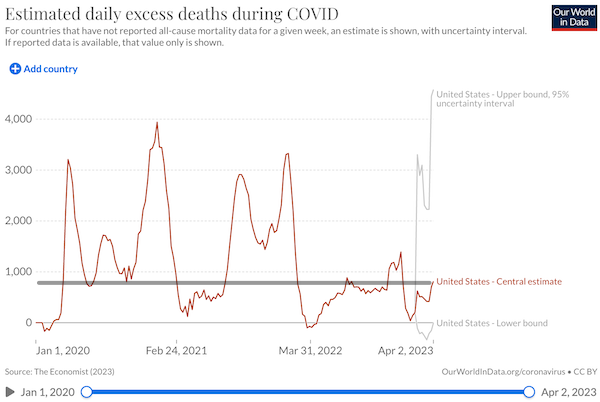 Lambert here: Big jump from the last reading in the "Central Estimate."
Lambert here: Based on a machine-learning model. Looks like a data issue, to me. I"m not sure how often this updates, and if it doesn't, I'll remove it. (The CDC has an excess estimate too, but since it ran forever with a massive typo in the Legend, I figured nobody was really looking at it, so I got rid it.
• "COVID-19 a leading cause of death in children and young people in the US" [Imperial College London]. "Analysis of US health data highlights COVID-19 was a leading cause of death in children and young people, ranking 8th overall. COVID-19 was the underlying cause of death for more than 940,000 people in the US, including over 1,300 deaths among children and young people aged 0–19 years. These are the findings of a new study, led by researchers at the University of Oxford, and including researchers from the Department of Mathematics and MRC Centre for Global Infectious Disease Analysis at Imperial College London, which published in the journal JAMA Network Open." •
Stats Watch
Inflation: "United States Consumer Price Index (CPI)" [Trading Economics]. "The consumer price index in the United States rose 5.0 percent from a year earlier to 301.836 points in March 2023, easing from a 6.0 percent advance the month before and missing market expectations forecasts of a 5.2 percent increase to 302.254 points. The headline inflation eased for a ninth consecutive month to the lowest level since May 2021, led by a sharp decline in the cost of energy."
* * *
Tech: "Twitter Inc. 'No Longer Exists' As Elon Musk Inches Closer To X 'Everything App' Ambitions" [Forbes]. "Twitter Inc. 'no longer exists' and the company is now a part of X Corp., according to an April 4 filing in California federal court. Musk pointed to the fairly obscurely located filing in an early Tuesday tweet, which simply read, 'X.' …. Musk has indicated he hopes to transform Twitter/X into a wide-ranging service akin to China's WeChat, telling a Morgan Stanley conference last month he wants his app 'to become the biggest financial institution in the world.' Musk said at the time he wanted X to become a peer-to-peer mobile payment platform where users can earn interest on their cash like at a bank, previously suggesting he wants his app to include a glut of services including ride-hailing and food delivery." • I can say with confidence that we at NC would be happy to see a competitor to PayPal, even if this is a little self-serving.
The Bezzle: "Bitcoin Rally Continues, Gaining More Than 80% This Year" [New York Times]. • Maybe I have to recategorize Bitcoin. After all, there's always a market for fraud.
The Bezzle: "Hey look, unicorns are rare again!" [TechCrunch]. "Investors are no longer minting nearly two unicorns per day. In fact, we're down to barely more than one new mythical horned horse per week. Welcome to the new venture normal, where it seems stories of previously well-funded startups imploding will be more common than news of mega-rounds…. Declining valuations at tech companies big and small and the dearth of capital are together creating a parched startup landscape." • That's a damn shame.
* * *
Today's Fear & Greed Index: 65 Greed (previous close: 59 Greed) [CNN]. One week ago: 55 (Neutral). (0 is Extreme Fear; 100 is Extreme Greed). Last updated Apr 12 at 1:52 PM ET.
Police State Watch
"New York's mayor wants you to know how much he loves police robots [TechCrunch]. • Kill them with fire.l
Class Warfare
"Southern California ports reopen. Shutdown highlights high-stakes contract talks" [Los Angeles Times]. "Southern California dockworkers returned to the job Friday night, ending an approximately 24-hour shutdown at the Los Angeles and Long Beach ports — a crucial entry point for imports arriving from Asia. The temporary closure has exacerbated fears about a logistics infrastructure that has never fully recalibrated since the COVID-19 pandemic delays and has shone a stark, national spotlight on the high-stakes labor negotiations playing out at the ports. 'This is quite clearly a wake-up call to the ports' operators,' said Harley Shaiken, a professor emeritus at UC Berkeley who specializes in labor issues. 'This process hasn't just been slow, it's been inching along with very high stakes in the balance. 'Because their members can shut down ports all along the West Coast, Shaiken said, the longshore union has unequaled power.'" • Moar robots!
"The actor, the hairstylist and the eye surgeon: Drugs and death in a Malibu beach house" [Los Angeles Times].
News of the Wired
Dang. Not wired again!
* * *
Contact information for plants: Readers, feel free to contact me at lambert [UNDERSCORE] strether [DOT] corrente [AT] yahoo [DOT] com, to (a) find out how to send me a check if you are allergic to PayPal and (b) to find out how to send me images of plants. Vegetables are fine! Fungi and coral are deemed to be honorary plants! If you want your handle to appear as a credit, please place it at the start of your mail in parentheses: (thus). Otherwise, I will anonymize by using your initials. See the previous Water Cooler (with plant) here. From MR: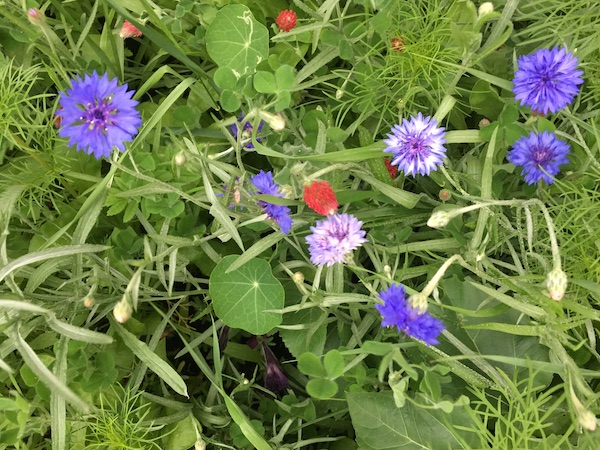 MR writes: "Wildflowers planted from a can by someone with a green thumb (summer 2022)." More like this please!
* * *
Readers: Water Cooler is a standalone entity not covered by the annual NC fundraiser. So if you see a link you especially like, or an item you wouldn't see anywhere else, please do not hesitate to express your appreciation in tangible form. Remember, a tip jar is for tipping! Regular positive feedback both makes me feel good and lets me know I'm on the right track with coverage. When I get no donations for five or ten days I get worried. More tangibly, a constant trickle of donations helps me with expenses, and I factor in that trickle when setting fundraising goals:
Here is the screen that will appear, which I have helpfully annotated: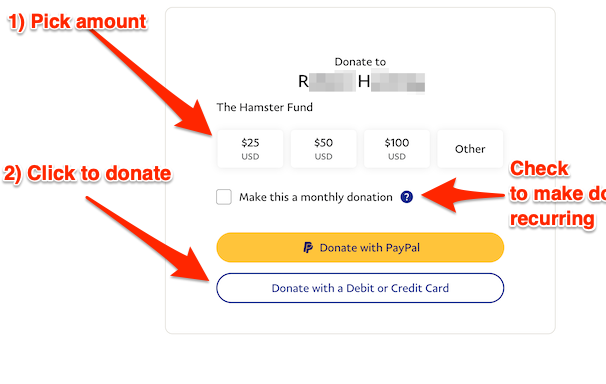 If you hate PayPal, you can email me at lambert [UNDERSCORE] strether [DOT] corrente [AT] yahoo [DOT] com, and I will give you directions on how to send a check. Thank you!