By Lambert Strether of Corrente.
Bird Song of the Day
Hermit Thrush, Acadia National Park; Southwest Harbor; The Seawall, Maine, United States. "Straight over head. Boats on bay in background. Habitat: Forest, Marine, Coniferous Forest, Bay/Harbor." I can imagine myself lying on the warm, soft, fallen pine needles and listening to that song all afternoon.
* * *
Politics
"So many of the social reactions that strike us as psychological are in fact a rational management of symbolic capital." –Pierre Bourdieu, Classification Struggles
Biden Administration
"4 Years into the COVID-19 Pandemic: Where We Stand" [Bill of Health]:

For reasons known only to themselves, but right before the State of the Union, the CDC, without much warning or explanation, changed its goals. Instead of tracking cases to determine the risk of any individual being infected, they started to track hospital capacity. Essentially, they prioritized the ability to hospitalize patients very sick from COVID over preventing initial infections.

But, by keeping the same map format and continuing to link threat levels to colors on the map, they created a system with no cues to individuals or institutions when a rising number of cases warranted further precautionary measures.

Overnight, this new map, now in soothing pastel yellows and greens, rather than the increasingly darker pigments of red and orange, pulled the rug out under both institutional and individual measures to prevent infection. In terms of deception, it was the equivalent of the national weather service quietly reversing its hurricane rating system so that 5 was the least dangerous and 1 the most.

So I'm not the only one to regard the Green Map as a key inflection point in the Biden Administration's strategy of mass infection without mitigation. Good!

"Opinion: COVID-19 remains a profound health threat, and we should still act like it is" [Editorial Board, San Diego Union-Tribune]. Pretty mild, buys into Biden's $5 billion "Operation Warp" — since "Speed" doesn't seem to part of the concept — and a palty $250 million for Long Covid. Concludes: "Ending the national emergency doesn't mean everyday emergencies end for millions of Americans, and we shouldn't pretend that it does." • So how come emergencies for millions of Americans aren't national emergencies? What's wrong with this picture? Commentary:

Biden signed legislation to end the COVID-19 national emergency declaration this week, jeopardizing healthcare/assistance for millions of Americans and ensuring future waves of the virus are near impossible to combat.

Let's see what major progressive accounts had to say. 🧵

— Walker Bragman (@WalkerBragman) April 15, 2023

You guessed it. ***crickets***.
2024
"Then There Were Nine: Comer Alleges A Wider Range of Potential Biden Beneficiaries from Possible Influence Peddling" [Jonathon Turley]. "House Oversight Committee Chairman James Comer has revealed that there are not three but nine members of the Biden family that may have benefitted from suspected influence peddling efforts…. After assuming control of [House Oversight Committee, Chairman James Comer] sought suspicious activity reports sent by banks to the Treasury Department alerting of potential criminal activity in transactions involving President Biden's family." Then there may actually be substance. More: "He stated on Monday that 'We've identified six additional members of Joe Biden's family who may have benefited from the Biden family's businesses that we are investigating, bringing the total number of those involved or benefiting to nine; Those are six names are in addition to three Biden family members and two associates previously linked to payment from China in 2017. Three million was wired Biden family associate Rob Walker in March 2017, who then allegedly divided and distributed the funds later. There remains an 'Unknown Biden' who received four payments in 2017 totaling $70,000." Penny ante stuff! And then, of course, there's Hunter. Dear Hunter! "Hunter worked with his uncle but also branched off on his own in the family business. While his father recently emphasized that his son was a hopeless addict, that defense stands in glaring contradiction to the fact that he maintained a multimillion-dollar influence-peddling scheme. The question is why foreign figures (including some associated with foreign intelligence) rushed to him international money transfers and complex deals worth millions from Moscow to Kyiv to Beijing. However, the Biden most concerned may be the president himself. Joe Biden has repeatedly denied knowledge of Hunter Biden's business entanglements despite numerous emails and pictures showing him meeting with Hunter associates. That includes at least 19 visits to the White House by Hunter's partner, Eric Schwerin, alone between 2009 and 2015. Emails on Hunter Biden's laptop make repeated reference to his father as a possible recipient of funds derived from influence peddling. Indeed, in one email, Tony Bobulinski, then a business partner of Hunter, was instructed by Biden associate James Gilliar that the Bidens wanted to avoid such references: 'Don't mention Joe being involved, it's only when u [sic] are face to face, I know u [sic] know that but they are paranoid.' In discussing these deals, Joe Biden is referenced with code names such as 'Celtic' or 'the big guy.' In one, 'the big guy' is discussed as possibly receiving a 10% cut on a deal with a Chinese energy firm. There are also references to Hunter paying off the bills of his father from shared accounts. From his board memberships to venture deals to legal fees to his art deals, Hunter Biden is a tour de force of alleged corrupt practices used in Washington." • Interesting.

"Why Joe Biden Has Slow-Walked His Way to a 2024 Run" [New York Times]. 'Cause if Biden walks fast, he falls down? Kidding! Buried fourteen paragraphs deep: "Money is at the center of the timing conversation" [Lambert sits down, stunned]. "Delaying will postpone building a war chest for the general election. Those preparing to raise money for the campaign express few doubts that the party's big donors will pony up to back Mr. Biden, and some officials fear an earlier entry might prove to be a wheel-spinning exercise, demanding that the aging president traverse the grueling fund-raising circuit sooner than necessary. And given that a majority of Democrats consistently say in polls that they prefer someone other than Mr. Biden as the nominee, a reliable infusion of grass-roots dollars is not guaranteed — at least until voters see the stakes of the election. Mr. Biden struggled to raise money online in 2019, breaking records only once he emerged as the nominee. Mr. Biden's advisers argue that he and the Democrats bucked political history — and similar low ratings — to outperform in the 2022 midterm elections, in part by relentlessly painting Republicans as extremists."

"Ron DeSantis threatens prison near Disney theme park in latest retaliation" [Guardian]. • I don't see why the two projects couldn't be combined…..

"It's true: Rep. George Santos announces his bid for reelection" [NPR]. "U.S. Rep. George Santos, the New York Republican whose lies about his background and wealth helped propel him into office, announced Monday that he's running for reelection. More than perhaps any incumbent, Santos enters the race as an underdog — abandoned by many fellow Republicans while facing investigations over a myriad of allegations about falsehoods during his last campaign. During that race, Santos portrayed himself as a graduate of prestigious colleges who had gone on to have a successful career on Wall Street while amassing a real estate investment portfolio. In reality, he didn't go to college, didn't work for the Wall Street firms where he claimed to have made big deals and had struggled in recent years to pay his rent. In his campaign announcement, Santos didn't mention any of that and instead highlighted his zeal in fighting for conservative principals in Washington and his background as 'a poor boy of immigrant parents in Queens.' 'We need a fighter who knows the district and can serve the people fearlessly,' he said. Santos has previously referred to the fabrications about his background, which included lying about having Jewish ancestry and about having been a star volleyball player, as harmless embellishments. Journalists have also uncovered other issues in his past, including criminal theft charges in Pennsylvania in 2017 and charges from years ago in Brazil, where he was accused of using a fraudulent check to buy apparel."
Republican Funhouse
"GOP leader McConnell returns to Senate after head injury" [Associated Press]. "McConnell returns to the Senate ahead of a busy stretch in which Congress will have to find a way to raise the debt ceiling and negotiate additional aid for the Ukraine war, among other policy matters. And he comes back as several other senators have been out for medical reasons, raising questions about how much the Senate will be able to achieve in the coming months with a 51-49 split between the parties." • "Medical reasons," eh? Totally not Covid, I would assume.

"The one thing Trump and McConnell agree on: A hatred for this group" [Politico]. The Club for Growth. "The Club is positioning itself against the National Republican Senatorial Committee in the three states that are most key to retaking the majority: West Virginia, Montana and Ohio. Privately some top party operatives and McConnell-aligned strategists worry the Club's recruits, who are typically conservative hardliners, could struggle to win competitive races. The fear is that, at best, the group is creating unnecessarily messy primaries. At worst it is blowing another shot at retaking the majority…. In 2020, Trump carried all three states. In 2024, they represent Republicans' best opportunity to retake the Senate. All three of the Club's preferred candidates in these states are members of the conservative House Freedom Caucus with profiles that might not endear them to swing voters in a general election. And there is fear elsewhere in the party that those candidates or a divided primary will only boost the three veteran Democratic incumbents in those races…. [I]nside the NRSC, operatives are desperately trying to lock in candidates with broad appeal. One example: They have been trying to recruit Justice, a coal-mining magnate-turned-West Virginia governor who is increasingly expected to launch a run against Democratic Sen. Joe Manchin." • What a great choice. Thanks guys.
Democrats en Déshabillé
Patient readers, it seems that people are actually reading the back-dated post! But I have not updated it, and there are many updates. So I will have to do that. –lambert

I have moved my standing remarks on the Democrat Party ("the Democrat Party is a rotting corpse that can't bury itself") to a separate, back-dated post, to which I will periodically add material, summarizing the addition here in a "live" Water Cooler. (Hopefully, some Bourdieu.) It turns out that defining the Democrat Party is, in fact, a hard problem. I do think the paragraph that follows is on point all the way back to 2016, if not before:

The Democrat Party is the political expression of the class power of PMC, their base (lucidly explained by Thomas Frank in Listen, Liberal!). ; if the Democrat Party did not exist, the PMC would have to invent it. . ("PMC" modulo "class expatriates," of course.) Second, all the working parts of the Party reinforce each other. Leave aside characterizing the relationships between elements of the Party (ka-ching, but not entirely) those elements comprise a network — a Flex Net? An iron octagon? — of funders, vendors, apparatchiks, electeds, NGOs, and miscellaneous mercenaries, with assets in the press and the intelligence community.

Note, of course, that the class power of the PMC both expresses and is limited by other classes; oligarchs and American gentry (see 'industrial model' of Ferguson, Jorgensen, and Jie) and the working class spring to mind. Suck up, kick down.

* * *

The party of war:

Very telling that if one goes to DC, the only place one can hear this message is from the right-wing populist wing of the GOP.

Every single Dem – from Bernie to AOC – voted to fund the war in Ukraine, what Lula calls "incentivizing" and "encouraging the war": https://t.co/mxrdZ8eMNy

— Glenn Greenwald (@ggreenwald) April 17, 2023
#COVID19
"I am in earnest — I will not equivocate — I will not excuse — I will not retreat a single inch — AND I WILL BE HEARD." –William Lloyd Garrison
Resources, United States (National): Transmission (CDC); Wastewater (CDC, Biobot; includes many counties); Variants (CDC; Walgreens); "Iowa COVID-19 Tracker" (in IA, but national data).
Lambert here: Readers, thanks for the collective effort. We are now up to 50/50 states (100%). This is really great! (It occurs to me that there are uses to which this data might be put, beyond helping people with "personal risk assessments" appropriate to their state. For example, thinking pessimistically, we might maintain the list and see which states go dark and when. We might also tabulate the properties of each site and look for differences and commonalities, for example the use of GIS (an exercise in Federalism). I do not that CA remains a little sketchy; it feels a little odd that there's no statewide site, but I've never been able to find one. Also, my working assumption was that each state would have one site. That's turned out not to be true; see e.g. ID. Trivially, it means I need to punctuate this list properly. Less trivially, there may be more local sites that should be added. NY city in NY state springs to mind, but I'm sure there are others. FL also springs to mind as a special case, because DeSantis will most probably be a Presidental candidate, and IIRC there was some foofra about their state dashboard. Thanks again!
Resources, United States (Local): AK (dashboard); AL (dashboard); AR (dashboard); AZ (dashboard); CA (dashboard; Marin); CO (dashboard; wastewater); CT (dashboard); DE (dashboard); FL (wastewater); GA (wastewater); HI (dashboard); IA (wastewater reports); ID (dashboard, Boise; dashboard, wastewater, Central Idaho; wastewater, Coeur d'Alene; dashboard, Spokane County); IL (wastewater); IN (dashboard); KS (dashboard; wastewater, Lawrence); KY (dashboard, Louisville); LA (dashboard); MA (wastewater); MD (dashboard); ME (dashboard); MI (wastewater; wastewater); MN (dashboard); MO (wastewater); MS (dashboard); MT (dashboard); NC (dashboard); ND (dashboard; wastewater); NE (dashboard); NH (wastewater); NJ (dashboard); NM (dashboard); NV (dashboard; wastewater, Southern NV); NY (dashboard); OH (dashboard); OK (dashboard); OR (dashboard); PA (dashboard); RI (dashboard); SC (dashboard); SD (dashboard); TN (dashboard); TX (dashboard); UT (wastewater); VA (dashboard); VT (dashboard); WA (dashboard; dashboard); WI (wastewater); WV (wastewater); WY (wastewater).
Resources, Canada (National): Wastewater (Government of Canada).
Resources, Canada (Provincial): ON (wastewater); QC (les eaux usées); BC, Vancouver (wastewater).
Hat tips to helpful readers: Art_DogCT, B24S, CanCyn, ChiGal, Chuck L, Festoonic, FM, FreeMarketApologist (4), Gumbo, hop2it, JB, JEHR, JF, JL Joe, John, JM (9), JW, KatieBird, LL, Michael King, KF, LaRuse, mrsyk, MT, otisyves, Petal (5), RK (2), RL, RM, Rod, square coats (11), tennesseewaltzer, Utah, Bob White (3).
* * *
Look for the Helpers
Maskers need a Green Book:

You can view a full list of healthcare settings in New York City and New York State that are continuing their mask mandates here: https://t.co/S8y6gZhVQe#KeepMasksinHealthcare #KeepMasksinHealthcareNY pic.twitter.com/qicw1lp6d4

— Mandate Masks NY (@MandateMasksNY) April 5, 2023

Scenes from a marriage:

My spouse was less risk-averse, now we're on par. We're both disabled. I'm a scientist and have far more health concerns. I pretty much just showed him the science. Repeatedly and as I followed it. Translated the stats for him. Made it reasonable to digest and it clicked for him.

— Disabled Doctor (@DisabledDoctor) April 17, 2023

Not all these stories are sad!
Maskstravaganza
"Private NY school continues requiring strict masking, social distancing, report says" [WLOS]. Let me pick out the key nugget of fact: "'Masking has been extremely effective in protecting our students and staff while they are on campus," [Elizabeth Ann Clune Montessori School of Ithaca (EACMSI),' told The Free Press in a statement. 'We have seen no on-campus transmission during our nearly three years of in-person school operations since we reopened in fall of 2020.'" So good, right? No kids with brain damage and bad hearts? Let the editorializing begin: "Despite an end to most COVID mandates for schools, teachers and students across the country, one private K-8 school in upstate New York is still reportedly its students to wear masks in class and outside on the playground." • Forcing, ZOMG!!! You mean forcing like school uniforms? Attendance? It's a private school, ffs! The whole article is full of this huffy, insulted incredulity.
Scientific Communication
"Covid is still a leading cause of death as the virus recedes" (no paywall) [WaPo]. Astonishing concession; I can't imagine why WaPo allowed it to be published, "But retreat is not the same thing as eradication: Federal health officials say that covid-19 remains one of the leading causes of death in the United States, tied to about 250 deaths daily, on average, mostly among the old and immunocompromised. Few Americans are treating it as a leading killer, however — in part because they are not hearing about those numbers, don't trust them or don't see them as relevant to their own lives. 'We're not presenting the data in a way that resonates with the American people,' said Deborah Birx, who served as the first White House coronavirus coordinator under President Donald Trump, citing research that finds elevated risks of health complications and death in the months after a covid infection." Odd to see a Trump functionary mentioned favorably More: 'The decision to tolerate preventable deaths in disproportionately vulnerable groups, in exchange for the convenience of more able-bodied, younger, wealthy, and white individuals, is unethical and demonstrates a reckless disregard for the lives of communities disproportionately impacted by COVID,' the People's CDC, a coalition of public health experts, wrote in a report last week." But then of course there's Ashish Jha: 'The virus 'is not disrupting our lives [who's we?] in a substantial way,' said Ashish Jha, the White House coronavirus coordinator, whose team is set to wind down next month. '[But] is there still more work to do to prevent serious illness and death? The answer to that is yes.'" Wellie, that depends on what "substantial" means. There are disputes about the accuracy of death certificates under Federalism, but all the proxy data points one way: "[Shira Doron, chief infection control officer for the Tufts Medicine Health System] noted that her colleagues reviewed about 85 recent deaths at Tufts that occurred after a covid diagnosis, and found '100 percent accuracy' in those death certificates that listed covid as a cause. Moreover, 'there were quite a few patients who our experts felt had died of covid-19, and it didn't make it onto the death certificate,' Doron added, saying that many of those overlooked patients had suffered 'long, slow declines' after covid infection." • How odd of Jha to say that death isn't "substantial." The sort of thing you'd expect a death cult member to say….
Sequelae
"COVID-19 vaccination and venous thromboembolism risk in older veterans" [Journal of Clinical and Tranlational Science]. Retrospective cohort study. N = 855,686. From the Abstract: "It is important for SARS-CoV-2 vaccine providers, vaccine recipients, and those not yet vaccinated to be well informed about vaccine side effects. We sought to estimate the risk of post-vaccination venous thromboembolism (VTE) to meet this need…. The results provide reassurance that there is only a trivial increased risk of VTE with the current US SARS-CoV-2 vaccines used in veterans older than age 45. This risk is significantly less than VTE risk among hospitalized COVID-19 patients. The risk-benefit ratio favors vaccination, given the VTE rate, mortality, and morbidity associated with COVID-19 infection."

Another anecdote on neurological damage:

I worked at FB, so she has been on FB for 17 years now.

This is the first time EVER that MULTIPLE friends have wished her happy birthday, then forgot that they did so, and then wished her happy birthday AGAIN.

— Yishan (@yishan) April 16, 2023

To be fair, stress can do that, too. But what could the stressor possibly be?

Another anecdote on gastrointestinal distress from totally not Covid, ever:

"Guests Horrified Over Large Amount of Vomiting Children at Walt Disney World" according to DisneyDining.

Seems lots of parents are talking there children on tours of the theme park and eating in its restaurants despite them being so ill with not-Covid that they are puking. pic.twitter.com/D1Af7msFsP

— Hugh Wouldathunkit (@HughThunkIt) April 17, 2023
Science Is Popping
"Intranasal booster using an Omicron vaccine confers broad mucosal and systemic immunity against SARS-CoV-2 variants" [Nature]. Mouse study (sigh). From the Abstract: "Intranasal vaccination using Ad5-S-Omicron or instillation of intranasal vaccinee's nasal lavage fluids in mouse nostrils protected mice against Omicron challenge. Taken together, intranasal Ad5-S-Omicron booster on the basis of ancestral vaccines can establish effective mucosal and systemic immunity against Omicron subvariants and multiple SARS-CoV-2 variants. This candidate vaccine warrants further development as a safe, effective, and user-friendly infection and transmission-blocking vaccine." • Sure, but why we doing mouse studies when Bharat iNCOVACC is already on the market? Why aren't we running studies to rule it out — or in?
Policy
"COVID-19 lockdown revisionism" [Canadian Medical Association]. From the Abstract: "The term 'lockdown' has become a powerful and perverted word in the infodemic about democracies' responses to the COVID-19 pandemic. Lockdown, as used in public discourse, has expanded to include any public health measure, even if it places little to no restriction on social mobility or interaction. For example, a working literature review and meta-analysis on the effects of lockdowns on COVID-19 mortality misleadingly defined lockdowns as 'the imposition of at least 1 compulsory non-pharmaceutical intervention.' This working paper therefore conflated mandatory isolation for people with confirmed infections and masking policies with heavy-handed limitations on freedom of movement, and since it gained viral fame, it has helped fuel calls for 'no more lockdowns.' This working paper has been highly critiqued and is less convincing than comparative assessments of health measures, like the Oxford Stringency Index." • Worth a read, especially considering the source,
Elite Malfeasance
"Universal Masking in Health Care Settings: A Pandemic Strategy Whose Time Has Come and Gone, For NowFREE" [Annals of Internal Medicine]. Shameful, lethal dreck that should never have been published, not even under the rubric "Ideas and Opinions." Note that author Babock is a member of the CDC Healthcare Infection Control Practices Advisory Committee. From the text:

Allow me to translate: [1] "Don't make us repeat ourselves, ever"; [2] "I want to see your smile." More:

[1] No recognition of aerosol transmission; [2] no recognition of asymptomatic transmission; [3] abolish such testing as we still do. (And what universe do these people live in? The United States has never taken contact tracing seriously.) To me, this paper shows that hospitals never took masking or aerosol transmission seriously. They waited for Biden to declare that the pandemic is over, and then went back to business — and I mean business — as usual.

"Hospital mask mandates will soon be lifted, says Health P.E.I." [CBC]. "Masks have helped protect people from COVID-19 and other respiratory illnesses, [Health P.E.I. CEO Dr. Michael Gardam] said, but they have their drawbacks, too. 'It's hard on your nose[1]. It's hard on your ears[2]. It's isolating[3]. Patients can't hear you as well[4]. It really does interfere with some of the work that we do[5]. And frankly, our health-care workers, the vast majority of them, are sick and tired of wearing masks[6]."" • As above. Impervious. [1] Try fit tests, you lazy, murderous buffoon. [2] That's because you're ignorant and use surgical masks with ear loops, instead of KN95s with headbands. [3] Why? Because you can't see our smiles? [4] Speak up. Don't mumble. Straighten up. Don't be lazy, [5] Hand-waving. [6] You're an administrator, not a union rep. You're not entitled to speak for the workers. Watching a hospital — not all, see "Look for the Helpers" — turning itself into a torment nexus… irritates me.

Don't go to the hospital if you feel sick:

Beginning Wednesday, masks will be encouraged but no longer required to be worn by patients and visitors at our and all other @HamHealthSci and @stjoeshamilton hospitals. We still ask that you stay home if you're feeling unwell. Details at https://t.co/P9WInFTTJS pic.twitter.com/SZsAXntCCC

— McMaster Children's Hospital (@mch_childrens) April 17, 2023

I wouldn't dream of it!

Public health brain geniuses organize another superspreading event:

Healthy NY Summit in NYC next Thursday with NYC Health Commissioner, NYS Senate Health Committee Chair, & many more leaders. But look at description of accessibility and then their COVID precautions. 👀 Inclusion is key, but no masks or tests required. https://t.co/44GHbscwRk pic.twitter.com/pOHoT7sgqd

— Myra #KeepMasksInHealthCare (@myrabatchelder) April 13, 2023

I had no idea that "inclusion" was meant to apply to the SARS-CoV2 virus, but it seems to be so!

An increasing number of really ticked off tweets (1):

when society was presented with the choice to risk creating a world without indoor dining or a world without grandparents, our leaders chose the latter. And now everyone is expected to act like that choice was necessary and obvious.

— Olive Siffleur (@OliveSiffleur) April 18, 2023

An increasing number of really ticked off tweets (2):

We are not at the end of the pandemic. We are not at the beginning of the end of the pandemic. We are at the end of the beginning of the pandemic, and all of our authorities are hoping we'll go along with pretending it is over.

— laurie allee (@laurieallee) April 16, 2023
* * *
Looks like "leveling off to a high plateau" across the board. (I still think "Something Awful" is coming, however. I mean, besides what we already know about.) Stay safe out there!
Lambert here: I'm getting the feeling that the "something awful" might be a sawtooth pattern — variant after variant — that averages out to a permanently high plateau (with, of course, deeper knowledge of the sequelae "we" have already decided to accept or, rather, to profit from). That will be the operational definition of "living with Covid." More as I think on this. In addition, I recurated my Twitter feed for my new account, and it may be I'm creating a echo chamber. That said, it seems to me that the knobs on Covid had gone up to 13, partly because science is popping, which demands more gaslighting, and partly because that "Covid is over" bubble maintenance is, I believe, more pundit-intensive than our betters believed it would be.
Case Data
NOT UPDATED BioBot wastewater data from April 13: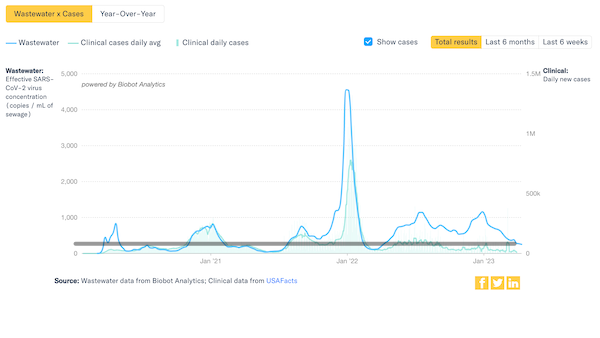 For now, I'm going to use this national wastewater data as the best proxy for case data (ignoring the clinical case data portion of this chart, which in my view "goes bad" after March 2022, for reasons as yet unexplained). At least we can spot trends, and compare current levels to equivalent past levels.
Covid Emergency Room Visits
NOT UPDATED From CDC NCIRD Surveillance, from April 8: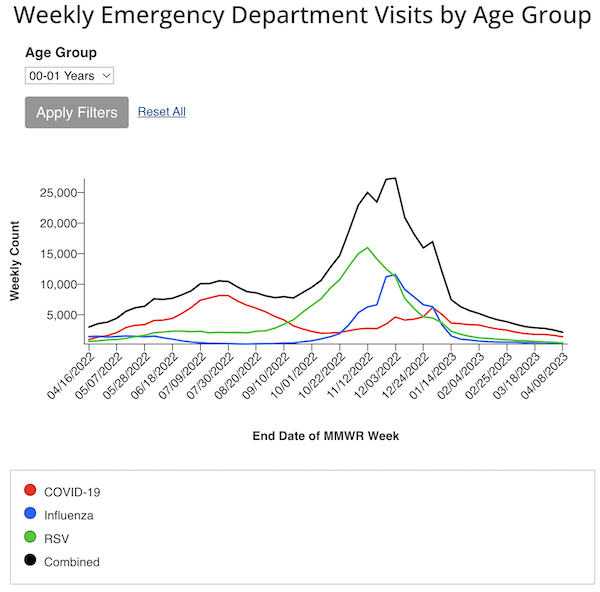 NOTE "Charts and data provided by CDC, updates Wednesday by 8am. For the past year, using a rolling 52-week period." So not the entire pandemic, FFS (the implicit message here being that Covid is "just like the flu," which is why the seasonal "rolling 52-week period" is appropriate for bothMR SUBLIMINAL I hate these people so much. Anyhow, I added a grey "Fauci line" just to show that Covid wasn't "over" when they started saying it was, and it's not over now. Notice also that this chart shows, at least for its time period, that Covid is not seasonal, even though CDC is trying to get us to believe that it is, presumably so they can piggyback on the existing institutional apparatus for injections.
Positivity
I'm afraid the Walgreen's positivity tracker has shut down, since it hasn't updated since April 11, and all without any announcement. It's as if we're heading into a storm, and the first thing the captain did was order the sextant, compass, log line, sandglass, and ship's clock thrown overboard. Then they detached the wheel from the rudder. "We have the tools." No, we don't. We have also decided not to know what the job is, even.
Deaths
NOT UPDATED Death rate (Our World in Data):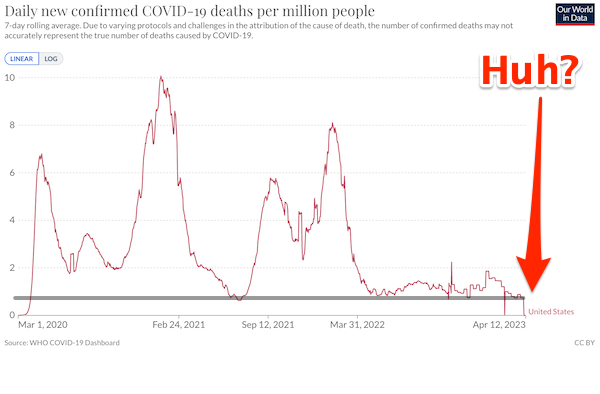 Total: 1,158,255 – 1,158,017 = 238 (238 * 365 = 202,575 deaths per year, today's YouGenicist™ number for "living with" Covid (quite a bit higher than the minimizers would like, though they can talk themselves into anything. If the YouGenicist™ metric keeps chugging along like this, I may just have to decide this is what the powers-that-be consider "mission accomplished" for this particular tranche of death and disease).
Lambert here: WHO turned off the feed? Odd that Walgreen's positivity shut down on April 11, and the WHO death count on April 12. Was there a memo I didn't get?
Excess Deaths
NOT UPDATED Excess deaths (The Economist), published April 2: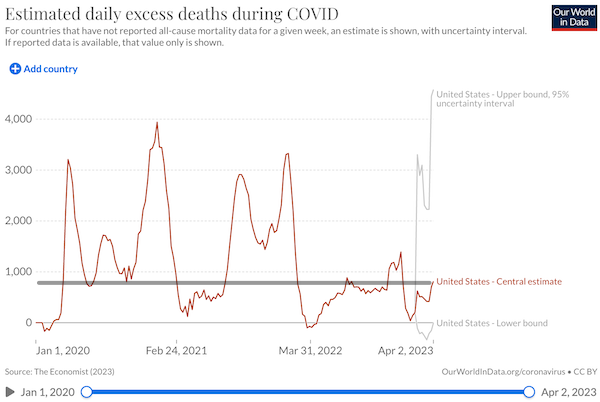 Lambert here: Big jump from the last reading in the "Central Estimate."
Lambert here: Based on a machine-learning model. I"m not sure how often this updates, and if it doesn't, I'll remove it. (The CDC has an excess estimate too, but since it ran forever with a massive typo in the Legend, I figured nobody was really looking at it, so I got rid it. )
Stats Watch
Housing: "United States Housing Starts" [Trading Economics]. "Housing starts in the US went down 0.8% month-over-month to a seasonally adjusted annualized rate of 1.42 million in March of 2023, following a downwardly revised 7.3% surge in February, but slightly beating market forecasts of 1.4 million."
* * *
Tech: "Musk mocks Twitter's past ownership, says platform was run like a 'glorified activist organization'" [New York Post]. "In an interview with Fox News host Tucker Carlson, Musk joked that running Twitter after letting go of 80% of its staff in the days after his October 2022 takeover wasn't such a tall task because he wasn't concerned about censoring users. 'Turns out, you don't need all that many people to run Twitter,' the billionaire business tycoon told Carlson after confirming that 80% of the company's employees were fired or left voluntarily after his $44 billion purchase of the social media platform. An incredulous Carlson noted that 80% 'is a lot' of people to have leave, to which Musk responded: 'I mean, if you're not trying to run some sort of glorified activist organization, and you don't care that much about censorship, then you can really let go of a lot of people it turns out.' 'I think we just had a situation at Twitter where it was absurdly overstaffed,' Musk argued, comparing Twitter to a 'group text service at scale.' 'Like how many people are really needed for that?' he added." • And then…. The Tech Overlords all copied Musk, who took one for the team, and started firing people. But to be fair to Musk, Twitter couldn't deliver an edit button for years.
Tech: "Alphabet CEO Sundar Pichai says that A.I. could be 'more profound' than both fire and electricity—but he's been saying the same thing for years" [Fortune]. • Well, not to dunk on this absurd statement, but something completely dependent on electricity can't be "more profound." AI is just another appliance, and not a very good one.
Transportation: "Southwest Airlines briefly pauses departures after reporting technical problems" [CNBC]. "Southwest Airlines briefly paused its departures on Tuesday after reporting technical problems, delaying flights around the country. The Federal Aviation Administration said the ground stop had been lifted, but many flights were still delayed. As of shortly after 11 a.m. ET, more than 1,500 flights, or 36% of Southwest's schedule, were delayed, according to flight-tracking site FlightAware. 'Early this morning, a vendor-supplied firewall went down and connection to some operational data was unexpectedly lost,' Southwest said in a statement. 'Southwest Teams worked quickly to minimize flight disruptions.'" • Not quickly enough, apparently,
* * *
Today's Fear & Greed Index: 68 Greed (previous close: 69 Greed) [CNN]. One week ago: 59 (Greed). (0 is Extreme Fear; 100 is Extreme Greed). Last updated Apr 18 at 1:57 PM ET
Rapture Index: Closes down two on #42 Plagues ("The coronavirus pandemic has been declared over" and #44 Food Supply "The lack of activity has downgraded this category" [Rapture Ready]. Record High, October 10, 2016: 189. Current: 184. (Remember that bringing on the Rapture is good.) NOTE on #42 Plagues: "The coronavirus pandemic has maxed out this category." More honest than most!
Lambert here: I'm surprised to find myself in a more apocalyptic frame of mind than the Rapture Index, but here we are. On Plagues, I think "has been declared" (note lack of agency) is doing rather a lot of work; cf. Ezekiel 22:27.
The Gallerywww
Catch Mnet painting a cute dog:
Minnay, 1879
par Édouard Manet pic.twitter.com/deiIXk7nP8

— SantiagoArt (@SantiagoArtis) April 16, 2023
Zeitgeist Watch
"'Hogwarts Legacy' Sold 256% More Than Estimates At Launch" [Forbes]. • Oh.
Our Famously Free Press
The Beltway press are spooks. Don't talk to them:
When NYT cites Bellingcat (BC), it never discloses its funding by NATO states.

Now the collab deepens: NYT's @trbrtc, formerly of Bellingcat, welcomes a byline for BC's @AricToler, all to find the leaker of the Ukraine war secrets of BC's state sponsors. #Bellingcop https://t.co/TmqDnz51mq

— Aaron Maté (@aaronjmate) April 14, 2023
Or read them.
Class Warfare
"Striking Medieval Times workers struck by car on picket line" [Los Angeles Times]. "For more than two months, newly unionized workers at the Medieval Times in Buena Park have been on strike, picketing at the popular themed dinner theater. Last week, customers, apparently frustrated with protesting workers blocking the parking lot entrance, lashed out. On Thursday, several picketers were struck by a patron in a moving vehicle or were shoved by a second patron who got out of the passenger seat of the car, according to worker interviews and video footage of the altercation posted to social media. Videos show a car attempting to access the Medieval Times parking lot unsuccessfully, a man in the passenger seat exiting the vehicle and swinging at picketers, and the driver, still behind the wheel, driving the vehicle through the line of protesters." • So, violence against workers over attending a dinner theatre? Really? (Assuming the "patrons" weren't hired goons, of course. Odd that the Times never sought to interview them.)
"Accounting for flood risk would lower American house prices by $187bn" [Economist]. "Congress set up the National Flood Insurance Programme (NFIP). Homeowners in '100-year floodplains', where regulators reckon the chance of flooding each year is at least 1%, can get government-backed mortgages only if they are insured. But on average, the amount of money that the NFIP collects in premiums each year is less than the amount it has to pay out, so it has to borrow, thus passing the bill on to the government: in 2017 Congress forgave $16bn of the NFIP's debt. Moreover, the NFIP's payouts are less than the total amount of damage caused by floods. The shortfall is paid by uninsured homeowners, and by those whose damages exceed the NFIP's maximum claim size. In 21 of the 50 states, sellers of homes do not have to disclose past damages or future risks from floods, leaving buyers with no idea of the threat they face. Moreover, even if buyers are informed, they often fail to discount their offers sufficiently. The combination of subsidised insurance and myopic buyer behaviour means that houses in flood-prone areas are overpriced. One study in 2021 estimated this overvaluation at $33bn-56bn. But a new paper in Nature Climate Change, whose lead author is Jesse Gourevitch of the Environmental Defence Fund, an advocacy group, puts it at $121bn-237bn, with a central estimate of $187bn." • Commentary:
In total dollars, overpricing is greatest in posh bits of coastline, such as Los Angeles and parts of South Carolina's Lowcountry. But as a share of home values, the risk is greatest in rural, inland regions with white, working-class populations https://t.co/aJVF8xvHbT

— The Economist (@TheEconomist) April 17, 2023
News of the Wired
"In an eerie tech moment, SF's Misalignment Museum is a warning from the future" [SFGate]. "In San Francisco, seemingly overnight [due to an enormous propaganda campaign stimulated by stupid money], artificial intelligence became the monomaniacal focus of tech giants and fodder for yet another venture capital binge. The rest of us have been left to catch up on what we've been instructed is the future. … Audrey Kim, the museum's founder and curator, is taking us on a tour of the gallery. As we stop in front of a metaphorical display featuring the iconic canned meat, Kim explains the piece, which is called 'Spambots.' Several tins of pork prod, with tiny robot arms, at a set of keys. They're linked up to a monitor, and every keystroke contributes to an ever-growing AI-generated novel about porcine caste systems. The piece's creation predates ChatGPT's viral release last November but is built on the same technology. … The museum thrives on these layers, depicting timely AI technology as strange, threatening or beautiful — sometimes all at once. Kim has been planning the museum since September 2022, but the space only opened in the Mission earlier this month. It's a high-minded vision; Kim's museum imagines a bewildering future in which an artificial intelligence is apologizing to what remains of humankind after an apocalypse the technology induced." • I think the sort of world's Philip K. Dick creates have the right tone for AI: pervasive grey-colored mediocrity.
* * *
Contact information for plants: Readers, feel free to contact me at lambert [UNDERSCORE] strether [DOT] corrente [AT] yahoo [DOT] com, to (a) find out how to send me a check if you are allergic to PayPal and (b) to find out how to send me images of plants. Vegetables are fine! Fungi and coral are deemed to be honorary plants! If you want your handle to appear as a credit, please place it at the start of your mail in parentheses: (thus). Otherwise, I will anonymize by using your initials. See the previous Water Cooler (with plant) here. From AM: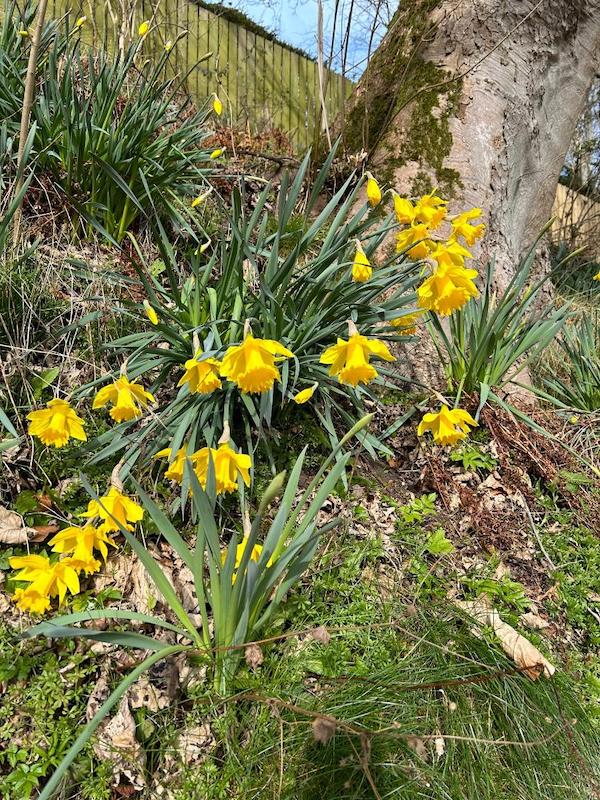 AM writes: "Daffodils on Ladd Braes public footpath in St Andrews, Scotland in March, 2023."
* * *
Readers: Water Cooler is a standalone entity not covered by the annual NC fundraiser. So if you see a link you especially like, or an item you wouldn't see anywhere else, please do not hesitate to express your appreciation in tangible form. Remember, a tip jar is for tipping! Regular positive feedback both makes me feel good and lets me know I'm on the right track with coverage. When I get no donations for five or ten days I get worried. More tangibly, a constant trickle of donations helps me with expenses, and I factor in that trickle when setting fundraising goals:
Here is the screen that will appear, which I have helpfully annotated: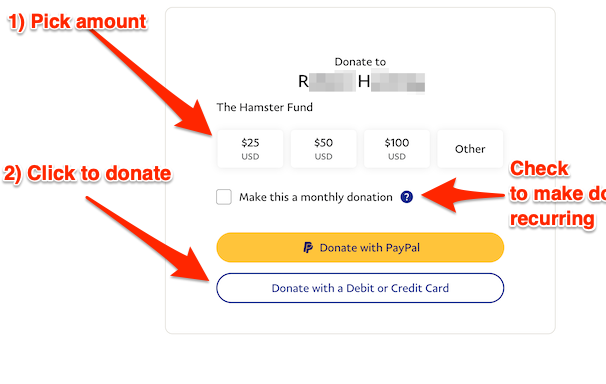 If you hate PayPal, you can email me at lambert [UNDERSCORE] strether [DOT] corrente [AT] yahoo [DOT] com, and I will give you directions on how to send a check. Thank you!