7 Common Mistakes When Purchasing Employee Training Software
Purchasing items for your office can be stressful. If it's something basic, like sandwiches or kitchen supplies, you still have to get everyone's favorite brand. The stakes are far higher with employee training software. Whatever you buy has to fit their training requirements and their ability levels. All within budget. It needs to offer the ideal level of support and be accessible for everyone on the team. The list of must-haves might be a mile long by the time you're finished. So, what common mistakes should you be aware of when evaluating employee training software?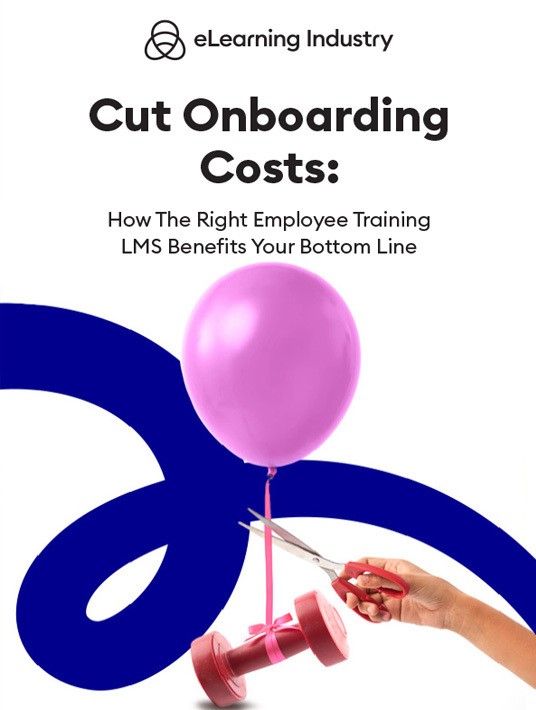 eBook Release
Cut Onboarding Costs: How The Right Employee Training LMS Benefits Your Bottom Line
This eBook offers tips to train them on contextual, real-world activities. You'll also discover how to choose the right tool for the training task to maximize employee training LMS benefits.
1. Neglecting The Free Trial Or Demo
Almost every modern software has some kind of free demo built it. It might be a site visit where they send a sales team to show you how it works. Or a free trial for the said number of days or weeks. Usually, you'll get full access for a limited time, then limited access if you opt to stay on the free tier. To get those extra features you loved during the free period, you have to pay. Immerse yourself fully to get the most out of your demo duration. Have a checklist on hand so you know what to look for. And remember to gather input from your team afterward to ensure it meets all their must-haves.
2. Inadequate Features Testing
Thorough evaluation matters when choosing a new employee training LMS. Too many users rush to pay, only to realize they don't need half the features they paid for. This happens if you didn't fully utilize your trial period. Maybe you sped through the last few days. So, you didn't have time to note what's cosmetic, at least in the context of your organization. Or you didn't have specific objectives or evaluation criteria to guide you. Other firms may use those tools, but that doesn't mean you will.
3. Over-Emphasizing Aesthetics
For non-techies, it's easy to be impressed by the flash and bang of software. If it looks pretty and has dazzling features, we'll assume its quality is superior. That's why the website template with well-lit, high-res, sliding header images is so ubiquitous. It looks so nice and loads so light that we don't notice the (potentially) limited functionality of the said site. Visual appeal is great, but it shouldn't be the primary driver of your shortlisting decision.
4. Omitting The Background Check
When something is that beautiful, we don't pay much attention to who built it. We're ready to ooh and aah. But marketers aren't necessarily always tech-savvy. They know what to show you, and what to sell. So, before you buy their software, look into your vendor's coding credentials. What have they built in the past? Are their clients happy? Have they won any awards (or been involved in any breaches)? How often do they update, and is that included in the package?
5. Putting Price Above All Else
You're advised never to shop while hungry. You'll buy every edible item in sight, then take a bite and abandon it. The same applies when buying software. If you don't have a list of ideal features, you'll rush to purchase every shiny thing. For example, it's nice if your employee training software has built-in apps for iOs and Android. But if your entire staff restricts their training to office hours, that pricy feature serves no purpose. At the other extreme, maybe you got a discount for "less than 20 users." That saves cash for your staff of 19 but check the fine print. And plan on future growth. For example, you may have to pay overage fees if you end up hiring seasonal employees.
6. Shopping Without A List
Your "under 20" discount may forget to mention the added benefits of their "over-20" price pack. (E.g., translations and screen-reading software.) These could be helpful for foreign branches, or visually challenged staffers. Another example: you may be impressed by their tracking technology. But forget to notice it works with phones … but not with delivery trucks. Bottom line: You can't find what you're looking for if you don't know you're looking for it. 'I'll know it when I see it may work for other purchases … not so much for training software.
7. Not Using Online Reviews To Get An Insider POV
Reviews give you a glimpse into how the software fares in the real world. Beyond the free trials and vendor testimonials. You get to evaluate the pros and cons from people who've actually used the tool to implement online training. You can even determine if the reviewer has a similar use case or experience level to ensure that the system offers the best value. Ratings are another great way to narrow the list and identify which platforms meet expectations.
Before The Final Choice
"Top shopping flops" sounds like a good premise for a TV show. (Good name too!) But they can be costly at the corporate level when it comes to employee training mistakes. Plus, it's not the kind of error that's easily forgotten. So, what faux pas should you dodge when you're in charge of vetting (and buying) employee training software? Don't ignore the demo, no matter how good the sales pitch is. Always test individual features, and don't put too much weight on visual razzmatazz. Check your vendor's history, especially past products and former clients. Budget matters, but it's not everything. And never, ever shop without a list of desired tools and features.
Find the best employee training LMS for your business and read the latest reviews. Our directory features the leading platforms for employee development. You can filter by features, pricing model, or deployment type to quickly vet vendors. As well as sort results by satisfaction rating to see which system rises to the top
Starting a new job is all kinds of stressful, but fresh recruits keep the company young, vibrant, and relevant. How can you ease their transition into your workspace? Download the eBook Cut Onboarding Costs: How The Right Employee Training LMS Benefits Your Bottom Line.