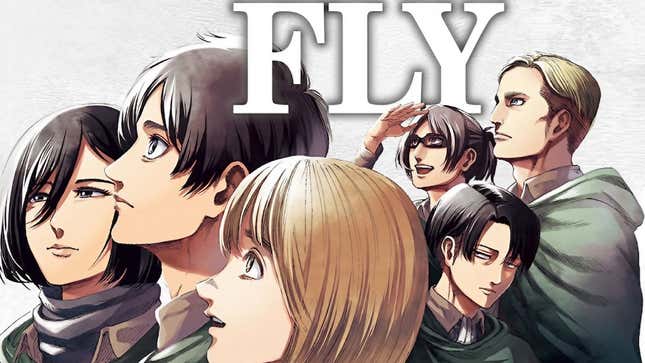 Surprise, Attack on Titan, the mega-popular manga series, is getting a new volume in 2024, years after the series' highly contentious conclusion.
Fortnite Totally Nailed Attack on Titan's Thrilling Movement
Before you get too excited, the upcoming Attack on Titan volume, simply titled Volume 35, won't be a fully fledged book. Instead, Volume 35 will be an 18-page booklet called "Bad Boys" that'll be included inside the series' first official art book "The Fly," according to Comic Natalie. Attack on Titan Volume 35 will be released on April 30th, 2024 in Japan.
"It's been about two-and-a-half years since the serialization of Attack on Titan ended. We are now releasing a color art book. I'm very honored. I'm glad that the culmination of everything I've done so far has been compiled into a book," creator Hajime Isayama said in a press release. "And I'm currently writing a new manga for this art book. This is a bonus manga included in the bonus 'Attack on Titan Volume 35.' I hope you're looking forward to it."
While a portion of AoT fans view Volume 35 as more of a good thing, others pray it'll change the series' official ending in some significant way, or see that as a lost cause. I won't go into specifics about the manga's ending but just know that things got so bad that publisher Kodansha released a statement from Isayama on its official Instagram page asking fans to be courteous to the mangaka during his first international panel appearance at Anime NYC. In fact, Isayama was received with thunderous applause, which nearly moved him to tears.
Read More: Attack On Titan's Final Episode (For Real This Time) Gets Release Date
Attack on Titan Volume 35 will be released five months after its anime counterpart finally makes its storied crawl across the finish line, when Attack on Titan: The Final Chapters Part 2 premiers in Japan on November 4.