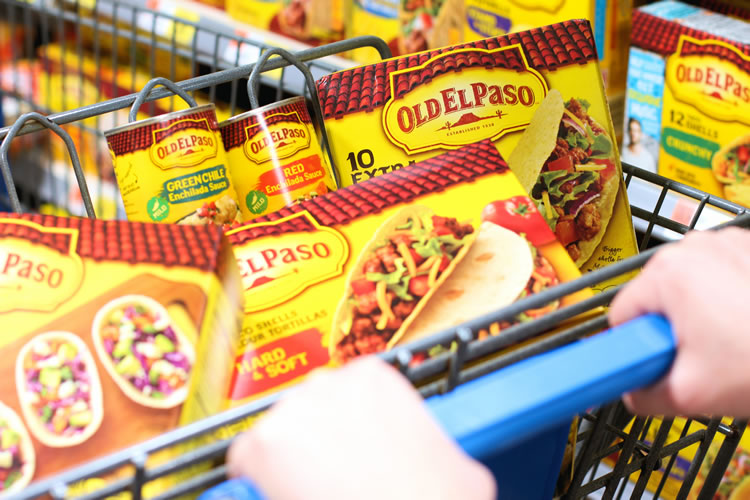 Every year I always look forward to Cinco de Mayo. It's a time for fun, celebration and best of all, great food in celebration of Mexico and its culture.
So what exactly is Cinco de Mayo?
It may come as a surprise, but Cinco de Mayo (5th of May in Spanish) isn't really celebrated much in Mexico. It's also not Mexican Independence Day. That's on September 16th. Cinco de Mayo is the day that celebrates Mexico's unexpected victory over the French at the Battle of Puebla on May 5, 1862.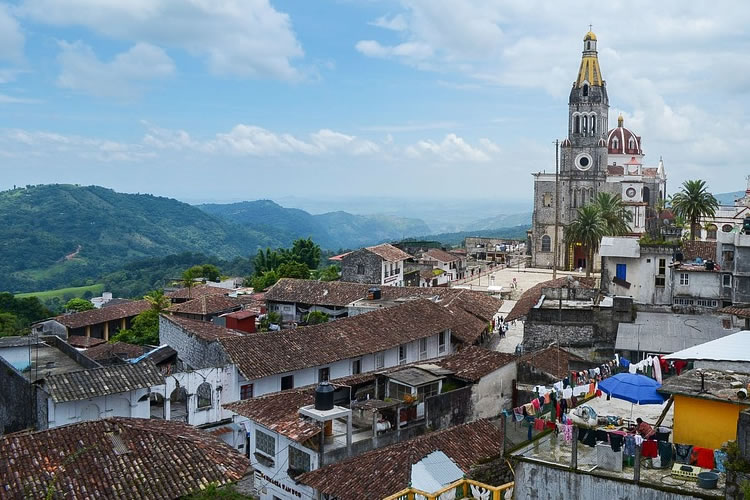 Mexico was in debt to France at the time. Ruled by Napoleon III, France decided to use Mexico's financial weakness as an opportunity to establish an empire in Mexico, called the Second Mexican Empire.
According to the UCLA Center for the Study of Latino Health and Culture, Cinco de Mayo began being celebrated when Mexican miners in California heard Mexico defeated the French at the Battle of Puebla. They "were so overjoyed at the news that they spontaneously fired off rifle shots and fireworks, sang patriotic songs and made impromptu speeches."
Author David Hayes-Bautista writes, "Cinco de Mayo was made in America, by Latinos who proudly bore the U.S. and Mexican flags to show their support for both the Union and its values and for the Mexican victory over the French, who sought to undermine those values."
And that is how Cinco de Mayo began.
Why is Cinco de Mayo Significant?
Historian Justo Sierra wrote in "Political Evolution of the Mexican People" that, if Mexico had not defeated the French on May 5, 1862, France would have gone on to aid to the Confederates during the U.S. Civil War. The history of the United States would most likely look very different today.
Also, since Mexico's victory at the Battle of Puebla, no country in the Americas has been invaded again by any European military force.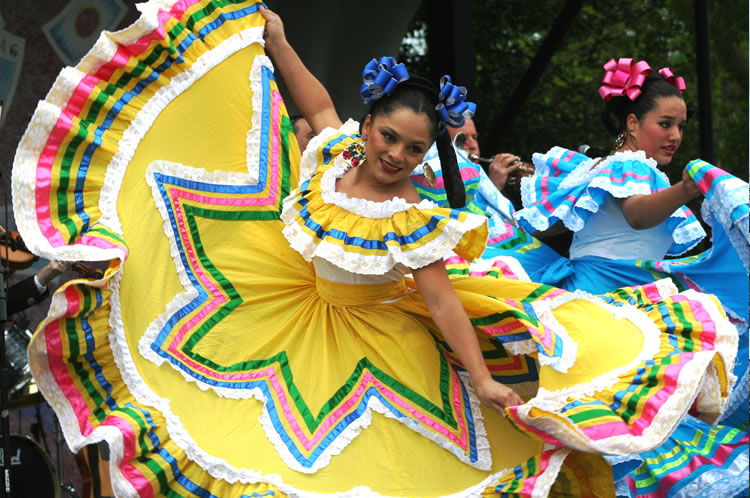 How Do We Celebrate Cinco de Mayo?
For Cinco de Mayo this year we plan on inviting over some family and friends to celebrate Mexico and its culture. I love decorating in festive and beautiful Mexican colors. Playing Mexican music for my guests is one of my favorite ways to get everyone in a truly festive mood. If you'd like some Mexican music for your next fiesta, but don't know where to get it, try Pandora. They have a Mexico radio station with a variety of artists and musical styles. And last but not least, this Cinco de Mayo we'll be serving lots of delicious Mexican style food.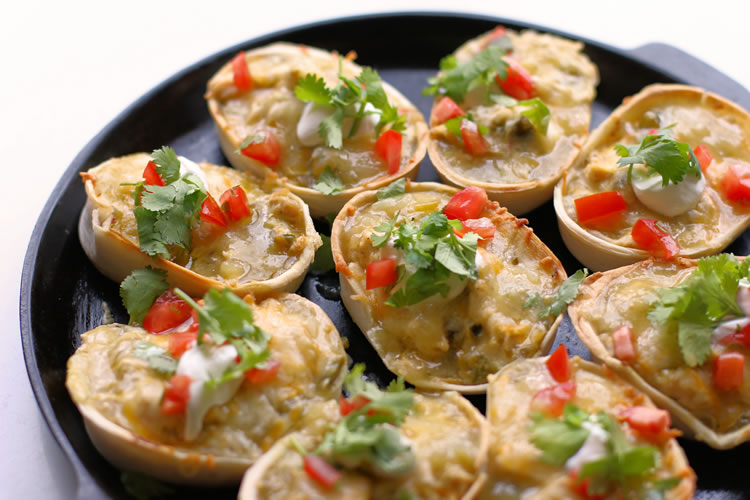 When there is something to celebrate, food always takes center stage in my mind. It's what truly brings people together. And Mexican food is something I just can't ever get enough of. Fresh flavors like cilantro, lots and spice and who can forget all the … cheese!!! What's not to love?
In the spirit of Cinco de Mayo and Mexican-American tradition, I decided to whip up these Mini Chicken & Poblano Enchilada Boats. For this recipe, we headed over to our local Walmart to pick up some of Old El Paso's Taco Boats to serve as the shell.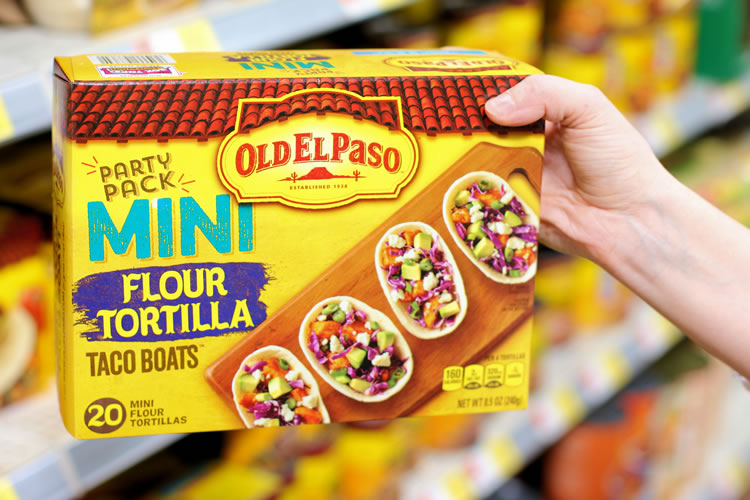 These Old El Paso Mini Taco Boats are super versatile and make the perfect vessel for anything from tacos to salads to even ice-cream and desserts.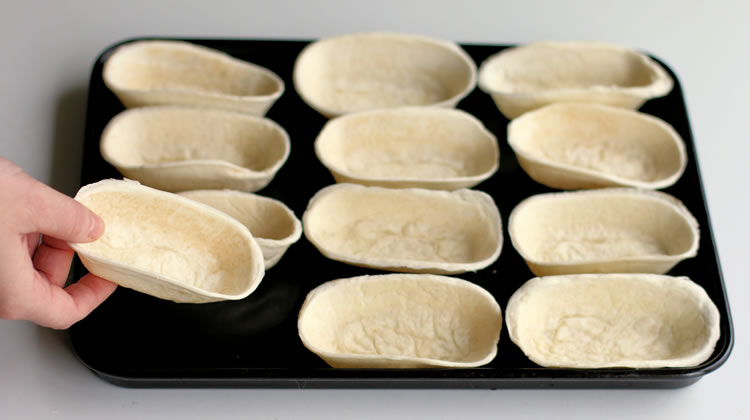 Although traditional Mexican enchiladas are made with corn tortillas, these flour tortilla boats allow your guests to pick one up with their hands and eat it like a taco. No fork required. There's no way you can eat the corn tortilla version that way.
Now there are two kinds of people in this world. Some like their enchiladas green and some like them red. In my house, we're partial to green. But if you're having guests over and you think some of your guests would enjoy red enchilada boats instead, it's easy to do half red and half green.
We used Old El Paso Enchilada Sauces for this quick party recipe. You could always make your own of course.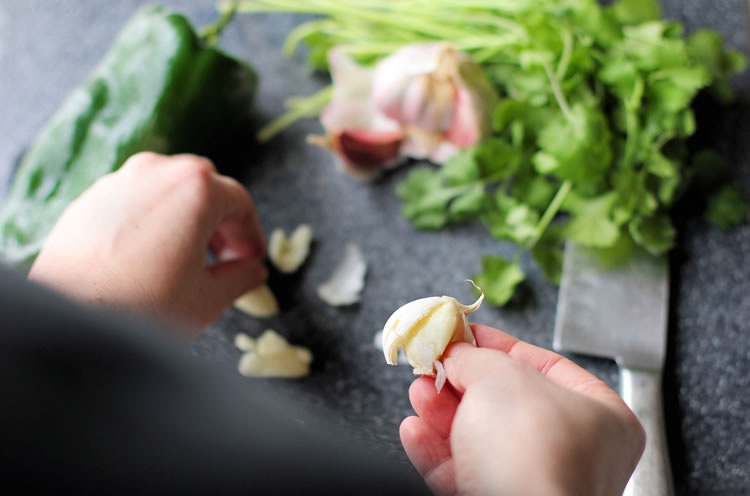 For this recipe, we simply take a rotisserie chicken, shred the meat and toss it with sautéed garlic, poblano peppers, cheese and sour cream.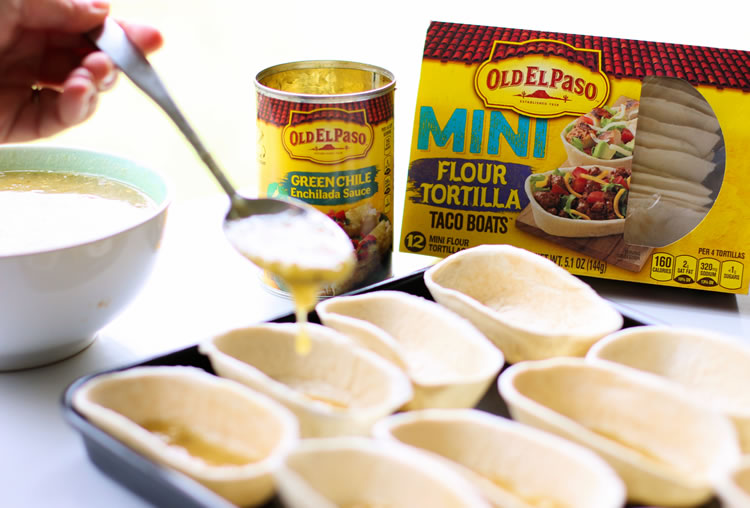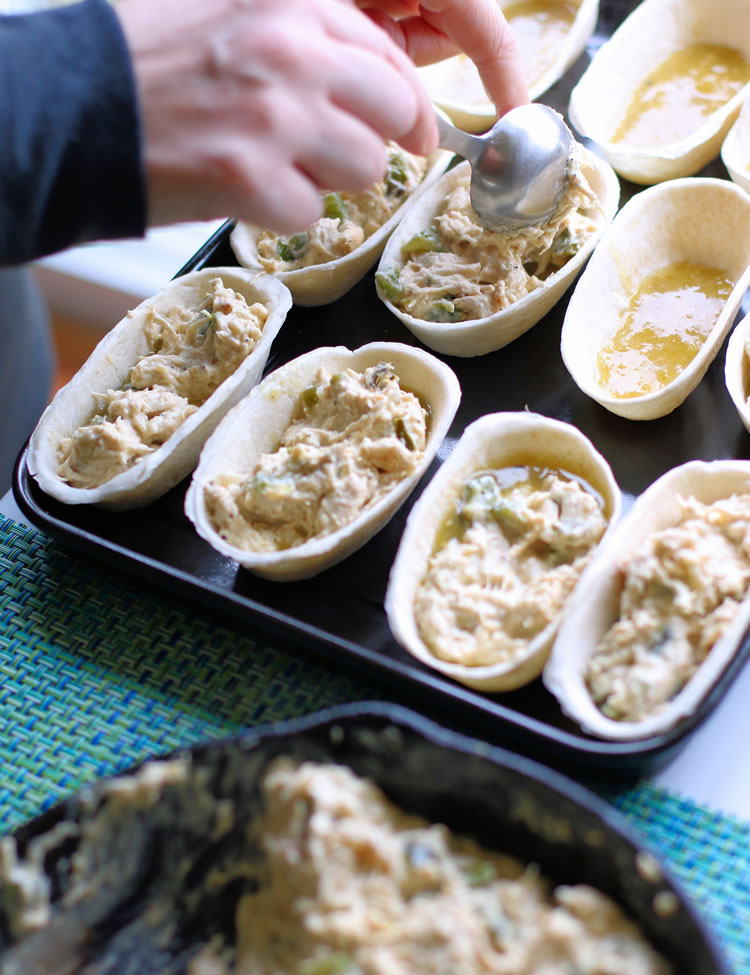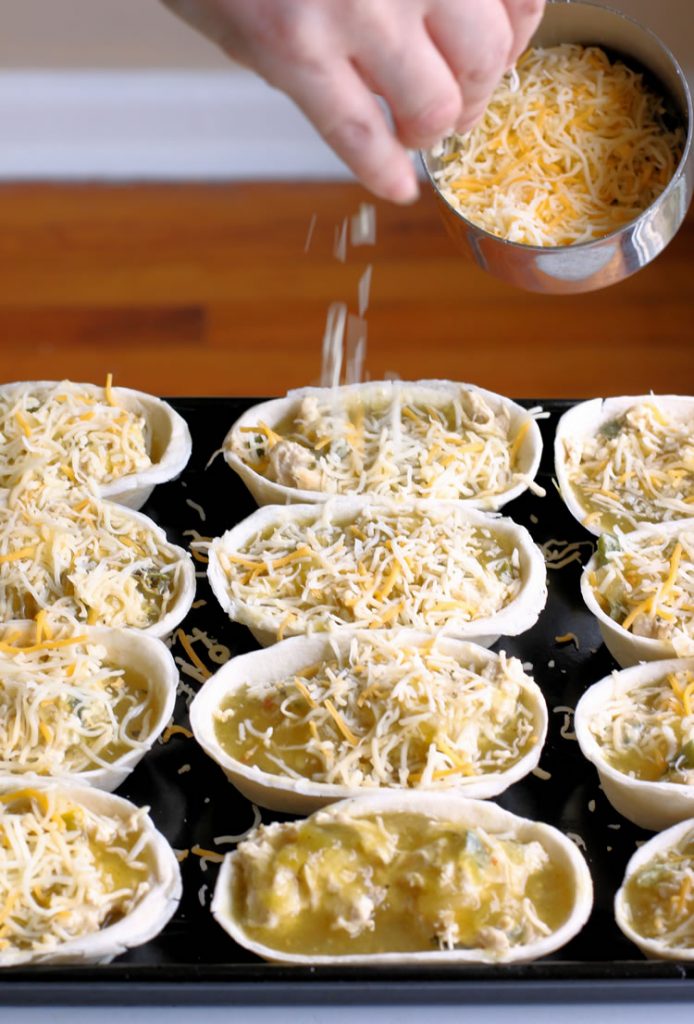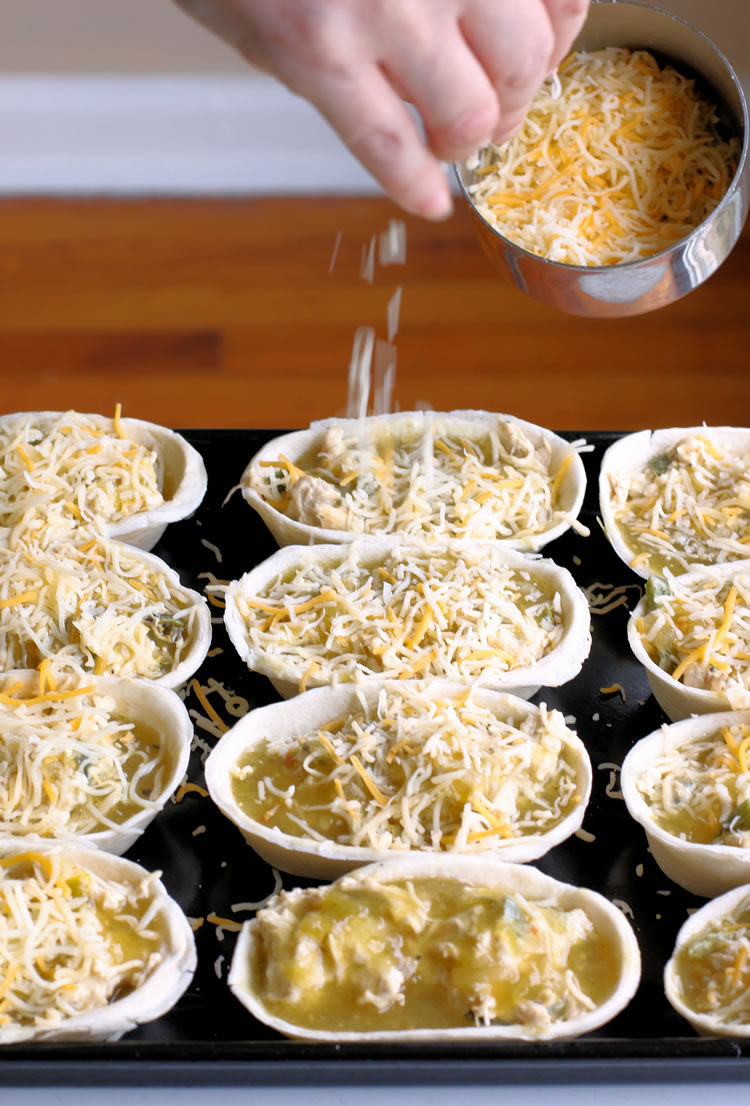 Spoon some into the Old El Paso Mini Taco Boats with enchilada sauce, shredded Mexican cheeses and garnish with fresh diced tomato, chopped cilantro and a dollop of sour cream. Simple and delicious!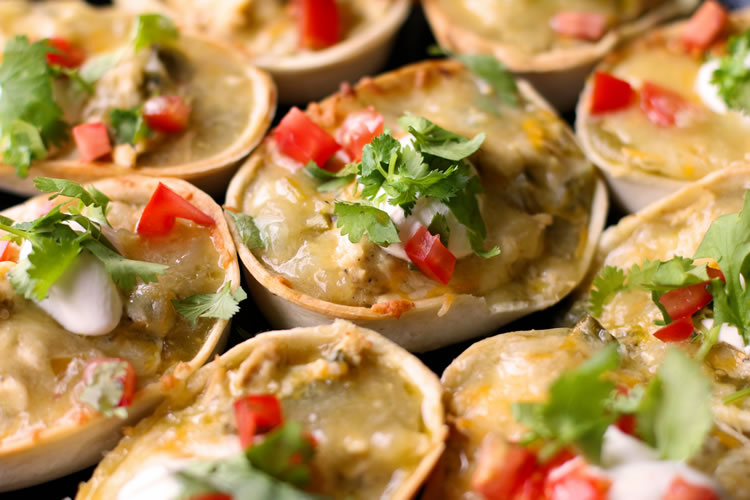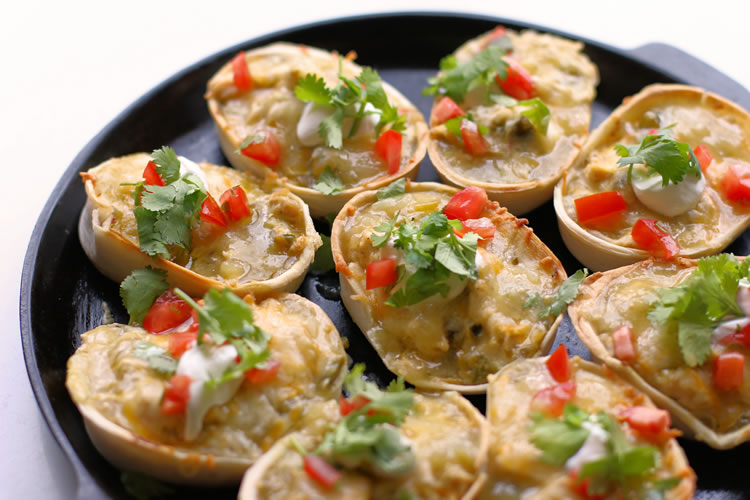 If you're serving these for your next fiesta, have a selection of Mexican hot sauces for your guests that enjoy some heat.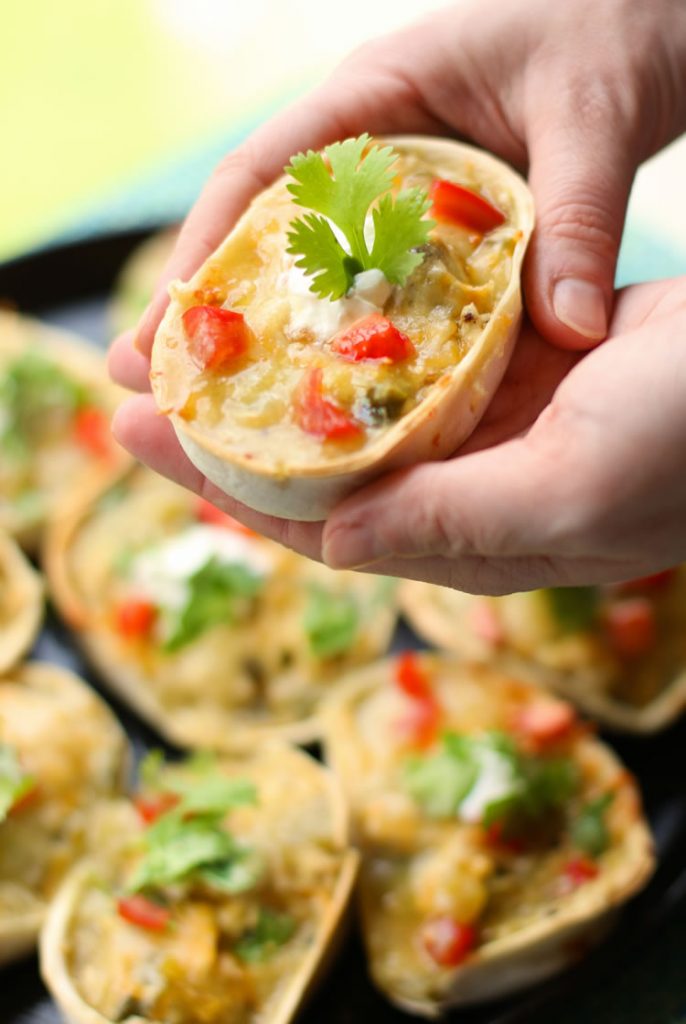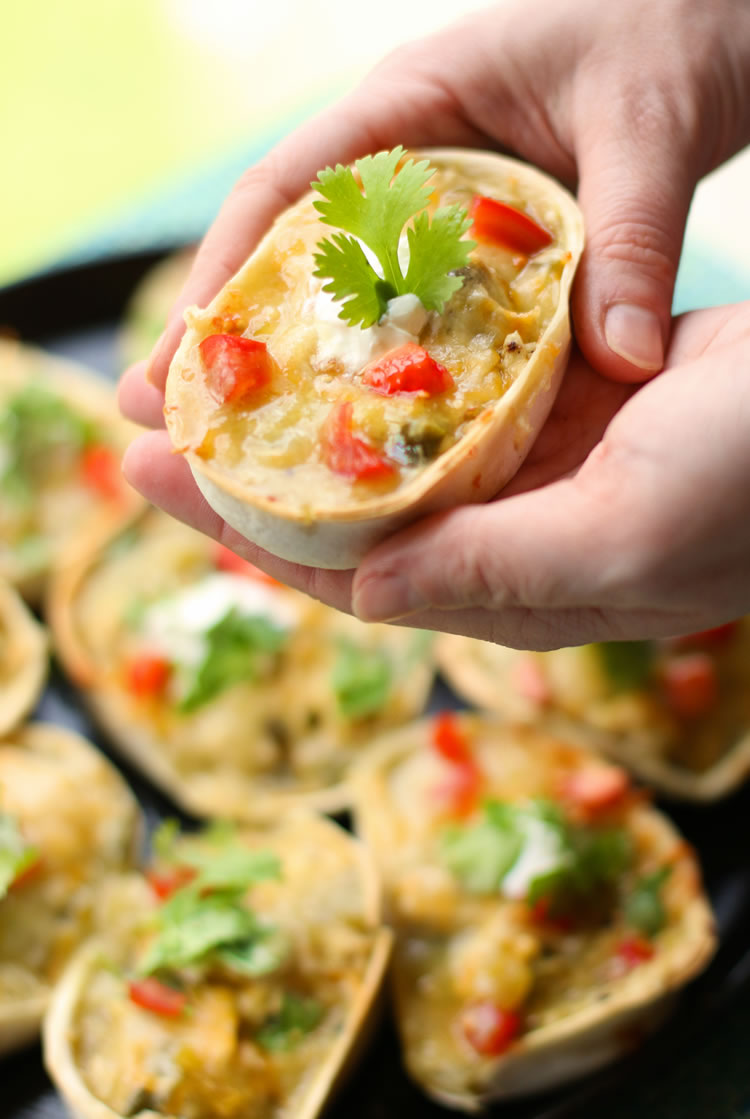 Easy and delicious, these Mini Green Chicken & Poblano Enchilada Boats will become your next fiesta favorite!
Get the recipe!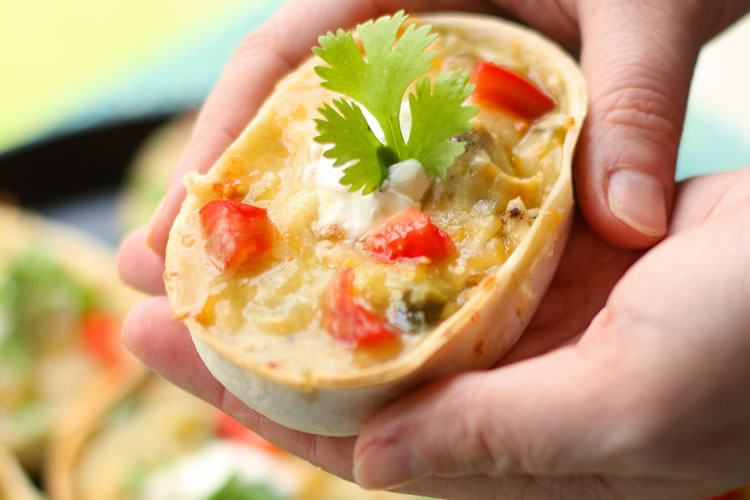 Mini Green Chicken & Poblano Enchilada Boats
These simple and delicious Old El Paso Fiesta Enchilada Boats are the perfect appetizer for your Cinco De Mayo celebration. We used green enchilada sauce in this recipe but you could easily use red if that's what you prefer. 
Ingredients 
12

Old El Paso Taco Boats

2

10 ounce

cans of enchilada sauce, green or red

2

cups, divided in half

shredded cheese, we used a Mexican blend with Monterey Jack, Asadero, Queso Quesadilla and Cheddar

1

large

poblano pepper, about 1 cup chopped

3

cloves

garlic, chopped

2

tablespoons

butter

2

cups

cooked shredded chicken, about 2 breasts from a rotisserie

1/2

cup

sour cream or Mexican Crema

4

ounces

cream cheese

salt to taste
Topping Suggestions
sour cream or Mexican crema

tomato, diced

cilantro, chopped
DIRECTIONS 
To Assemble The Enchilada Boats
Preheat oven to 375 degrees. Grease a baking sheet and place the boats on the baking sheet.  

Saute the chopped poblano peppers over medium heat for about 7 minutes or until they begin to soften.  Add the garlic and saute another 2 minutes.  Season with salt and then add the butter to melt into the mixture. Give it a stir.

To the pan add the shredded chicken, the sour cream, cream cheese and 1 cup of the shredded cheese.  Mix to combine.  The mixture should be thick and creamy. If it seems a little dry add a little chicken broth or water to moisten. Season with salt if needed.

Fill the bottom of each boat first with 1 tablespoon of green enchilada sauce and then 2 tablespoons of the chicken poblano mixture.  Top with another tablespoon of the green enchilada sauce. Sprinkle the remaining 1 cup of cheese evenly over the boats (about a heaping tablespoon per boat).

Bake the boats in the oven for 10-12 minutes or until the cheese is nicely melted and the boats are lightly toasted along the edges. 

To Serve: Garnish each of the enchilada boats with a dollop of sour cream, diced tomato, and chopped cilantro.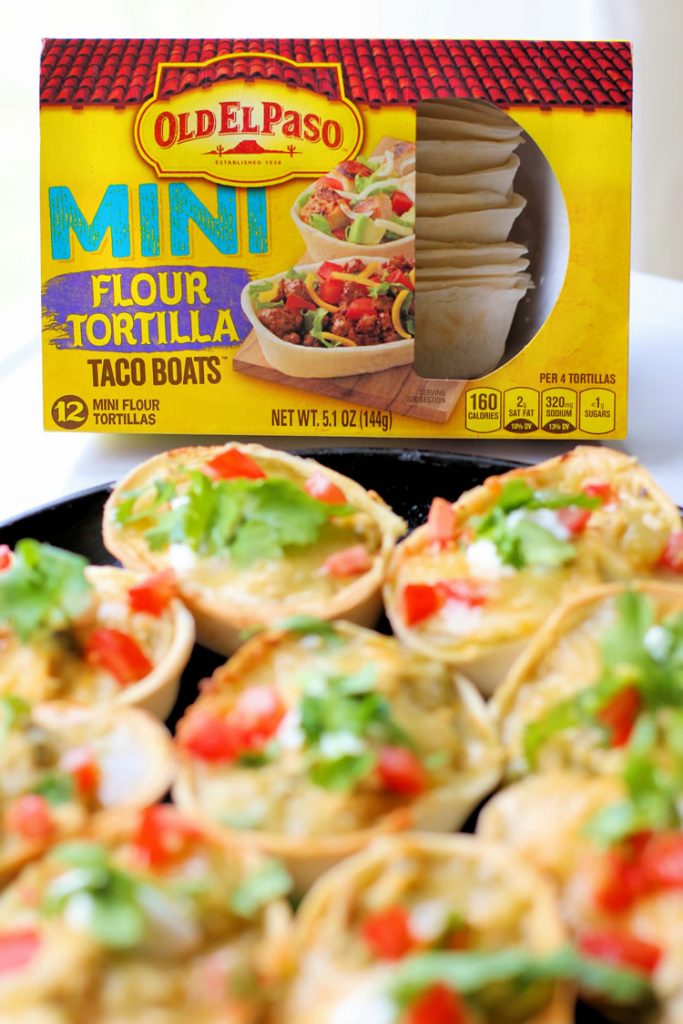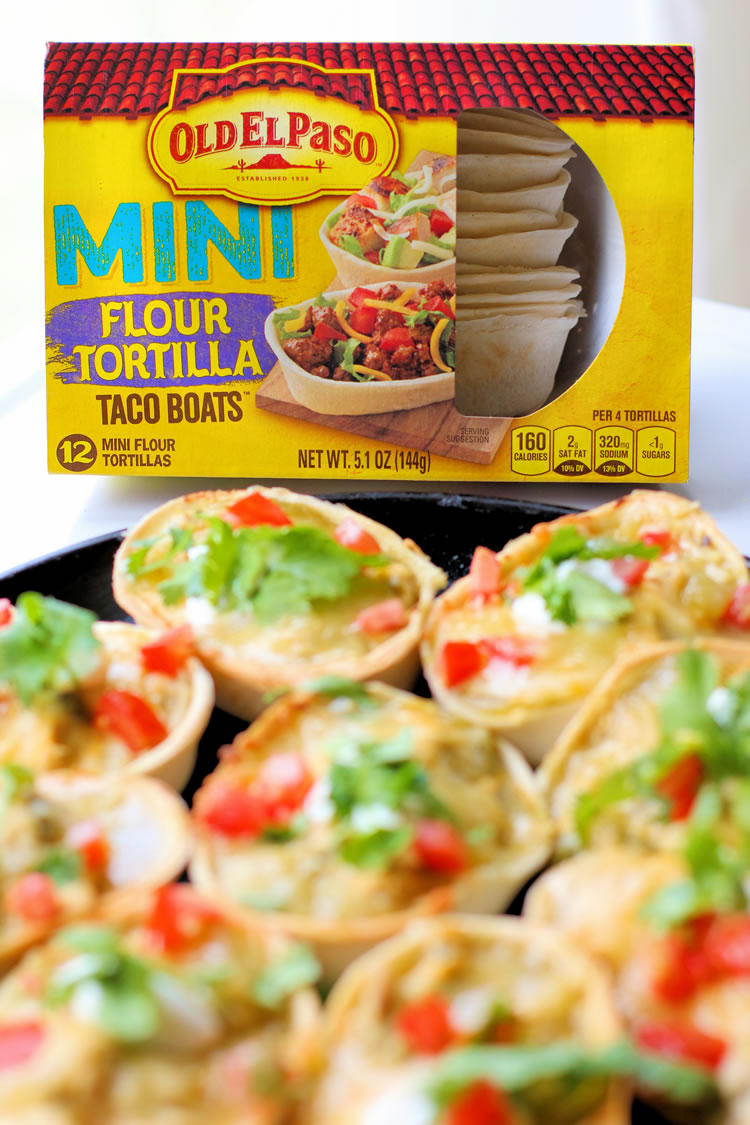 MORE CINCO De MAYO RECIPES!