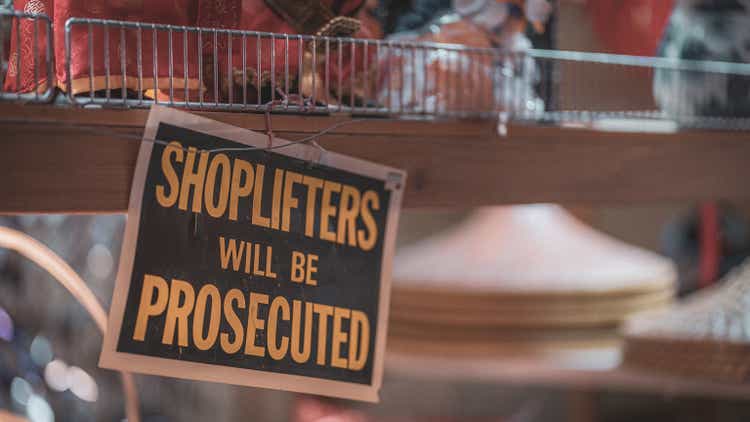 A common refrain during the Q1 earnings season for major retailers was the issue of "shrink" hitting profits. The popular euphemism alludes to retail theft, which is also causing retailers to rethink their store footprints.
The National Retail Federation notes that organized retail crime has risen since 2020 with stolen items then fenced through online sales, flea markets, and more. The organization said in a recent report that the industry has seen "a dramatic increase" in large-scale, coordinated attacks that cost the industry nearly $100B in 2021.
Jan Kniffen, CEO of retail research firm J Rogers Kniffen WWE, told Seeking Alpha that the root cause appears to be a breakdown in social pressures.
"Today, I would contend that social pressure has fallen to modern day lows. There is no embarrassment when people around you find out you aren't paying your bills or that you are stealing goods from a store. So, the bad news is that shrink is now normalizing across the country, especially in cities," he commented. "The legal penalties for theft have the likelihood of apprehension have fallen dramatically. This is a societal problem that really accelerated during the pandemic. But, it isn't going away."
Easy Target?
While Walmart (WMT) was among the retailers that mentioned shrink the least, especially given its exposure to grocery and goods that are not often the target for organized theft, Walmart US CFO John Furner did touch briefly upon the issue. In his comments, he offered an assessment that echoed Kniffen's.
"We know a lot of communities have been affected by [retail theft], but it's also important to note that retail can't solve this issue all on its own. It will take communities stepping up and enforcing the law to be able to bring this issue back under control," he told analysts on Thursday.
Regardless of the root cause, there was nary an earnings call that neglected the mention of the growing issue. For example, Home Depot (HD) blamed the issue for undue margin compression in Q1, TJX Companies (TJX) executives told analysts they are "laser-focused" on anti-theft initiatives and loss prevention investments, while Ross Stores (ROST) also noted an uptick in shrink from 2022.
For retailer's like Foot Locker (FL) and Target (NYSE:TGT), the problem was flagged as a very pressing issue as their product mix was highlighted as a particular target for perpetrators planning to ransack retail locations. For Target, the problem was cited as bad enough to hit profitability in the year by a whopping $500M. Following that flashing warning, executives at Foot Locker even alluded to other retailers' struggles, illustrating the industry wide nature of the issue.
"I would just say that again [theft] has been a multi-year dynamic industry, we are not immune to it, it's increasing. You've heard Target talk about it and others, and so it's having an increased impact on Foot Locker," Foot Locker (FL) CEO Mary Dillon said on Friday. "We've seen a significant increase in theft from stores and usually through this lens of an organized retail crime type of action, affecting more apparel certainly than footwear, where we only have one item out, but apparel is affected."
Indeed, earlier in the week Target CEO Brian Cornell alluded to the issue as a primary factor in pushing profits lower alongside promotional activity.
"Beyond macroeconomic challenges, we continue to contend with significant headwinds caused by inventory shrink, building on a worsening trend that emerged last year. While shrink can be driven by multiple factors, theft and organized retail crime are increasingly urgent issues, impacting the team, and our guests and other retailers," he told analysts on Wednesday. "The problem affects all of us, limiting product availability, creating a less convenient shopping experience, and putting our team and guests in harm's way. The unfortunate fact is, violent incidents are increasing at our stores and across the entire retail industry. And when products are stolen, simply put, they're no longer available for guests who depend on them. And left unchecked, theft, and organized retail crime to grade the communities we call home."
Leaving Locations
Many retailers have turned to increasing loss prevention measures including locking up goods across the store. In many cases, retailers have even turned to completely shuttering stores in problem locales.
Kniffen pointed to Nordstrom's (JWN) recent decision to close its doors in San Francisco. In the announcement of the decision to close stores in the city, President of Stores Jamie Nordstrom said "the dynamics of the downtown San Francisco market have changed dramatically over the past several years," and prompted the pullout of the market.
To be sure, not all exits from major cities are related to the theft issue. For example, Walmart expressly eschewed the explanation in shutting down its Chicago stores. Instead, the company said that the stores had simply never been profitable in the 17 years they had been open, making the decision to close the locations a longer term decision rather than a reaction to recent theft increases.
Additionally, Walgreens (WBA) provided a counterpoint in January, with executives projecting a stabilization in shrink from 2022's peak.
"I think the shrink is built in the forecast. We're probably — maybe we cried too much last year when we were hitting numbers that were 3.5% of sales," CEO James Kehoe said in January. "We're down in the lower 2s, call it, the mid 2.5%, 2.6% kind of range now and we're stabilized."
More on retail earnings:
Target issues soft earnings forecast due to inventory, retail theft impacts
Nike, Under Armour slide following Foot Locker's lackluster Q1 results
Foot Locker stock falls 20% on soft Q1 report, slashed full-year forecasts
TJX Companies tops Q1 profit estimates, hikes full-year forecasts