Syed remembers when he first saw the flier for the BLA program on a bulletin board in prison. He couldn't believe it was real.  
When Syed was arrested in 1999, he was 17. He received his two college acceptance letters in jail. In prison, educational opportunities were slim — especially for someone serving a life sentence. The U.S. government had also cut Pell Grant funding for incarcerated individuals a few years before Syed was arrested.
So when he saw the flier, 22 years into his incarceration, he was curious. A group of his friends encouraged one another to apply, not wanting to miss the opportunity. Syed said the program inspired hope, even for those who weren't accepted that year.
"It became this domino effect to see us be accepted," he said. "It made it become something real in the eyes of others, that there are opportunities. There can be a sense of hope: a sense of hope that things can get better, a sense of hope that I can work hard and still achieve something, a sense of hope that I can still do something that my family will be proud of."
'They Treated Us Like Georgetown Students.'
Syed remembers his first day in the classroom well. It was his first taste of college.
"For so many years, all we ever did was just wake up and be in prison. This was the first time that we would wake up and go to a classroom," Syed said. "What we learned helped us transcend the walls of the prison.
"We went to these places that our professors would take us, like discussions about philosophy in ancient Greece or ancient Rome. For the first time in 23 years, we didn't feel like we were in prison. We felt like we were college students learning."
Syed took philosophy, statistics and life writing courses. He learned how to use a laptop; how to annotate and analyze text. He and his classmates transformed their rec room into a study hall. He remembers studying on the rec room's ping pong table — usually strictly off-limits for anything but table tennis — and debating philosophy with classmates the night before an exam. 
When Syed walked out of the courthouse on Sept. 19 to a crowd of photographers, press, family and supporters, a binder with a Georgetown bulldog sticker on it was one of the few things he carried with him. Inside, he kept his statistics final exam (he scored a 98) and other graded papers and tests.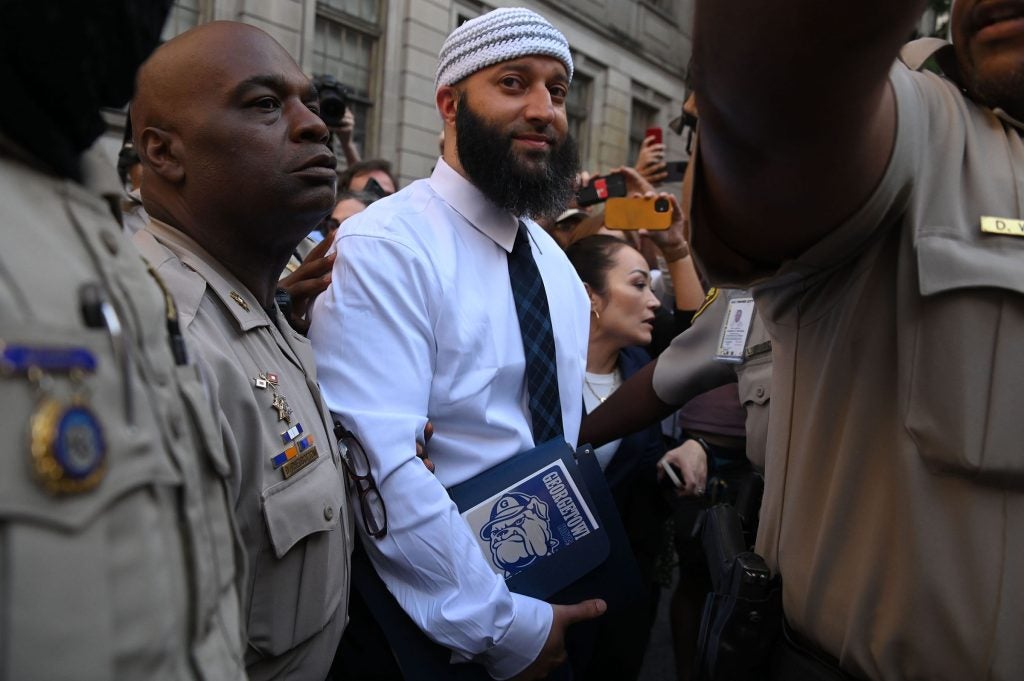 "For me, these are not just my grades or the grades of my classmates," he said. "They're a proof of concept that you can take a group of people who are in prison, give them a chance, and they can benefit from it; they can do something great with it. 
"It's beautiful to see lives changing just from someone saying, 'Hey, here's a chance. What are you going to do with it?' So those are the things that I brought out with me, because they meant the most to me."
At PJI, Syed found colleagues who had been through a similar experience. Colie "Shaka" Long, a fellow program associate for PJI, took courses in the Georgetown Prison Scholars program at the DC Jail and found a sense of freedom in education long before he was released from prison in July.
"I used my education to find my liberation even though I was confined," he told students in the Scholars program at the recent end-of-semester celebration at the DC Jail. "Four months ago, I was in the same jumpsuit. Being in prison is beyond your control, but being a prisoner is optional."