Getting in shape and staying fit doesn't always mean joining a gym. In fact, you can get a great workout and reach your fitness goals right from the comfort of your own home.
Sure, having access to a lot of equipment in a flashy space is nice, but the "gym scene" doesn't work for everyone. And staying fit at home has a variety of advantages: you can do it when it's convenient for you, there's no commute, no wasted memberships, and no need to feel self-conscious or deal with the shenanigans of working out with strangers.
So if you're looking to build a workout routine without leaving the house, here are some tips and tricks on how to get fit at home for beginners!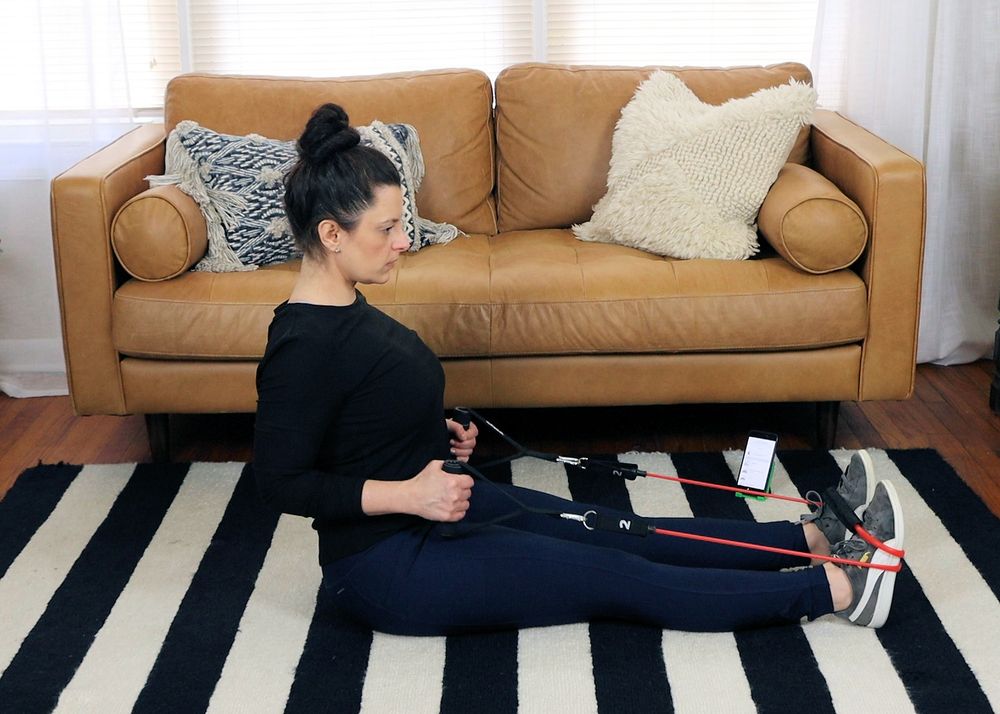 Ease Into Your Routine
If you want to stay fit, making exercise a part of your daily routine is key. But if you haven't worked out in a while, starting out slowly will help you ‌build strength and endurance without causing too much of that unbearable back at it exercise-induced soreness. You know the one where you waddle around for a few days?
Going too fast, or too hard too quickly also can leave you feeling tired, discouraged, while burning you out pretty quickly. Building up your stamina can take some time, but ultimately you should feel good after exercising. 
Each of us should aim to get 30-60 minutes of exercise activity each day.
Try working out 2-3 days a week to start and then increasing the amount of time gradually. If you feel good, go for it. But never push yourself if you're in pain or something doesn't feel right.
 You can even start with just 10 minutes each session and work your way up.
Figure Out How You Like To Get Moving
When it comes down to it, ‌ you're going to need to find ‌exercise you enjoy if you want to make it a habit. And you don't need to pick just one form of exercise. Choosing a few styles can provide a variety of benefits while keeping your routine fresh.
Whatever exercise you do, it will typically include some form of:
Cardiovascular (aerobic) workout: Aim to get at least 150 minutes of moderate aerobic activity, 75 minutes of more intense aerobic activity a week, or a combination. 
Resistance (strength-building) training: Strength training with weights is a great way to tone your body, build muscle and burn calories, but body weight exercised can build strength too. You should train all major muscle groups at least two times a week. 3 to 5 days a week is ideal, but the frequency will depend on your personal fitness goals. If you're just starting out, even 2 days can provide benefits. 
Stretching for better flexibility/mobility: Stretching feels good before and after a workout, but it can also increase blood flow for faster recovery, help loosen stiff muscle, increase joint mobility and decrease your risk of injuries.
Always give yourself 1-2 days of recovery each week. On these days, gentle movement is okay and can even be beneficial to help with mobility and keeping up calorie burn if weight loss is a goal.
 💡 TIP: If you need help programming a fitness routine, I highly suggest giving the Future Fitness App a try. It's been a game changer for me!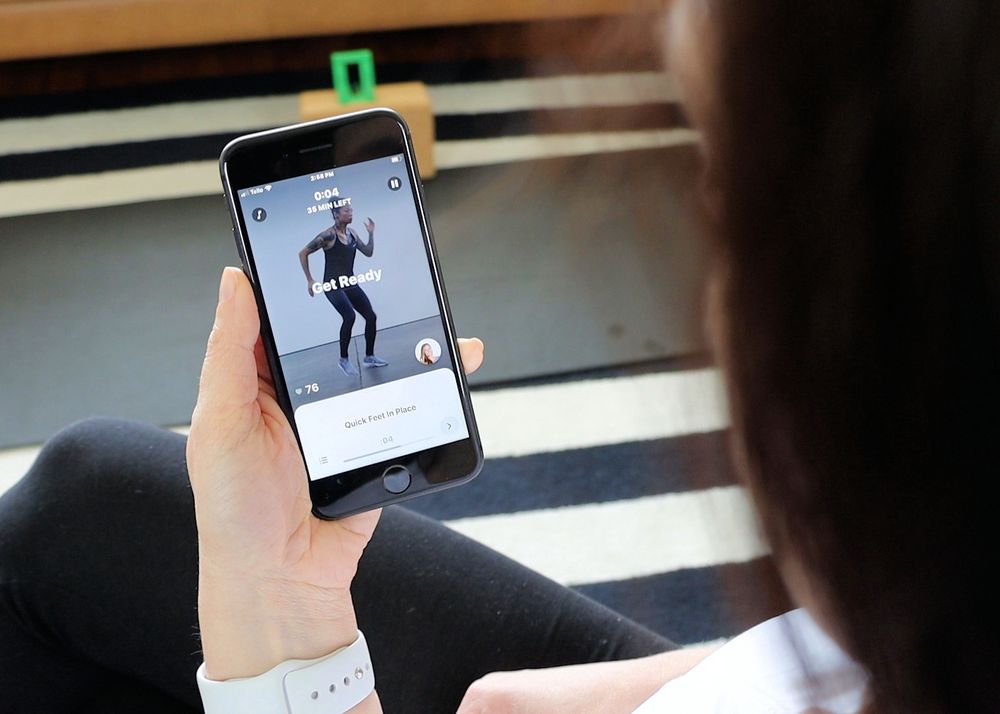 Find Online Classes
To keep your workout routine at home fresh, there are tons of free and subscription-based classes and workouts online that can help you find new ways to stay active, help you learn new exercises, and take your workout routine to the next level. There are also many fitness apps that offer free workout plans as well for all fitness levels. YouTube has tons of free classes, including fun ones like walking at home, aerobics, HIIT, and dance fitness to keep you moving.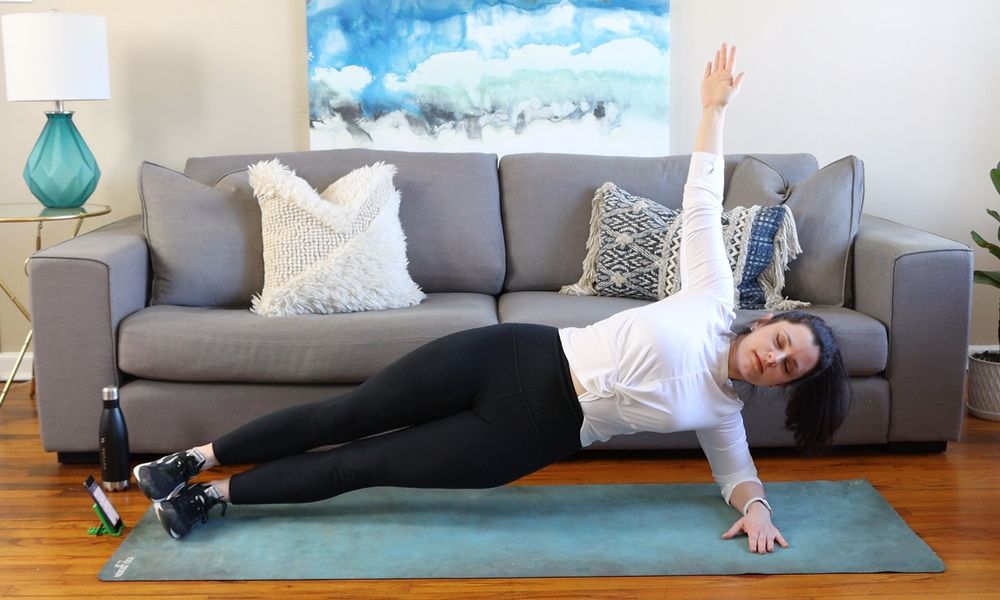 Try Yoga And Pilates
Good for the mind and body. Yoga is a relaxing way to build strength and improve flexibility. Plus, it's super easy to do at home. And all you need is a yoga mat to get started. There are many classes you can take online and apps you can download to guide you through a flow. Yoga also incorporates breathing exercises and meditation for full body and mind wellness, to help relieve stress and promote a sense of calm.
Similar to yoga, Pilates is another low-impact, body weight style of exercise that you can do at home with only a mat. Pilates focuses on building core and body strength while improving flexibility with a series of controlled movements.
Make A Workout Schedule And Keep Track
Whether you're working out at home or in a gym, staying consistent is crucial if you want to see results. By making a workout calendar, you'll be more likely to stick to a routine if you schedule your workouts like you do your appointments or daily to-do's. 
Keeping track of what you're doing will also help you see which days you should train specific muscles and on what days. It can also help you track and measure your goals and fitness accomplishments in the long term. Try using a fitness journal, a daily planner, or a productivity app on your phone.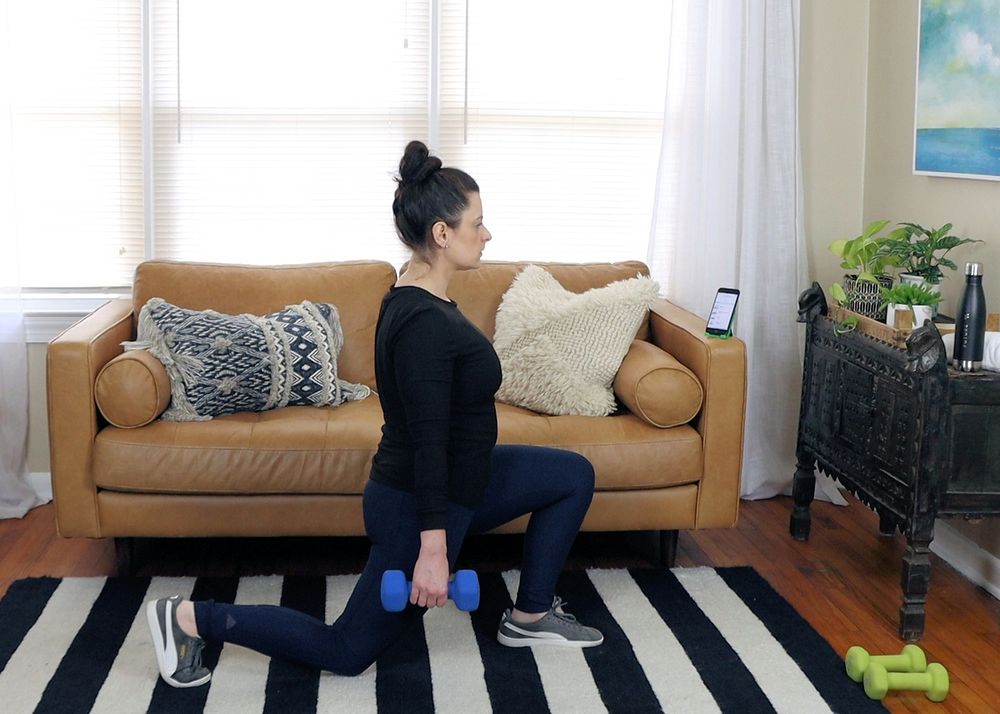 Invest In Equipment That Suits Your Budget Or None At All
You don't need to spend a ton of money on gadgets to stay fit at home.
If you have the money and space, you can, of course, get yourself a full home gym that comes with all the bells and whistles. And treadmills and elliptical machines are great for getting that cardio in at home, especially when the weather is ideal. But while they're nice to have, they aren't necessary.
If you're just starting out, a set or two of light dumbbells is all you need if you want to get started with weight-lifting. If you're short on space and you want more weight to work with, space-saving dumbbell sets can provide you with more weight without taking up much room.
Resistance bands, which are great for toning and building strength, are inexpensive ($20+) and you can stash them in a drawer until you're ready to use them again. 
Bodyweight-only exercise forms like calisthenics, HIIT, Pilates, and yoga are challenging and effective exercises you can do all on your own. And the only thing you need is an exercise or yoga mat. But even a rug will do.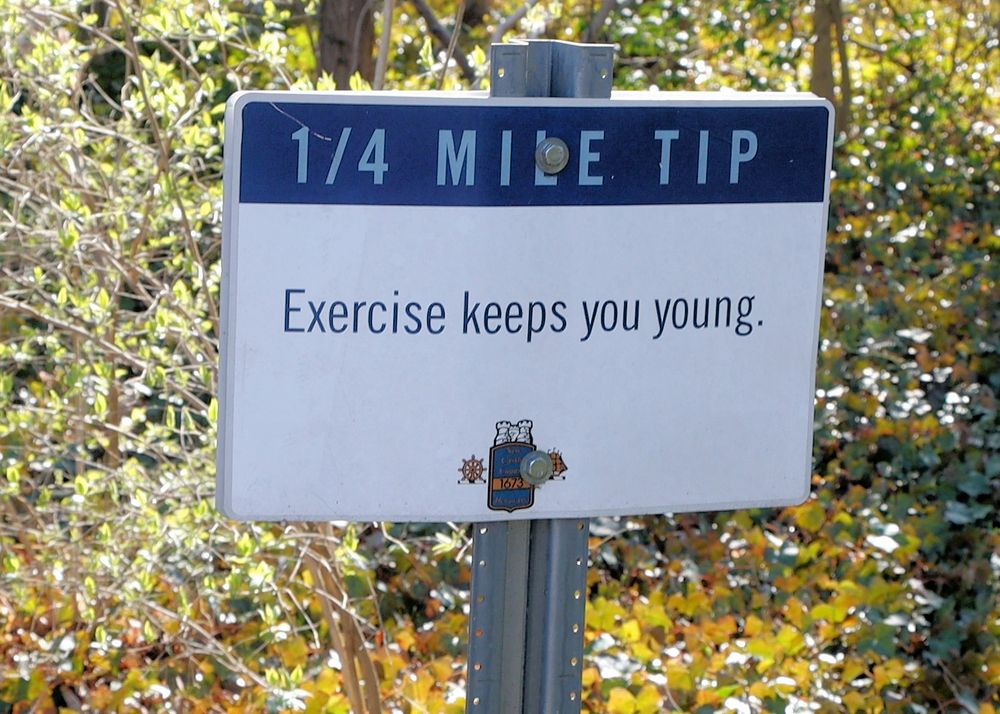 Walk To Keep Moving
Walking seems so simple, but it has been linked in scientific studies to improve mood and immunity, boost energy levels, and reduce stress. Plus, it's an easy way to get fit and stay fit right from home. Experts recommend aiming for steps 10,000 a day and getting a simple pedometer or fitness watch to help you keep track. 
If you don't have a treadmill, a few spins around your neighborhood will help burn excess calories and improve cardiovascular fitness. Doing chores and cleaning around the house is also great for getting those steps in. In fact, a 150-pound person can burn about 200 calories an hour just by doing housework. 
Use The Stairs Whenever You Can
If you have steps in your home, you can add them to your workouts or simply use them whenever you can to help strengthen your legs, burn calories and keep your heart pumping. You can also use stairs for exercises like raised push-ups, box jumps, triceps dips, and elevated lunges.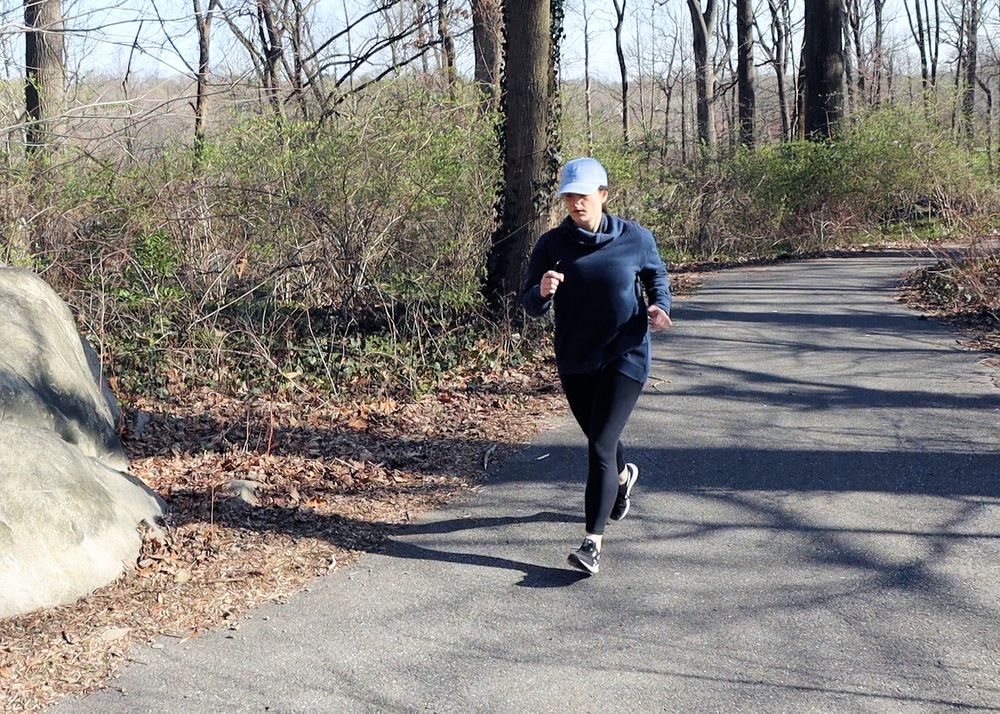 Take Your Workout Outside
Working out at home doesn't always have to mean always being inside the house. Studies have shown that spending time outdoors can lower cortisol, the stress hormone that can cause weight gain. Time in the sunshine can also help boost our Vitamin D levels, which may support weight loss and is much needed for healthy immunity. (1)
If you have a backyard space, on nice days, take your workout routine to the great outdoors to spend time in nature. Alternatively, tackling that yard work and getting in some gardening can also burn calories and keep you moving while getting the benefits of being outdoors.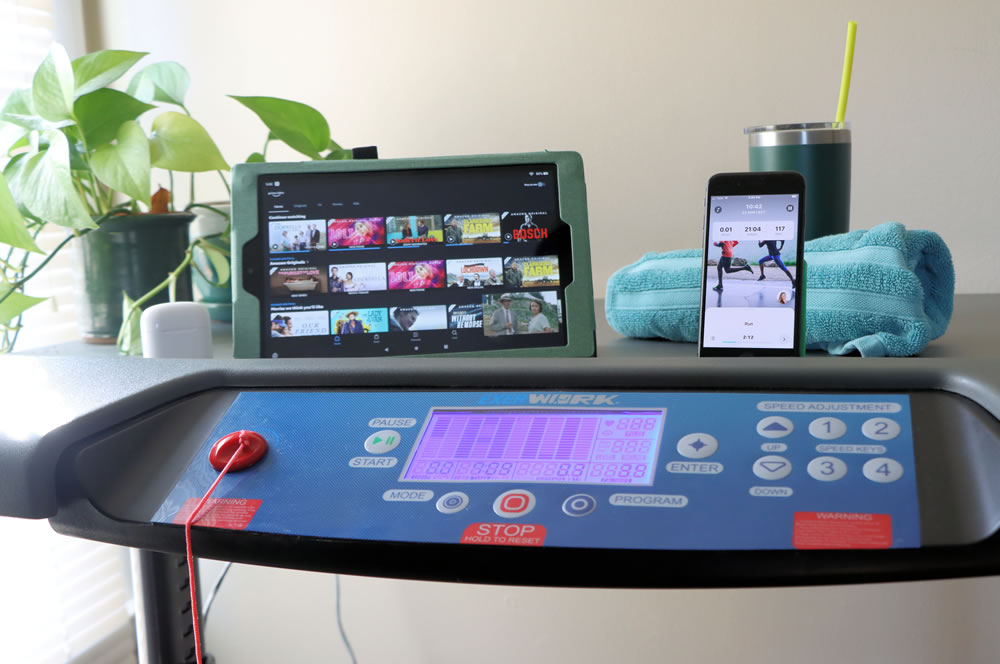 Get A Standing  Or Treadmill Desk
More and more of us are working from a computer at home, which can leave us sedentary most of the day. It's no secret that being sedentary has been linked with a higher risk of obesity and poor health. A standing desk can help.
Increasing in popularity, a standing desk is a type of adjustable desk that allows you to alternate between standing comfortably and sitting while you work. It can also help you burn up to an extra 170 calories per day, or 1000 calories each week by simply standing while you work.
Studies have also shown that standing while working not only reduced blood sugar spikes after eating, but those who used standing desks had more energy and reported less stress than those who stayed seated.
Break Up Your Workouts Through the Day
Short on time and find it hard to get in those longer workouts even at home? One study ‌found that working out in 10-minute intervals not only makes it easier to stick to a routine, but it's as effective as exercising for continuous stretches of time when working towards weight loss goals. (2, 3) For optimal calorie burn, go for high-intensity interval training, which can burn more calories than low-intensity or steady-state exercises. (4).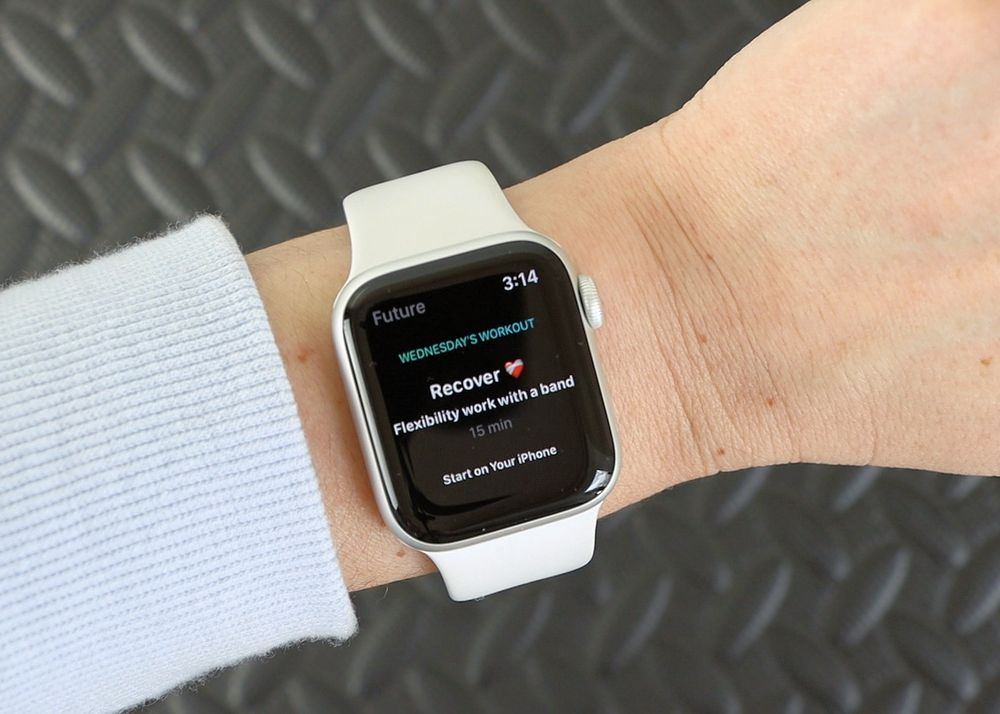 Use An Activity Tracker Or Fitness Watch
If weight loss is one of your fitness goals, keeping track of how many calories you're burning in relation to how many you're eating is key if you want to lose weight. Translation: to lose weight, you need to be in a calorie deficit, burning more than you eat. 
There are many free Android and Apple step and activity tracking apps you can download for free. But for those of us who don't carry our phones with us every moment of the day (especially at home), a simple pedometer or fitness watch can be a better solution. Besides tracking steps, they'll also monitor calories burned, heart rate, sleep quality, stress, and more while syncing up with an app on your smartphone to help you keep track of your stats to monitor progress. 
Set Out Your Workout Gear The Night Before
Before hitting the pillow, have your workout outfit and sneakers ready to go, so you get them on first thing in the morning. As soon as you wake up, getting dressed in your workout gear will put you in a "ready to workout" frame of mind. When you're dressed for the part, you'll be more likely to work out.
Keep Yourself Accountable
If you haven't been able to stick to a workout plan at home before, ‌ keep yourself accountable so you keep showing up even on days you don't feel like it.
Research shows that having someone outside of yourself to report to is one of the most effective ways to help you stay on track and reach your goals. 
Try joining a fitness challenge, or get a workout buddy you can text with, or join a fitness group on social media. Don't forget to reward yourself when you hit goals and milestones.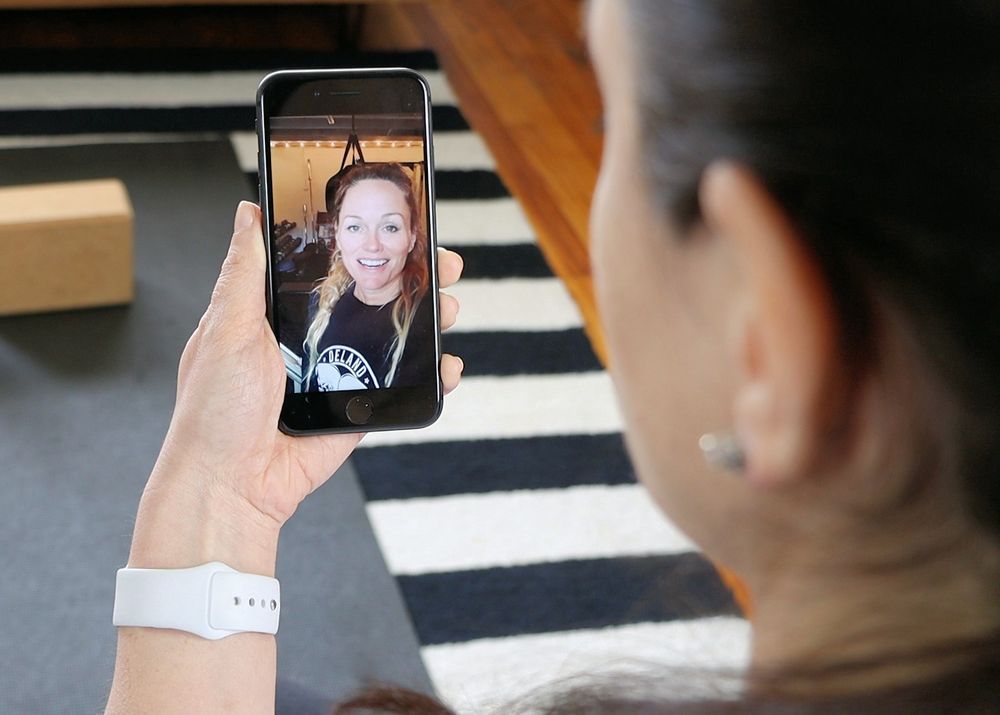 A Virtual Fitness Coach Can Take The Guesswork Out Of Getting Fit
If you're not sure where to start, but you want to make sure the workouts you're doing at home will give you the results you're looking for, getting an online fitness coach is the way to go. 
Here's why. Having an online fitness coach is not only super convenient, but they can make you custom workouts tailored just for your personal goals and fitness level. Which means you never have to wonder what exercises and workouts you should be doing, or whether they'll be effective. Plus, having someone who knows what they're doing in your corner can make a huge difference in your fitness level.
We recommend you give Future a try. Future is a personal training and fitness coaching app in the Apple Store designed on the science of what motivates us to stay on track with our fitness goals. But Future is more personal than most other personal training apps out there.
Here's how it works: With Future, you get paired with your own elite personal fitness coach, who not only makes weekly custom workouts just for you, but also holds you accountable by messaging you with daily check-ins, tips, and feedback before and after your workouts.
That means you have access to a fitness pro every-single-day to keep you energized to conquer your fitness goals.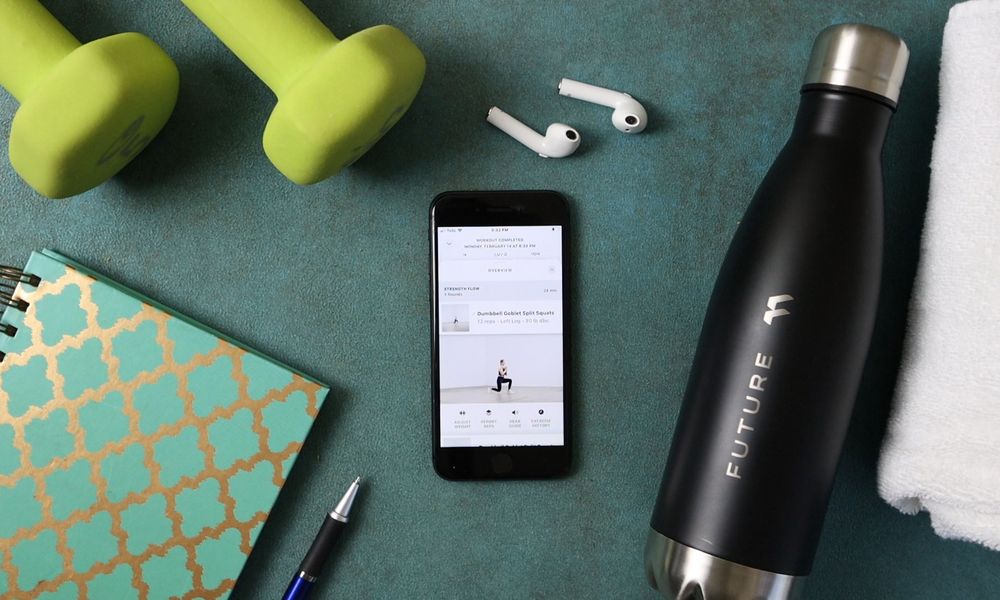 I've Been Using The Future Fitness App And I'm Hooked! 
I love Future because the workouts:
Are scheduled and

ready-to-go with a

udio and video instruction

in the app.

Are designed around exercises and activities you like to do. Hate burpees? You never have to do them. 

Don't require any fancy equipment

Change up every week to align with your goals and keep things fresh.

Can be done on your schedule 
Plus, Future only hires elite fitness professionals with over 80% of Future coaches having trained pro, collegiate athletes.
Your Future App Coach:
Is there for you everyday to keep you accountable, give you advice and keep you motivated. 

Can hop on a FaceTime call anytime you need extra support.

Gets alerted when you finish a workout and can analyze the data to make sure you're doing the exercises and improving
Future integrates with the Apple Watch to help you keep track of calories burned, steps and heart rate. It's one more way to keep you accountable.
If you want to get fit at home, but don't know where to start to reach your fitness goals, having a Future personal fitness coach can help you get where you want to be. 
I've completed over 250 workouts with Future and burned more than 54,000 calories!
Ready To Get Fit At Home? Try The Future App For Yourself!
 ➡ As part of our audience, get your 1st month of Future for only $19!
Plus, Future offers a 30-day risk-free trial. So, pick your coach and start your fitness journey now!
➡ Learn more about the benefits of online training
➡ See how to stay motivated to exercise
➡ See our complete review of Future
➡ See how to lose the last 10 pounds fast