There's nothing quite like a freshly baked scone with a hot cup of tea. In fact, sometimes I daydream about them. They're delicious any time of year, but with the cooler weather starting to creep in, what better way to celebrate (yes, I love the cool weather) with scones infused with pumpkin goodness. Imagine yourself wrapped up in a blanket on a fall morning, with nothing but these pumpkin scones and a hot cup of your favorite tea or freshly brewed coffee. Isn't it amazing?! I know.
In this pumpkin scone recipe, we combine typical scone ingredients like all-purpose flour, sugar, butter, cream, and egg, but give them the pumpkin spice treatment with pureed pumpkin (canned is fine), and warm pumpkin loving spices like cinnamon, ginger, nutmeg, allspice, and cloves. While the spices are listed in the recipe instructions individually, you can also use your favorite pumpkin spice blend instead.
Here are a Few Tips To Making Your Scones Best Ever!
Make Sure All Your Ingredients Are Fresh!
If you've tried making scones in the past and they just didn't turn out the way you'd hoped, it may be because that flour or baking soda you used has been sitting in your cabinet since…we're not sure when. Check the date on your ingredients and if they're nearing expiration you may want to replace them with fresh for best scone results.
If You Don't Want a Tough Scone Don't Overwork The Dough!
One of the keys to making great scones is to not handle the dough too much. You want to just gather the ingredients together just until the dough is just formed, cut them into wedges, and freeze before baking.
Use Pastry Flour For A Light And Airy Scone
While all-purpose flour is fine to use for scones, pastry flour which has a lower protein content will make for a scone that will rise higher while having a much lighter, airier and less dense texture. Scones as light as a feather is what we all want!
Need A Gluten-Free Variation?
For a gluten-free version of these pumpkin scone sub out your favorite gluten-free flour at a ratio of 1:1.
Don't Want To Make The Maple Glaze?
As an alternative to making the maple glaze, brush the tops o f the scones with buttermilk, milk or cream and then sprinkle with turbinado or another coarse type sugar before baking for a crunchy, sweet and sparkly top! 
If you do make the glaze (and we hope you do), adding a little maple extract to the mix will take these Pumpkin Spice Scones over the top. It's not necessary but will give you a more intense maple flavor experience. It's also a great flavor profile to add to cookies, pies, pancakes, waffles or whipped cream anytime you're craving the flavors of fall. You should be able to find it at the grocery store, but we like this inexpensive Beanilla maple extract you can get right from Amazon.
Drain and Chill the Pumpkin
Whether using canned or fresh, watery pumpkin puree will cause these scones to flop. Make sure to drain away any excess liquid and give it a chill before mixing in.
Don't Skip This Important Step
Before baking freeze the pumpkin scones right on the baking sheet lined with parchment paper for at least 30 minutes. Make sure the scones aren't touching or they will freeze together.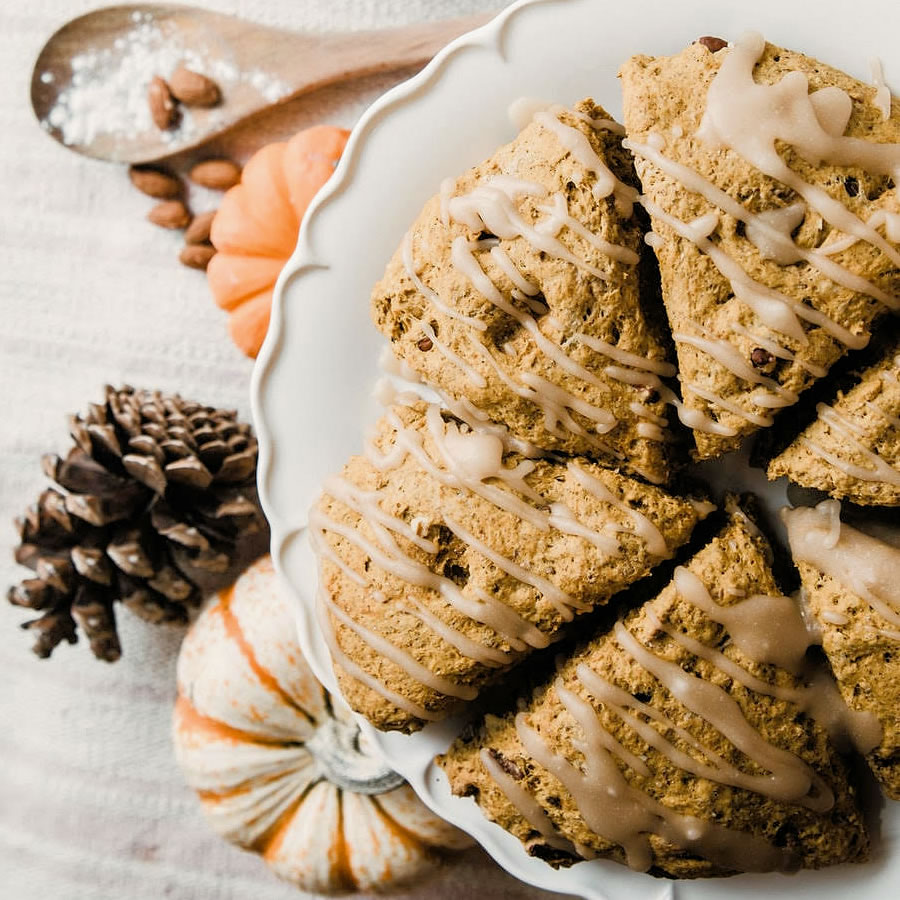 GET THE RECIPE!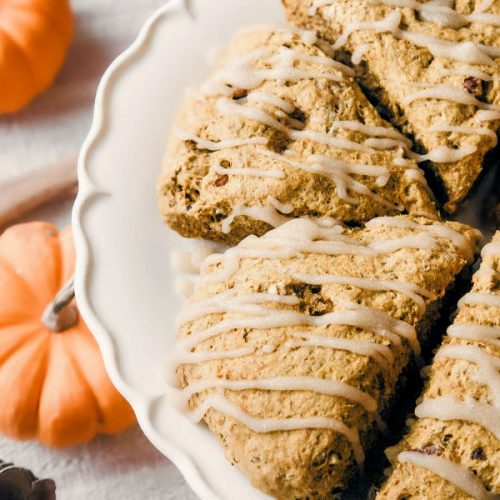 Pumpkin Spice Scones With Vanilla Maple Glaze
These light and airy pumpkin and spice scones are delicious easy to make treats that you can freeze and bake anytime you're craving the flavors of fall. Give this recipe a try!
Equipment
Sharp knife

Pastry Board

Pastry Blender

Pastry Brush

Baking Pan

Parchment Paper
Ingredients 
The Dry Ingredients
2

cups

flour

1

tbsp

baking powder (aluminum-free is best!)

1/4

tsp

salt

1/4

cup

light brown sugar

1/8

cup

confectioners' sugar

1

tsp

cinnamon

1/2

tsp

nutmeg

1/4

tsp

ginger
The Wet Ingredients
1/2

cup

butter, frozen and then grated (1 stick)

1/2

cup

canned pumpkin puree, drained of any excess liquid and chilled

1/3

cup

heavy cream

1

egg
MAKING THE GLAZE
1

cup

confectioners' sugar

1/4

cup

maple syrup

1/2

tsp

vanilla

1/2

tsp

maple extract (optional)
DIRECTIONS 
GETTING STARTED
Line a baking sheet with parchment paper. If you don't have parchment paper, grease with butter or a non-stick cooking spray instead.

Tip: Keep the grated butter chilled in the refrigerator until you are ready to use it.
MAKING THE SCONES
Sift all the dry ingredients (and the pecans if using) into a large mixing bowl and stir well.

Using 2 forks or a pastry blender, incorporate the chilled butter into the flour until you get pea-sized coarse crumbs. You can also achieve this using your fingers by gently rubbing the flour into the butter with your index finger and thumb. If using this method place the flour/butter mixture back into the freezer for a few minutes to rechill as the warmth from your hands will soften the butter.

In another small bowl, whisk the wet ingredients together (pumpkin, egg, cream).

Create a well in the middle of the flour/butter mixture. Very gently stir the wet egg mixture into flour/butter mixture and stir just until a dough forms but is still crumbly.

Sprinkle flour onto your work surface and form the dough into a 6-inch round. Brush with cream. Cut into 8 wedges, then place them about 1 inch apart.

Chill for at least 30 minutes in the freezer. This will ensure the scones keep their shape and rise properly.

While the scones are chilling, preheat the oven to 400°F (200° C) with the baking rack placed in the center. Brush with a little milk or melted butter and then bake for 15 to 18 minutes or until lightly browned.
MAKING THE GLAZE
While the scones are baking put the glaze ingredients in a microwave-safe bowl or heat gently in a small saucepan.

Microwave for 30 seconds and stir until smooth.

OR

Stir all the ingredients in a small saucepan over low heat and whisk until there are no more lumps from the sugar and the glaze is smooth. Remove from heat, allow to cool slightly and then drizzle over the scones. For a thicker glaze add more powdered sugar. For a thinner glaze add a little more maple syrup.
Notes
♥ 

Maple extract

is an optional ingredient in the glaze, but will give these scones a burst of lovely maple flavor. It's a nice flavoring to have in your baking pantry anytime you want an infusion of maple flavor. Think cookies, pies, pancakes, waffles, whipped cream and more!
♥ 

Keep a batch of these Pumpkin Spice Scones unbaked in the freezer and bake when you're ready for Pumpkin Spice Scones on the fly!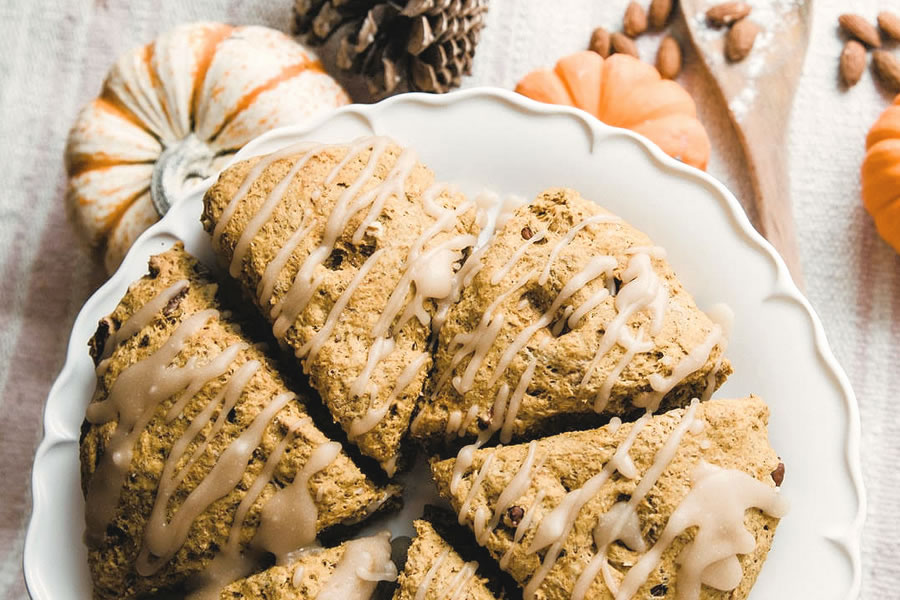 💡 Also try our recipe for EASY BLUEBERRY SCONES (WITH FROZEN BLUEBERRIES)