It's plus bridal week (eeeee!!!) here at TCF, and we are so excited to interview Hannah Nodskov, bridal designer and plus size fashion goddess behind Hannah Caroline Couture. Today, we're talking ALL about her latest size inclusive bridal collection!
We have followed (and written about!) Hannah's rise to success over the past 5 or so years, and we are just SO geeked to be interviewing her about her (truly!) size inclusive wedding dress brand, Hannah Caroline Couture.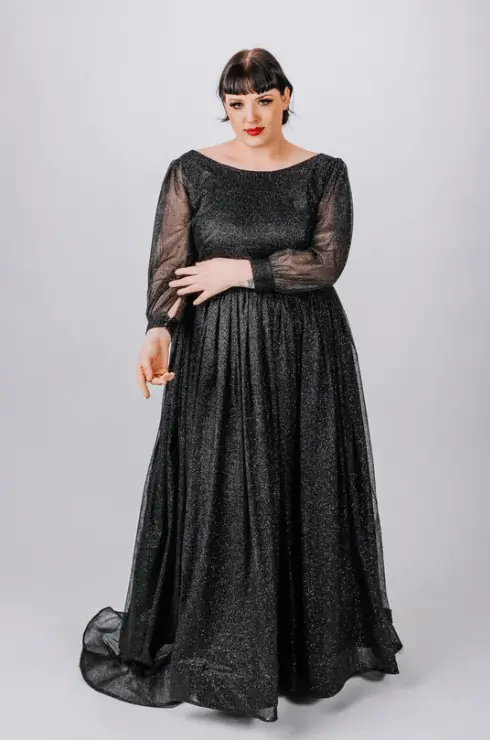 Size Inclusive Wedding Dress Designer
Based in Nebraska, Hannah has two main ways of working with plus size brides. She releases bridal collections as well as working with brides 1:1 to design their custom dream plus size wedding dress.
In this in-depth exclusive interview, we're going to cover:
Hannah's inspiration for her plus bridal collection, Midnight Shimmer
Emerging trends in plus size bridal YOU definitely want to know about
How Hannah designs for ALL bodies (straight sizes, too)
This post is a must-read for plus size brides interested in designing in their own custom plus size wedding dress, as well as babes who love to geek out about all things bridal!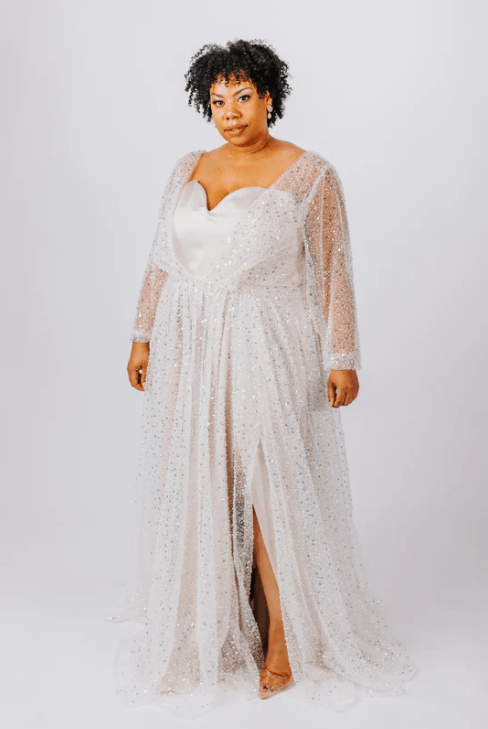 Size Inclusive Bridal Collection: Midnight Shimmer
Hannah's latest collection, Midnight Shimmer, features a swath of non-traditional bridal gowns that Hannah has become known for.
"My main inspiration comes from fabric," explained Hannah. "Through the process of making custom wedding gowns, I get to see so many cool ideas from brides as well as tons of really cool fabrics. Obviously, I can't use all of those fabrics I discover with a client, so I'm constantly on the lookout for interesting materials and new neckline ideas."
For the Midnight Shimmer collection, Hannah wanted to be sure to bring options that plus size brides traditionally don't get. "My focus was really on bringing on a variety of silhouettes I don't see in plus size often," she shared, "as well as bringing in interesting fabrics and textures I don't see in bridal."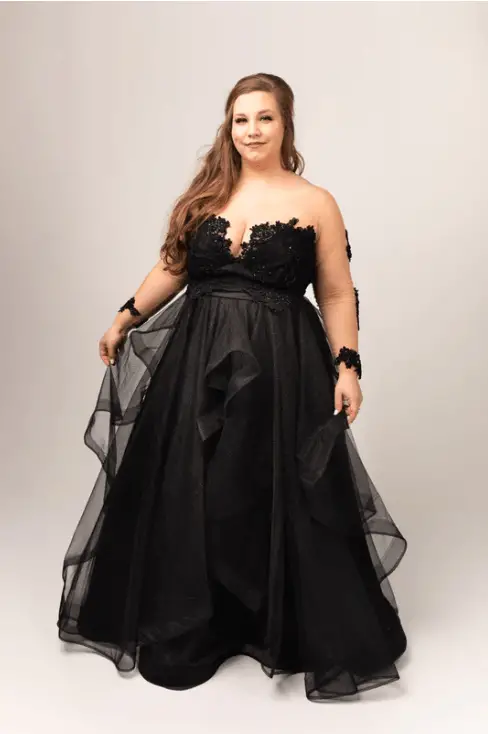 And of course, Hannah knows to add SPARKLE to her plus size wedding gowns (hence the collection name).  "I love adding a pop of sparkle through lace, beading or sequins, because today's brides want sparkle in their wedding!" she exclaimed. "Why not be a little extra in your wedding?"
We're here for that!
Hannah also wanted to push the idea of what we think of when we say "non-traditional bride." While Hannah loves to create black plus size wedding dresses, she shared that "This whole collection was geared towards non-traditional brides, but not just black wedding dresses."
Adds Hannah, "Some brides want something just a little bit different.  I have one gown in a rose pattern with flocked velvet, and I haven't seen that rose pattern in velvet. It's still a white dress and has a different texture to it." Hannah really expands on the idea of what a "non-traditional" bride is, giving her clients the chance to explore and share their creativity.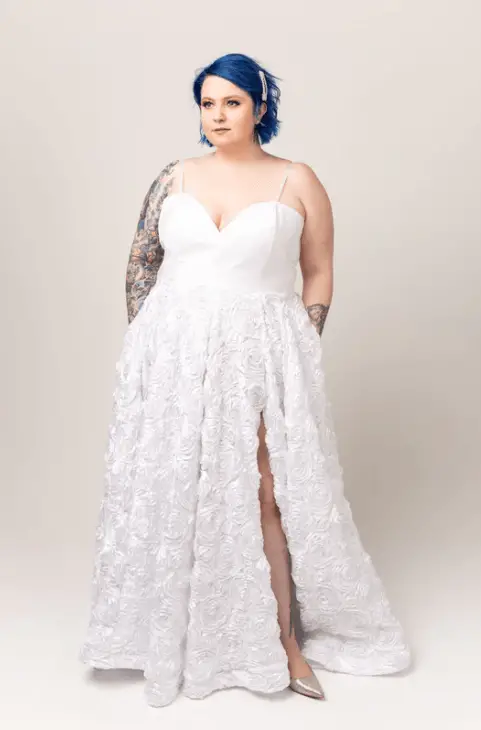 Plus Size Wedding.. Romper?!
Pushing on the envelope, Hannah also designed a two-in-one plus size wedding dress for Midnight Shimmer. "I also have a romper in this collection," she says with a mischievous smile, "that comes with a detachable overskirt, a two-in-one plus size wedding gown has been really popular. This plus size wedding look has a romper underneath the skirt — which is removable! I wanted my brides to be able to have a second 'Wow!' reveal moment with a built-in reception dress."
Two-in-one plus size wedding gowns are definitely a trend in 2023 (I love seeing brides reveal their dress on various TikToks), and this just seems so fun!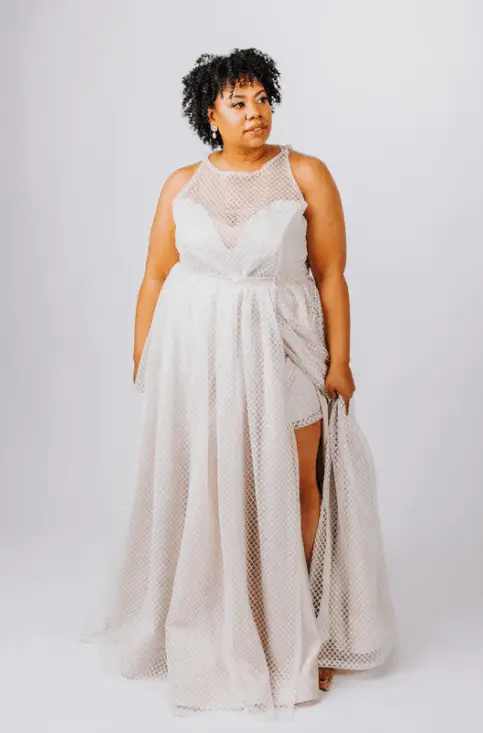 Removable Sleeves FTW
Always one to outdo even herself, Hannah has also incorporated detachable sleeves in her bridal collection. "I really had fun with sleeve design in Midnight Shimmer," she says, "a lot of the gowns have sleeves, ranging from a puffy cap sleeve to a billowy bishop sleeve.  Some are detachable sleeves, to make it easier to dance! Brides can easily remove the sleeves — or even swap them out. I also did a two-in-one sleeve, so a bride can have a lace illusion sleeve and rip those babies off in the reception!"
(Writer's note: At this point in the interview, it became clear to me that Hannah knows how to design for brides who are ready to be the life of the party!)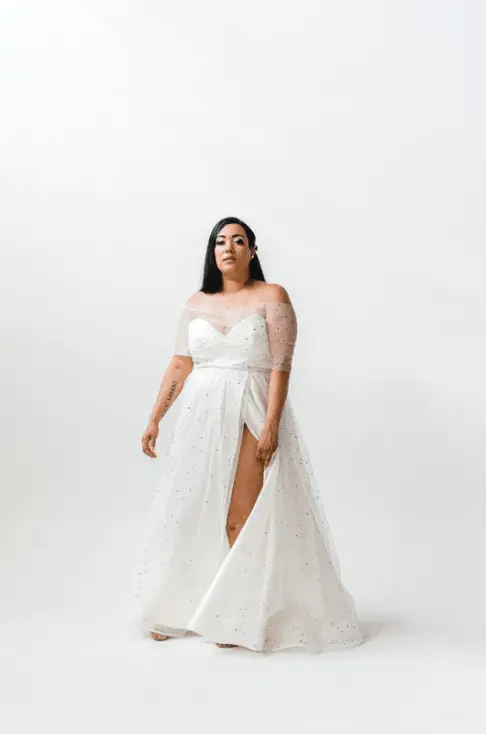 Glitter to Catch the Light — And for Wedding Photos!
Many of the plus size wedding dresses in Midnight Shimmer use, you guessed it, shimmery and glittery fabric.
Hannah explained this element saying, "I think that even for brides that don't wear lots of glitz and glam in their daily life, your wedding is truly when you get to be extra.  Right now, brides want a bit of sparkle or something over the top with glitter."
And, not all sparkle has to be BLING (although bling can be fun)! "Even if you're not a very 'princess-y' bride, your wedding day is the day you get to be over the top!" In Midnight Shimmer, Hannah made sure to include fabrics and options for different "glitter levels" so that every bride can sparkle in the way that makes her feel most beautiful.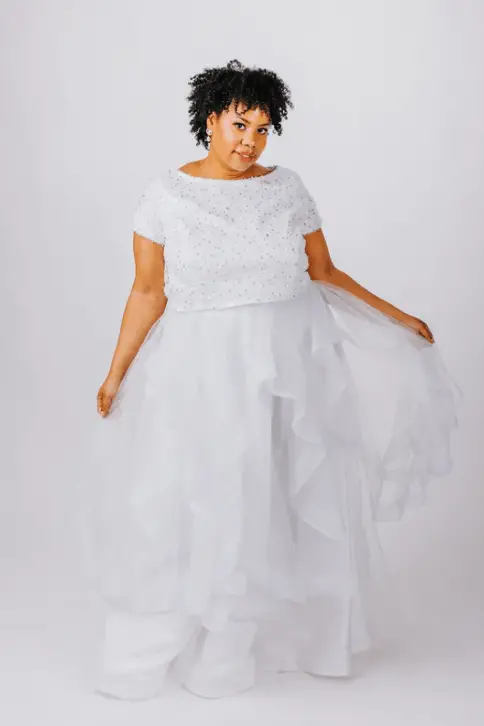 Plus Size Wedding Dresses to Show-Off Tattoos
Something that I love about Hannah Caroline Couture wedding dresses is that the models often have ink! Hannah loves to celebrate non-traditional brides, and she includes design elements to "show off" their tattoos!
"As a designer dedicated to working with non-traditional brides, it is a passion of mine to help brides showcase their tattoos on a day they are pressured not to show them. During the consultation process, I ask for photos of their body art, and we talk about what area they want to highlight."
Hannah went onto explain a few different ways plus size brides can show off their tattoos with their wedding dress, including: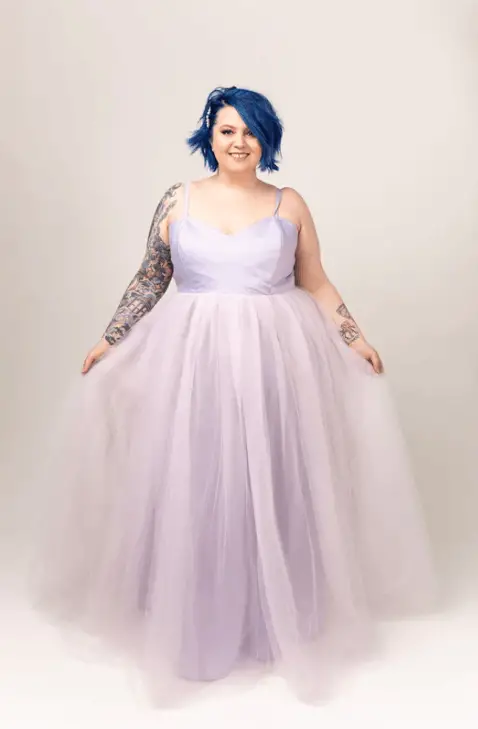 Frame a back tattoo with an open back design, or use lace overlay and appliques to "frame" the tattoo
Use illusion mesh and lace in combination to "frame" arm tattoos for a bride who wants a wedding dress with sleeves
Use a high slit or higher slit to show off cool leg places. The bride can pop a leg to show off cool shoes and upper leg
Design YOUR Dream Wedding Dress
While Hannah loves to create her plus size bridal collections (we love the photos of plus size models wearing her designs on the runway), most Hannah Caroline Couture brides opt for customization — or totally designing a unique and custom dress.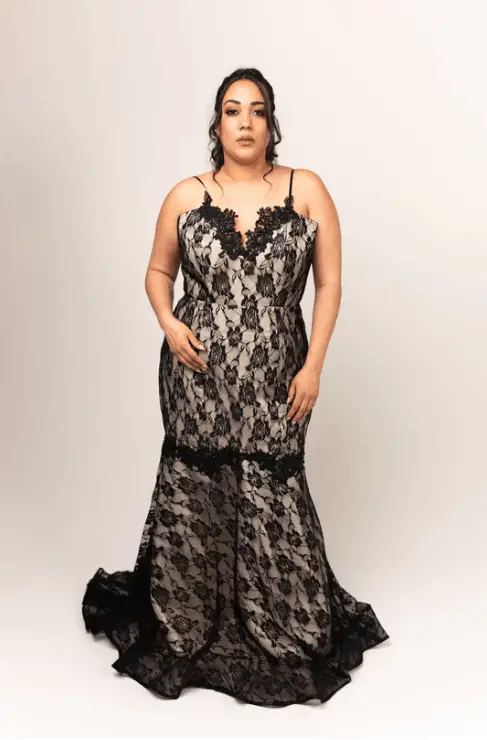 Truly the best of both worlds!
Explains Hannah: "The way that my collections work, I produce a collection of gowns, but also a collection of overskirts. That way, when brides schedule an appointment to come shop with me in my showroom in Omaha, we can 'Build a Dress' or do a 'Franken-Dress" experience, where we pull veils, belts, lace tops, skirts, bodices, and we build their dream dress together. It's truly the best version of dress up!"
For brides not in the Midwest, brides can pull from different gowns to build their dream dress. "Everything on my website is truly customizable," shares Hannah. "A client can say, 'I love the top of the Zara gown, but not the skirt. Can we pull the textured tulle skirt and combine them?' My answer is always, 'Yep, no problem!'"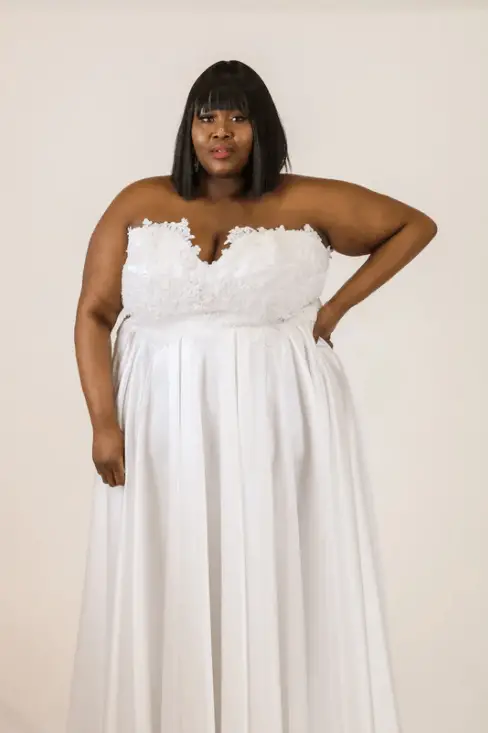 Hannah Caroline Couture is a great option for brides who may fear being "too much," wanting something very specific. And, for brides who are unsure or maybe need a bit of cheerleader, Hannah is happy to do that as well!
"Many of my brides come to HCC because they can't find what they're looking for in a traditional bridal salon. Sometimes a bride knows exactly what she wants — mood board images and all! — or we try on a bunch of options. The process is joyful and fun, and I love my work."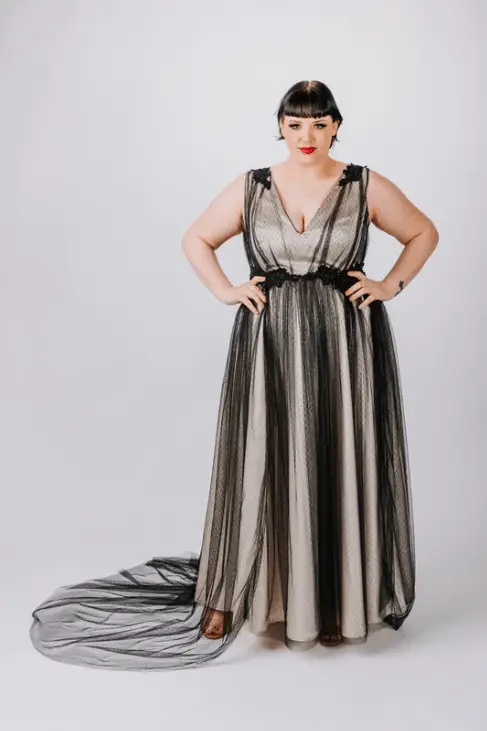 Commitment to Size Inclusion in Bridal
Curve Washing can be a problem in plus size bridal, as many a plus size bride can attest. If we're even lucky enough to see ANY gowns on a plus size model.
"Any plus size bride who has spent more than 5 minutes on Pinterest, Google, Instagram, etc, looking for wedding dress inspiration has figured out that bridal has a very specific look to their models. Most, if not all, are a size size 2 and 6 feet tall — which is not representative of the experience of most plus size brides."
Hannah Caroline Couture is inclusive of sizes 0 to 36, with the ability to go higher based on client needs.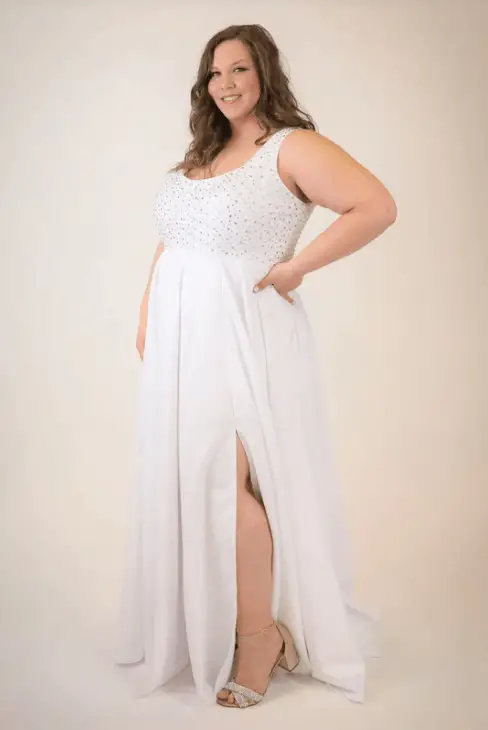 "I think something that differentiates me from many other bridal designers is that I have been plus size my entire life. I know what kind of alterations and adjustments are needed based on size and shape. I am very careful to design wedding gowns that a bride can truly celebrate in — from looking stunning in photos and the ceremony to dancing in her dress if she wants to!"
Hannah does 1:1 consults with each of her clients, in-person (many clients in the midwestern United States drive to her) or via Zoom, taking their measurements and getting pictures — to get a perfect fit. She also offers an "Alterations Guarantee" with clients, building the cost of alterations into the dress — helping to lower the stress levels of her brides.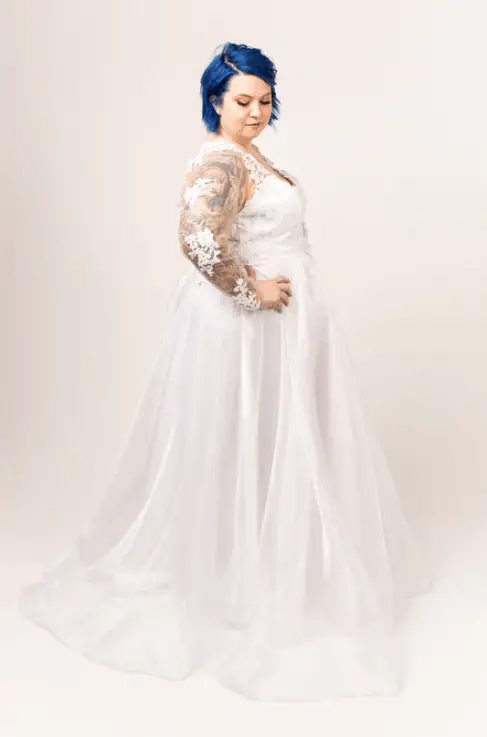 Plus Size Brides IRL
If you'd like to see images of plus size brides IRL, you can head over to the Hannah Caroline Couture Instagram, where Hannah has shared many many photos of plus size brides.
To shop the latest dresses from the designer, please visit HCCDesign.co!
A special thank you to Hannah for sharing her work with us today! For more plus size bridal week articles, click here!