What's The Secret Of Immersive Learning Development?
This article is part of a series that provides options for learning teams to quickly create immersive learning, including one that allows you to simultaneously practice using the software. What you are about to read is a fable. The company, AshCom, is fictional, but the learning challenges faced by Kathryn, AshCom's CLO, and her team are real and commonly shared by learning teams in large organizations. It is our hope that you will be able to connect with the characters, their challenges, and the solutions they discover. We also invite you to read the first eBook in the series.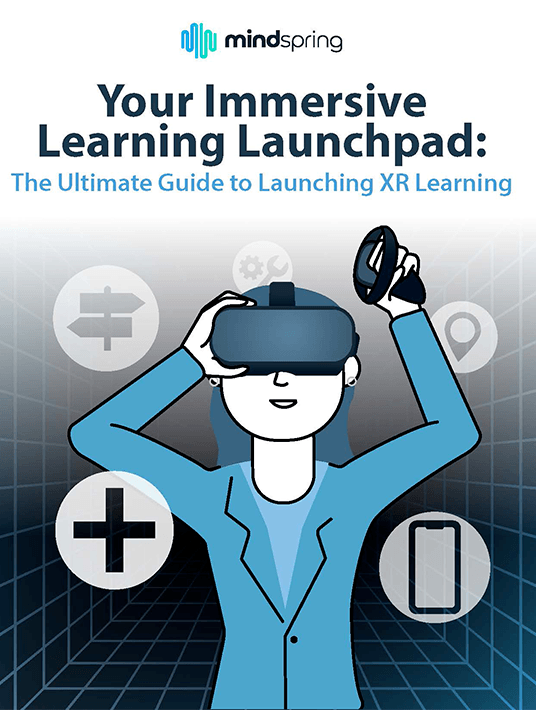 eBook Release
Your Immersive Learning Launchpad: The Ultimate Guide To Launching XR Learning
Discover options for learning teams to quickly create immersive learning, including one that allows learning teams to simultaneously practice using the software.
Immersive Learning Crossroads
Kathryn, the Chief Learning Officer of AshCom, was at a crossroads in her journey toward adding immersive learning tools to her team's skillset. What began as a Virtual Reality demonstration of a medical device that AshCom would be manufacturing had grown into the possibility of multiple applications of immersive learning.
The medical device, a tool used in knee replacement surgery, would be manufactured by AshCom after they won one of the largest bids in their company's history. The Virtual Reality demonstration would be used by salespeople to introduce the device to surgeons and show them how it could be incorporated into surgery. To build the Virtual Reality experience, Kathryn made use of an immersive software product created by MindSpring.
As Kathryn soon discovered, MindSpring's software could be used to build multiple modalities of immersive learning beyond just Virtual Reality. It was possible to create Augmented Reality, 3D images, video, animation, traditional eLearning, and even material that would be printed in a manual.
Kathryn became more familiar with the software through Joe, MindSpring's team member assigned to the project, and realized it could help AshCom's engineers review the machine that would eventually produce the medical device using both 3D and Augmented Reality.
It could also be used to teach machine operators about the new machines and enable them to become familiar with the proper maintenance of those machines. This learning could begin while the machines were still being built so that the operators would be ready to manufacture on day one.
MindSpring's software also contained a tool called "Inspect and Collect" that would enable operators to visually inspect the parts they built using Augmented Reality. Their inspections would be collected, and the data would help them improve their performance.
The crossroads for Kathryn involved how many of these features she would recommend to the Chief Financial Officer of AshCom, a man named Kurtis. She and Kurtis had become friends in their years of working with one another. Kathryn trusted Kurtis and the feeling was mutual.
The 4 Options For Immersive Learning Development
After Kathryn had gathered the proposed budgets for all the solution options, she set a meeting with Kurtis. She laid out the four options for using MindSpring's software:
Demo for Sales: Virtual Reality showing the device and the surgical procedure.
Machine Design: 3D and AR for AshCom engineers to review their design.
Operations and Maintenance: AR and other modalities for pre-assessing AshCom operators and reinforcing their knowledge.
Quality Control: AR – Inspect and Collect
Kathryn was open about the fact that her team had not used the immersive technology software for previous learning projects, so it would be new to them. She pointed out that MindSpring's team would be working in tandem with her learning team in a process they called "We Build Together."
The MindSpring team would begin building the immersive assets, but over time her team would take on more responsibility for creation. In other words, they would learn the tool as they worked with the MindSpring team. In the end, her team would have significant experience in building immersive technology.
Kurtis was a deliberative person and not one to render a quick decision. He understood what Kathryn was asking. She could try this new tool on what was promised in the bid, which was only to build the demo of the medical device to be used by salespeople. The last three items were things that were possible but not required.
"If I understand you correctly," said Kurtis, "going with all four options would be a big bet on immersive technology, but the payoff would be the client getting the demo they need while we could begin to incorporate this kind of learning into our entire company."
"Yes," said Kathryn. "I am sure this is the direction learning is heading. Immersive technology is no fad, and it will be expected in the near term by many younger people on our teams. My question is do we want to make that investment now or more slowly over time?"
"I can't give you a decision right now," said Kurtis, "because I'll need to discuss this with a few people. Can you give me a couple of days to talk this over with others and do a little thinking?"
"Of course," said Kathryn.
The Decision
Two days later, Kathryn received an email from Kurtis. The explanation was longer than she expected, citing statistics on the growth of immersive technology in learning along with how other manufacturers were already beginning to incorporate it into their learning and development programs. Kurtis had done his homework. But the answer was clear: Kathryn and her team should commit to all four options and proceed immediately.
Kathryn's learning team was thrilled with the news. They now had a clear direction and would be able to fully explore the nexus of learning and immersive technology. They loved a challenge. Kathryn was more anxious. This was technology that was new to her team and would be employed in designing, operating, and maintaining brand-new machines. A lot of eyes would be on these projects, which meant the stakes would be high. One thing that never left her mind was that the devices they would be building would be used in surgery. This made the stakes even higher.
Kathryn's first call was to Joe from MindSpring to tell him she had the green light to move forward with all four projects.
"This is great news, but it sounds like there is some hesitation in your voice," said Joe. "What's on your mind?"
"You know that this is new to us," replied Kathryn, "and so I'm anxious. What I think would be most helpful would be for me to have a better understanding of how our teams work with each other. I know that we chose the 'We Build Together" option, but I need to get into the details of how that will go."
"I understand completely," said Joe. "Let's start with the process. I'm sure your team has a process that you use to build traditional eLearning, as most companies do. I think you'll find that our process is fairly similar to your own. Do you have a few minutes for me to talk through it? I can go into more details later, but maybe a quick overview will be helpful."
"I do," said Kathryn. "This will help set my mind at ease. I'll take notes."
The 6 Ds Explained
"We call them the 6 D's," said Joe.
Discover
Design
Develop
Deploy
Drive
Defend
I think I already know most of these," said Kathryn, "but just to be sure, please walk me through them."
"No problem," said Joe. "We begin with Discover, which is the process of going through the needs analysis, doing a curriculum map, and clarifying requirements and objectives for each experience we are going to create."
"We always begin there too," said Kathryn.
"Once we have agreement on the Discover phase," said Joe, "we move on to the Design phase where we do blueprinting and storyboarding. We create or source all materials needed to build or develop the experiences. This can take a lot of different forms depending on what we are trying to build and the objectives we set for ourselves."
"We do the same in our traditional eLearning," said Kathryn. "You were right when you said our processes would likely be similar."
"The next phase is Development," said Joe. "Here we begin to build the assets using the MindSpring software. When we build everything, we create things, and you give feedback. But you've chosen the 'We Build Together' option, which I think is a good fit. We can cover this in more detail in a couple of days if you like, or I can get into it more deeply now. Your choice."
"Let's stick with the process for now," said Kathryn. "I want to know more about the mechanics of how we truly build together, but let's do that another time. At the end of this call, let's set up another."
"Works for me," said Joe. "Let's move on to the fourth D, which is Deploy. We need to discuss where things are going to be
hosted when we build them. You may need software integration with other programs so that things work seamlessly. We need to talk about where and how you track user interactions. Although this is the fourth step, we need to be talking about this and planning for it early on in the process."
"Makes sense," said Kathryn. "We will have some work to do there."
"We can help you through that," said Joe. "The fifth D is Drive. This is something that is often overlooked by learning teams. We need to begin to drive learners to the experiences we are creating for them. Sometimes learning experts think it is a little weird to talk about how they market their learning to their learners, but it is a key element in successful programs, especially when the technology being used is completely new to them."
"You won't get any pushback from us on marketing," said Kathryn. "We build this into every learning experience we create."
"That's excellent," said Joe. "The final D is Defend. I'll admit that we were looking for a word that started with D to be consistent, but what we mean by this is the ability to defend the expenditure of time and money on immersive learning. We can't just say it is worth the investment. We have to prove it."
Looking At The Learning Scorecard
"My team and I have spent a lot of time with the Learning Scorecard," said Kathryn, "So we have a series of metrics we track. Because immersive learning is so new to us, we will want to be deliberate about the Return On Investment."
"Then it sounds like we match up pretty well," said Joe. "Each of the six D's will require more explanation, but it is good to hear that there are no serious issues in how we will work through this process."
"This is very reassuring," said Kathryn. "I have to head to a meeting with my learning team, and I will review my notes with them. They will likely have some questions, but I think they will be happy with these broad strokes."
"When are you available to talk through the steps of 'We Build Together' with me?" asked Joe. "We have developed a very specific model for how we do this, and I would like to see if it lines up well with your expectations."
"How about tomorrow at 9 a.m. my time?" asked Kathryn.
"That works fine," said Joe. "I'll send out a calendar invite with a link. Please let your team know we are excited by the prospect of working with them."
"I assure you they feel the same," said Kathryn. "I will talk to you in the morning."
Conclusion
Download the eBook Your Immersive Learning Launchpad: The Ultimate Guide To Launching XR Learning to discover how you can implement XR in your organization to make the most of modern tech and minimize on-the-job mistakes. You can also join the webinar to learn how to build incredible learning experiences in extended reality.
Dear Reader, if you're excited to learn more about how you can integrate immersive experiences into your learning strategy, schedule an XR Needs Assessment with a MindSpring Learning Expert. We'll answer any questions you have and show you how we've successfully implemented immersion into learning.